Have you ever come across a situation wherein you are searching for the dentist or medical store or test labs in your neighborhood in the new town you recently went and wanted someone to assist you or provide you with the details and found no respite. Then Medikoe is just for you with everything in one application.
Kick Start of MediKoe
MediKoe is the new flying start up in India based on the ideology of bringing all the healthcare centers information under one umbrella. Founded recently by Sreevalson Menon and Raman Shukla in August 2015. They came up with this idea by their sheer experience they faced in finding the medical shop.
Basically an online medical platform which connects consumers to hospitals, blood banks, diagnostics, wellness centres, Dentist, Pharmacy etc. with more than 2000 service providers impaneled on the platform. The providers include top notches like Manipal medical group and Apollo medical group.
The best part of this platform is that the service providers are verified and can be trusted upon. Also comes in mobile app version which is handy and you don't have to worry about the hassle of website on mobile. Presently, it is available for Android users and the company will shortly release iOS version of the app as well. The app is user-friendly and comes with a clean interface.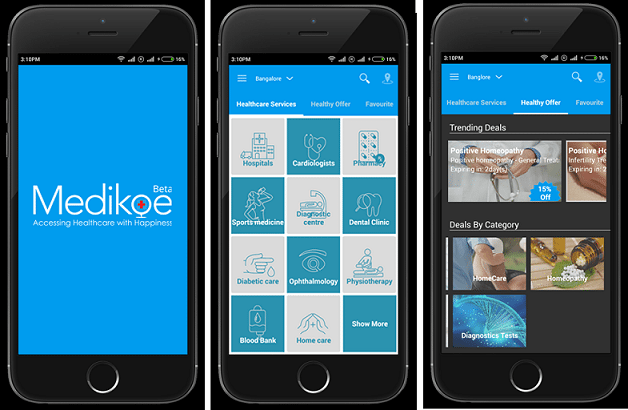 Useful Information:
Publisher: Medikoe
Ratings: 4.8 out of 5 stars
Category: Health & Fitness
Website: MediKoe.com
Platform: Android 3.0 and up
Download Medikoe
Now you don't have to worry about the absurd medical situations you are facing, solution is just a click away.
Do you like the concept behind MediKoe? Do you find the app useful? Let us know your thoughts in the comments!