Trulia Facebook Messenger Bot
The features of Facebook Messenger are ever expanding with support for Uber, games and lots more. The things one can do with Messenger are increasing and one of the recent one to join the list is the ability to find you apartment. Yes, you heard it right! Now, Facebook Messenger bot offer instant apartment searches with partnership with popular online real estate site, Trulia. The real estate listing company, Trulia, has brought its bot to the Facebook Messenger and the Trulia Bot will help users in handling rentals.
Using it
It is very simple to use it. You just need to tell the Facebook Messenger bot where you want to live, the price range and the square footage you are looking. It will then share the most recent search results that fit the specified criteria. You can also request for daily updates where you will be notified about the top ten most recent search results every morning.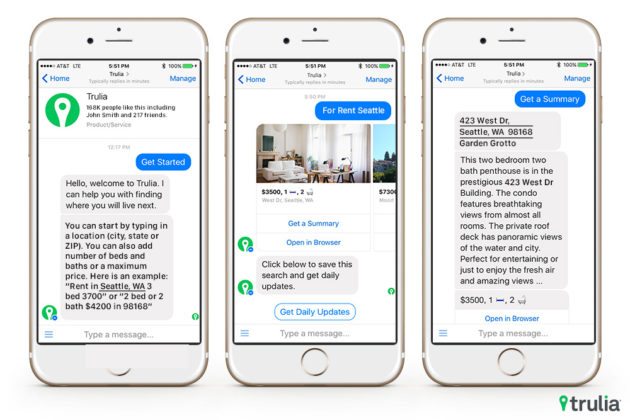 View Listings
You can view the listings on a web browser or as a summary in the Messenger. The summary includes the rental address, the price, the neighborhood, number of beds etc along with a photo gallery. One of the highlight of Trulia Facebook Messenger bot is asking it about the characteristics of the neighborhood. It will tell you the demographics details such as number of people who are single and married, number of owner-occupied houses and renter-occupied and more.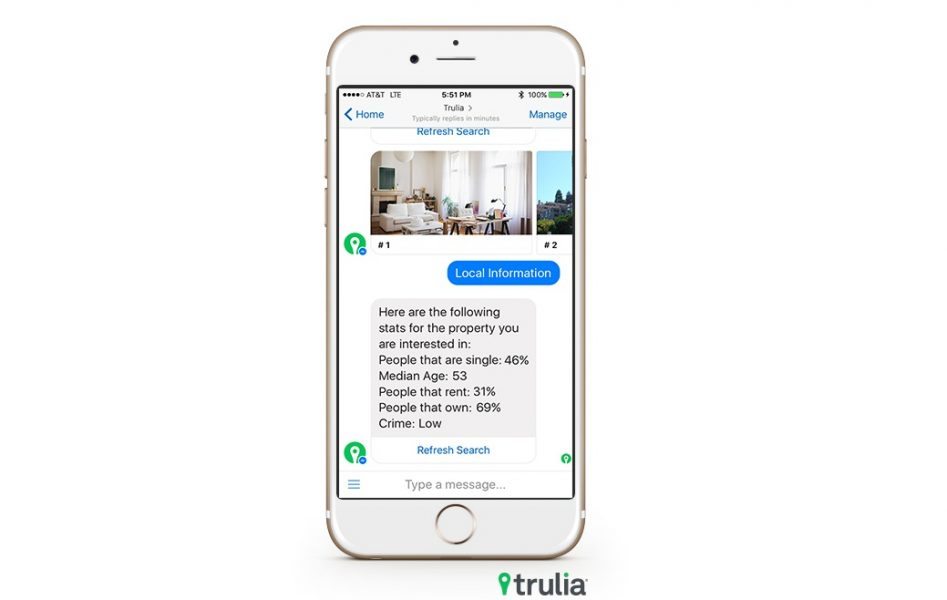 According to the company, the rental searches are just the beginning and will come out with various other real estate search options in the near future.
Trulia Facebook Messenger bot eases the often full of hassles task of finding rental apartments. It is to see how it actually benefits the users.
Share your thoughts on the story in the comments.