Meet Chromebook 11 G5
The latest Chrome OS laptop by HP is extremely affordable starting at less than $200. Called Chromebook 11 G5, it is a powerful chromebook and comes with impressive set of features. "The new HP Chromebook 11 G5 is the first of HP's 11.6 diagonal Chromebooks to offer a touchscreen – an inviting new experience for the many touch-enabled Chrome and Android applications in the Google Play Store that is planned to be compatible with Chrome OS later this year", says HP. Here are the complete details about it.
Display and Design
The laptop comes with a redesigned chassis and features a slimmed-down design with narrower display bezels. The Chromebook 11 G5 features thinner and lighter dimensions as compared to previous generations. It promises charging up to 12.5 hours of battery life. The HP Chromebook 11 G5 is the first of HP's 11.6-inch diagonal Chromebooks to come with touchscreen. There are two choices for display: one with an 11.6-inch HD IPS touchscreen display with Gorilla glass protection having resolution of 1366 x 768 pixels. The other one has 11.6-inch HD anti-glare standard display. It offers an intuitive new experience for touch-enabled applications. The best part of this Chromebook is that it is lightweight, starting at just 2.51 lbs.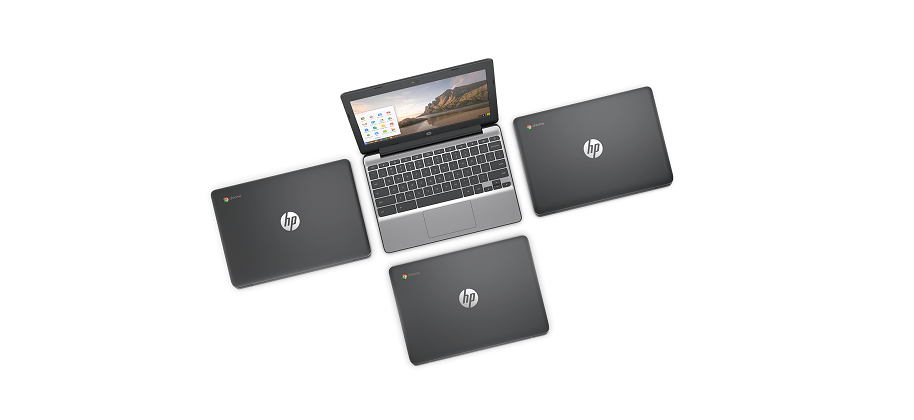 Processor and Battery
Powered by Intel Celeron N30860 dual-core processor clocked at 2.4GHz processor, it is coupled with either 2GB or 4GB of RAM. The optics includes an HP TrueVision HD Webcam at 720p resolution. As far as the storage options are concerned, it can be configured either 16GB or 32GB. With an Intel Celeron N3060 processor, it quickly speeds through spreadsheets, videos and hangouts. It responds efficiently to apps and offers speedy web browsing in addition to managing the battery for up to 11 hours on a touchscreen and up to 12.5 hours on a non-touchscreen device. Both models have support for two USB 3.1 ports and a headphone jack.
HP says that the Chromebook 11 G5 has been designed keeping in mind students and teachers and the primary target market is education.
You can also check out the latest Samsung Notebook 7 Spin.
Do you like Chromebook 11 G5? Share your thoughts with us in the comments.