Samsung T3 SSD is one of those few external drives that fit neatly into the palm of your hands and offer terabytes of storage capacity. It has got 2TB of space. It is one of the products unveiled at CES 2016. Let's check out the complete details about this device. Don't forget to check out our top external hard drives.
About Samsung T3 SSD
T3 is the second generation of Samsung T line of portable SSD drives. Samsung T3 SSD is offered in all smaller and larger capacities, ranging from 250GB to 2TB. It comes with USB-C Port and supports the USB 3.0 standard with top speed. It is also compatible with USB 2.0. Today, almost all mobiles especially android come with USB-C port and the drive can effortlessly work with them.
Design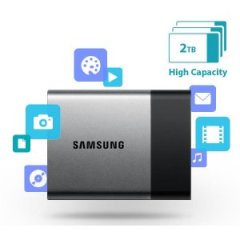 Samsung T3 SSD is about the size of a business card and is just 3/8-inch thick. It measures 2.9 x 2.3 inch and you can easily carry in a pocket. As compared to its predecessor,T1, it is slightly heavier due to more ruggedly build instead of a plastic case. It features rugged new aluminum case and comes with a USB-C port. Its new casing allows it to be shock-resistant. According to Samsung, the drive can withstand up to 1,500 g's of force and survive a drop of up to 2 meters.
Performance
The T3 comes with impressive performance that peaks at 450Mpbs. Compared to other external hard drives, it is about four times fast. All those who need to quickly move a lot of information will be pleased with its fast speed. The connection is fast and lets you edit directly on the drive. In terms of speed and capacity, Samsung has really raised the bar with this ultra-portable device.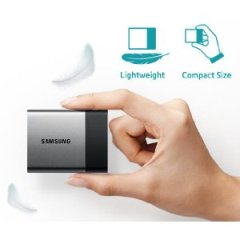 Excellent Storage Capacity
When you are looking for a tiny, secure and good capacity storage device to accompany your mobile, laptop or tablet, Samsung T3 SSD is an amazing choice. This fast and super compact device is a good deal. It also features a Thermal Guard which substantially reduces the drive from getting overheated.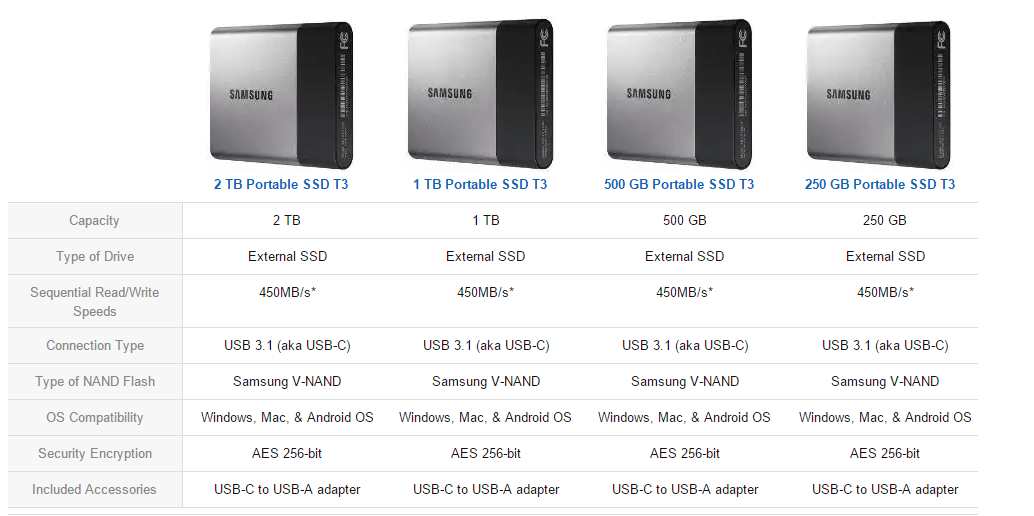 Features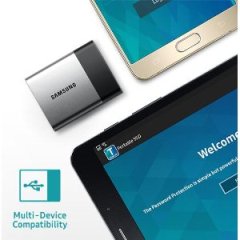 This portable SSD T3 is capable of offering fast read/write speeds that facilitate quick transfer of data. It comes with AES-256 bit hardware encryption and thus, is a good choice for transferring files containing sensitive information as well. With this encryption, T3 claims to be safe and secure. The drive offers sequential read/write speeds of up to 450 megabytes per second (MB/s).
V-NAND Technology
It is based on Samsung's proprietary 3D Vertical NAND (V-NAND) technology that helps to overcome cell-to-cell interference. Samsung T3 SSD is designed to be much like a thumb drive, thanks to its lightweight design. It has been designed to hold large amounts of data in a compact drive that fits in the palm of your hand. It delivers the next-level speed, capacity, durability and connectivity.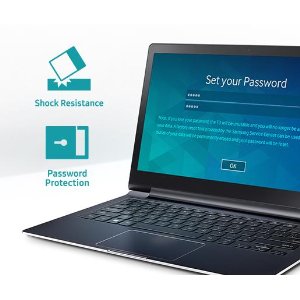 ---
Pros:
Super compact
Fast
2TB storage space
USB-C Port
Cons:
Heavy
Larger than predecessor
---
Warranty
Samsung offers a limited three-year warranty for the T3 which is generous as most external drives only covered for a year. But, this quickest external drive comes with the high price and thus, some customers might expect an even longer warranty.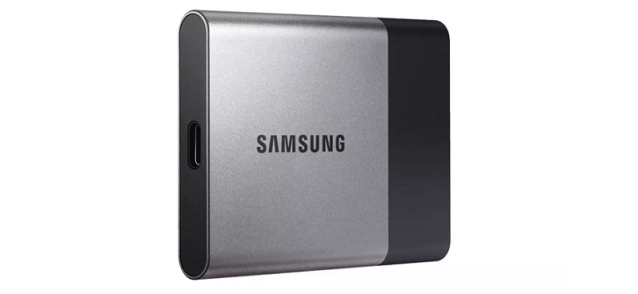 Wrapping Up
All-in-all, Samsung SSD T3 is an excellent portable storage device to take on the go. It is tiny with the exterior only three inches long, two and a half inches wide, and a half an inch thick. This smaller and lighter external drive is significantly lighter. It is one of the largest external solid state drives available in the market today.
Do you like Samsung T3 SSD? Will you consider purchasing it? Share your thoughts with us in the comments.