Meet Hands Free App
Google has piloted a new voice-activated app called Hands Free to make purchases more convenient and quick. The app will let users to buy goods without the need of taking out wallets or phones. The app uses your face and your phone's location as the two identifying factors for making the payment. In addition to using your picture, it uses a variety of methods to identify the location such as Bluetooth, LE, Wi-Fi and phone's location services.
Features
Hands Free is a separate app from the company's Android Pay. You can also check out the differences between different mobile payment services here. To make payment using the app, a user needs to say "I'll pay with Google", after which the cashier will confirm the person's identity and complete the purchase. All details and pictures taken by the camera will then be automatically deleted.
Rather than Near Field Communication (NFC), Hands Free uses a combination of Bluetooth, Wi-Fi and location services to detect when you are at store. So, the app will also work when your smartphone does not support NFC payments.
Make payments quickly
After downloading the app from Google Play Store or iOS Store, you will need to verify your identity by uploading your picture and then add a debit or credit card. To complete payment, just say, "I'll pay with Google", after which the purchase is confirmed by the cashier. Hands Free may be one of the amazing ways to make device-based payments simpler. But, there may be possibility of human error for unauthorized payments.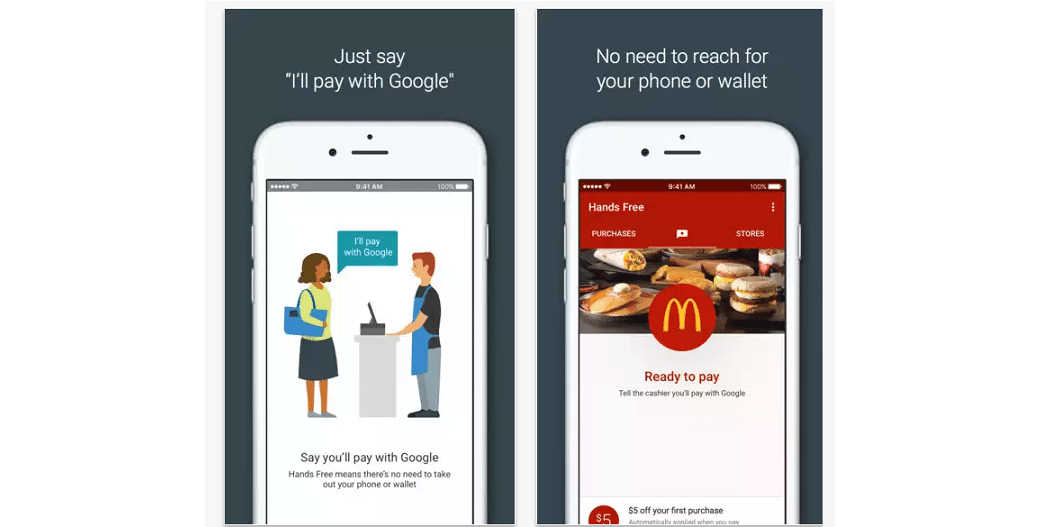 Some useful insights about Hands Free:
Cost: Free
Ratings: 4 out of 5 stars
Publisher: Google, Inc.
Requires iOS: 8.0 or later
Requires Android: 4.1 and up
Download it for Android
Download it for iOS
Hands Free is currently available in San Francisco's South Bay area at participating McDonald's and Papa John's locations and other local restaurants and cafes.
Do you like the features of Hands Free app? Share your thoughts with us in the comments.
If you are an app/game developer and want to include your app in our App of the Week section, contact us today.