Edit Google Docs Effortlessly
Google rolled out voice typing in Docs few months ago and now, it is allowing you to edit and format your Google docs text by voice. Google has expanded its voice typing feature by adding the ability to recognize a variety of editing and formatting commands. You can now format and edit Google Docs with your voice.
In a blog post, it says, Starting today, you can also edit and format your documents with your voice. To get started, select 'Voice typing' in the 'Tools' menu when you're using Docs in Chrome. Say what comes to mind—then start editing and formatting with commands…
How to edit Google Docs using voice?
Google has announced that it is updating Google Docs with voice typing and voice editing capability. To enable voice typing in Google Docs, follow these steps:
Open your Google Docs
Click "tools" tab at the top of the screen
Click "Voice typing…" option from the drop-down menu
Now, give Google Docs permission to access your microphone by clicking "Allow"
When all setup is done, click the pop-up microphone icon
The icon will turn red when it is on.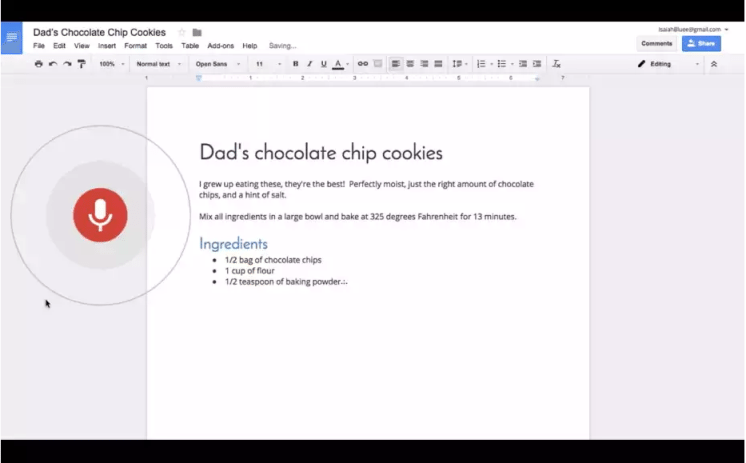 Use Google Docs Commands
This means that you can say things like align text right, left or center, clear formatting, create bulleted or numbered lists, delete a specific word or link, insert or delete a table and lots more. Google Docs will understand and follow your commands. You can find a full list of available commands by clicking here or you can also say "voice commands help" in Docs to get pop-up of all commands. Watch this YouTube Clip from Google Docs to see working of its voice commands.
Google has also announced that the voice typing feature also supports new "dialects" in English.
For business users, there are quite a few cases when these new features come handy. It could be used to capture your thoughts as you read through research or may be to pen down ideas in a meeting and more.
Give voice formatting a try today and let us know your experience in the comments!