Microsoft just sent out invites for a Windows 10 event on October 6. Microsoft CEO Satya Nadella will unveil a line of Windows 10 devices at the New York event.
Though Microsoft did not release any official details about which products will be presented. It looks like Microsoft is all set to launch its Surface Pro 4, Lumia 950 / Lumia 950 XL handsets and a new Microsoft Band in the event. It is also expected to unveil a range of hardware running Windows 10. Surface Pro 4 is a full-powered PC that looks like a tablet. The latest Surface Pro 3 has a 12-inch screen, a kickstand and weighs less than two pounds. It has a popular customer base and with Surface Pro 4, Microsoft will be aiming to expand its reach by offering more powerful specs and functionalities.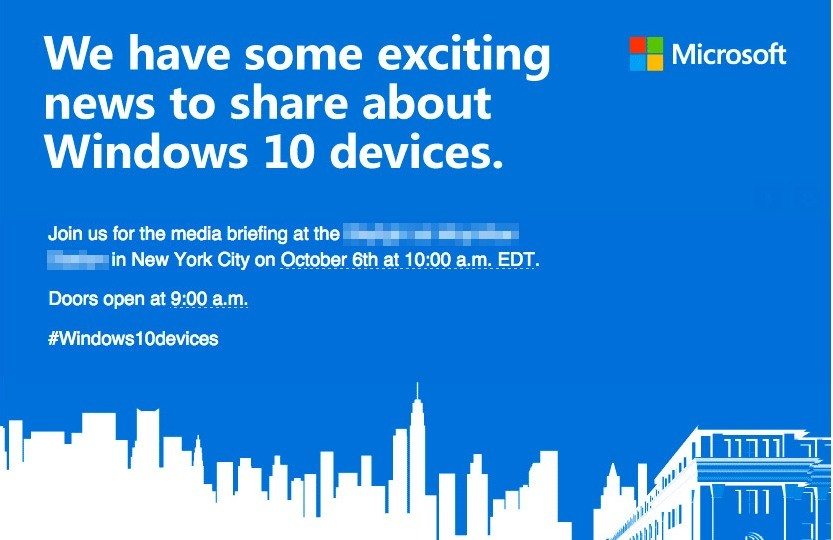 Rumors also say that Microsoft is planning Windows Hello support for Surface Pro 4. It is exciting to see the actual launch of this larger surprise addition to the lineup.
Lumia 950 and Lumiz 950 XL have been rumored for months and image for these have already been leaked. It is left to see how these new devices will fit into new Windows 10 mobile. Recent rumors have also pointed towards a 14-inch version of a Surface device.
Also, Microsoft's new gadgets are expected to build on new features of Windows 10.
It sounds like October 6 is going to be one Microsoft hardware event with many new gadgets launch including Windows 10 devices.
Are you excited for the October 6 event hosted by Microsoft? Keep in touch with us and we will keep you updated will all the happenings of the event.
Share your thoughts on the story in the comments!
If you like our content, please consider sharing, leaving a comment or subscribing to our RSS feed to have future posts delivered to your feed reader.

Please follow us on twitter @CodeRewind and like us on facebook