Fitbit has been available for Windows Phone users for long and now, it has been updated to include new features and improvements. Fitbit is one of the most popular fitness apps available for the users. It has received a new update for Windows Phone devices. This latest update brings new features, improvements as well as bug fixes.
The updated app comes with support for Mobile Run and Mobile Badges. Mobile Run gives the ability to lane runs, walks and hikes while regulating GPS in your Windows Phone. Mobile Run uses GPS sensor to record and track the exact route of your run and provide you useful statistics like pace per mile, distance and time. You just need to tap Track to start up the feature.
It also includes support for next Surge software update and when that update gets released for Surge, users will be able to view their tracked bike activities.
Here are the newly added features to v1.8 of Fitbit for Windows Phone:
Compete with friends
Join fitness challenges and celebrate your win with a new trophy
Rematch allows you to start a challenge again with same friends
New personal record and goal streak awards
Improvements to sleep tracking
Now, you can get a nightly sleep goal
Updated sleep graphs
Improved sleep history
Share Badges
You can now share badges outside of Fitbit as well
Bug fixes
Several bug fixes have been done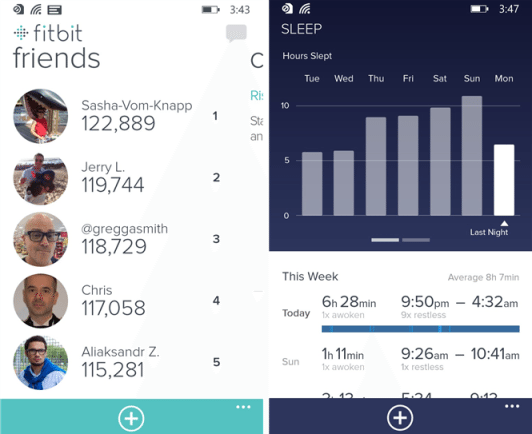 The new graphs have more flair to them and the Cortana refinements are great. It is great to see Fitbit for Windows Phone getting better with each update. We are eagerly waiting to sync our new Fitbit Surge to Windows Phone.
Download Fitbit for Windows Phone today!
Share your thoughts on the story in the comments!
If you like our content, please consider sharing, leaving a comment or subscribing to our RSS feed to have future posts delivered to your feed reader.

Please follow us on twitter @CodeRewind and like us on facebook