Apple Watch is certainly one of the most-anticipated products in the recent years. It is the first foray into the world of wearable tech. This smartwatch comes with inductive charging, sapphire glass, heartbeat sensor and a digital crown. Featuring revolutionary new technologies and a pioneering user interface, the watch has a beautiful design. It is available for $349 (US) in the early next year.
[leaderad]
1) Amazing and Rich Design
Apple Watch is clearly much more than just a wrist computer. It is pretty and is made to look like a watch, with a knob on the side and a small face. Just swipe up from the watch face and get all information you care about, such as current locations, your next meeting etc. When you press the side button, it brings up Friends, a view of your favorite people. The glass covering up the Watch is made of sapphire crystal, the hardy scratch-proof material. The actual display is a flexible Retina panel that has been laminated to sapphire.
It comes with built-in gyroscope, accelerometer, a heart rate sensor and a Taptic Engine for input sensing. It recognizes the difference between a tap and a press.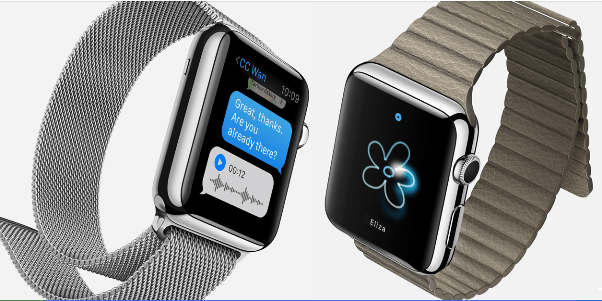 Image Courtesy:Apple
2) Digital Crown
The Digital Crown is Apple's most revolutionary navigation tool. It offers an innovative way to scroll, zoom and navigate fluidly. Digital Crown is an elegant input and navigation device that you can use without obstructing the view.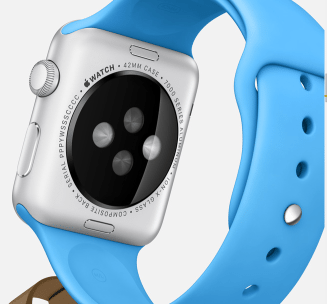 Image Courtesy:Apple
3) Lot Many Choices
Apple Watch is available in three distinct collections – Apple Watch, Apple Watch Sport and Apple Watch Edition and in two sizes-38 mm and 42 mm. Apple also created an entire range of watch straps such as Sport Band, the Milanese Loop, the leather Modern Buckle, the leather Classic Buckle, and the stainless steel bracelet.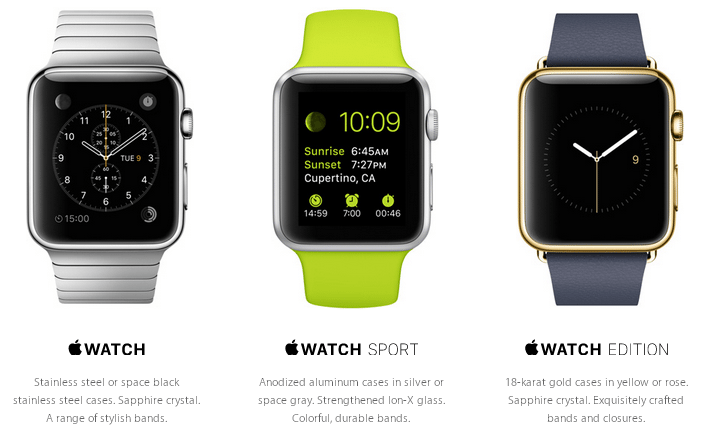 Image Courtesy:Apple
4) Customizable and Most Personal Watch
Apple Watch has 11 watch faces to allow you to personalize the watch in the way you want. You can choose from traditional analog faces to new faces like the dynamic Timelapse face; real-time 3D model of the earth, sun, moon and planets; and many more.
With Apple Watch, you will be able to communicate in new ways right from your wrist. The new "digital touch" system allows you to draw small pictures and send to friends. It includes walkie-talkie capabilities as well as its own system of animated emojis. You can also share your heartbeat tracked on the Apple Watch to another watch-wearer.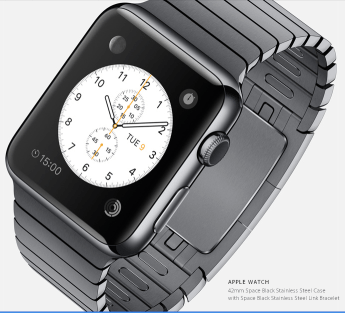 Image Courtesy:Apple
5) Comprehensive Health & Fitness Device
Apple has developed two different fitness apps for the watch, Activity app and Workout app. While the Activity app tracks your movement throughout the day, the Workout app focuses on specific sports.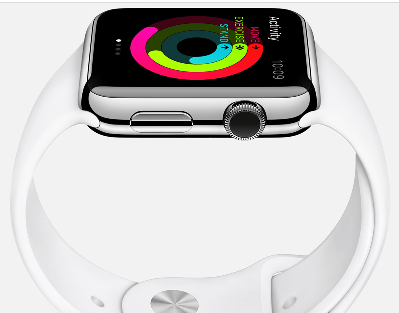 Image Courtesy:Apple
6) Seamless Integration with iPhone
You can start a message on your Apple Watch and continue where you left off on your iPhone. Apple Watch is compatible with iPhone 5, iPhone 5c, iPhone 5s, iPhone 6 or iPhone 6 Plus running the latest version of iOS 8.
7) You Can Pay Apple Watch
All of the Apple Pay functionality will be available on the Apple Watch. So, just tap your wrist and pay for your groceries and other bill payments.
8) Inductive Charging System
One of the impressive features of Apple Watch is the inductive charging system. You just need to connect a cord magnetically to the back of the watch body to charge it.
9) A New Language of Watch Vibrations
The watch will offer you turn-by-turn directions to the desired destination, but instead of making you listen to Siri's voice or stare at your watch, it will simply tell you by feel. Different vibration types will tell you to turn left or right.
10) Accurate and Reliable
In addition to all other high-tech features of the Apple Watch, the timekeeping is advanced. The timepiece will be accurate within 50 milliseconds.
11) WatchKit for Developers
Apple introduces WatchKit, where developers can create WatchKit apps with actionable notifications and Glances. All standard iPhone notifications will appear on the homescreen of the watch, but developers can create custom notifications. Developers will also be able to create apps specifically for the watch and some of the featured apps at the announcement event include Apple, BMW, Nike, Starwood Hotels and others.




Image Courtesy:Apple
Stay in touch for more updated news about Apple Watch. Do you like the features of Apple Watch or will you consider buying at $349 (US)? Share your views with us in the comments. Are you grabbing one?