Testing a software is an important part of every organization and effective test management tools allow teams to successfully plan, develop, execute and assess the entire testing process. The need for choosing the right test management tool cannot be overlooked. PractiTest is a reliable SaaS (Software as a Service) used for Test management. It offers a good combination of cost effectiveness and covering all QA processes. It provides all essential tools and processes that allow your testers to develop a holistic approach towards testing. PractiTest empowers you to monitor quality at each step of the test management process to offer end to end coverage.
Though the testing needs and requirements differ from individual to individual but this comprehensive tool is an ideal solution for all. Let's explore its key features:
Test Case Management
The feature that makes PractiTest outstand in the list of test management tools is that it provides detailed solution to every testing need. You can get all the information in one integrated test case management solution. The tool come with an intuitive interface and you can easily look for the required information at the first glance. The dashboard provides you updated, relevant and accurate information all the time. By customizing the dashboard, you can create different tabs to make sure that everyone on the team gets the details they need to work more efficiently.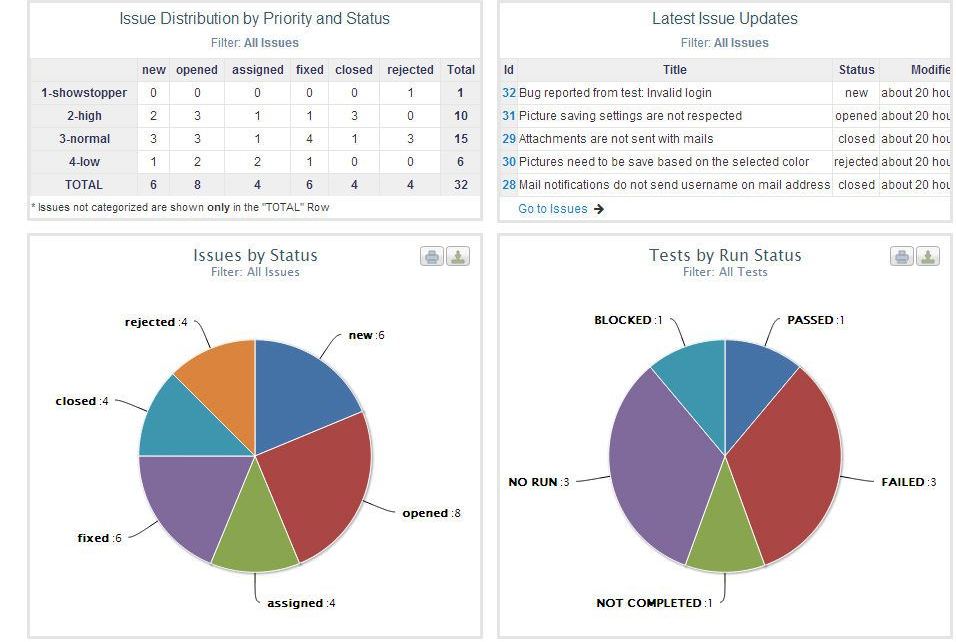 Requirement Management
PractiTest does the job of requirement management efficiently. You can effectively organize your product user stories and create a logical structure. Each requirement includes information that serves the basis for testing process. You can link your requirements to Tests as well as Issues for traceability analysis. The simple interface of the software allows you to view all relevant requirements and their status easily. PractiTest allows you to completely customize the visibility of the QA process. It allows you to locate any requirement within a few seconds and get the required details.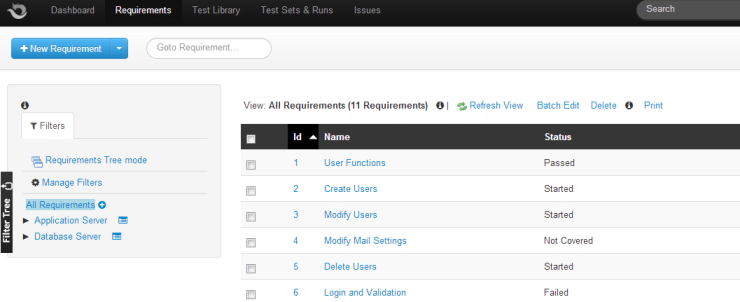 Issues Management
The time effectiveness of testing team is measured by issues tracked during the testing process. PractiTest provides a complete system to manage bugs, general tasks as well as enhancement request. One can customize what to include in issues form like lists, memo fields, check-boxes etc. Customizing allows you to get the required information in least time. It allows you to define the workflow of your issues while stopping duplicate bugs. This simple to understand system comes with a detailed Getting Started guide. You can also personalize to receive email notifications.

Test Management
PractiTest offers a dynamic environment to execute test management effectively and efficiently. You can customize the manual tests, organize your cycles in hierarchical filters, import and export your tests and lots more. You can create, edit, reorganize and run any number of steps per test and get reports for independent results. A noteworthy feature of test management is the easy to clone test and test views. It allows you to clone test one by one or you can clone complete test views as well.

Generate Comprehensive Reports
The dashboard provides you an insight about the latest happenings in your projects ranging from graphics and statistics to tests and runs. Depending on your customizations, the graphs and tables are generated and the data is collected. What PractiTest make easy for the testers is to allow exporting data to excel from any module. Yes, that's true. You can export all information to an excel sheet.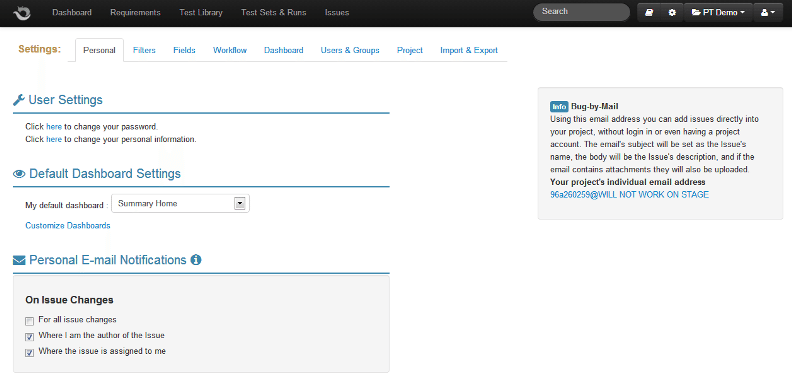 Integration With Other Tools
PractiTest seamlessly integrates with other tools such as JIRA, Redmine and Bugzilla. It is one of the few tools that provide two-way integration for all JIRA platform with the purpose to offer you a complete test management solution. This comprehensive end-to-end QA solution offers one way as well as two way Redmine integration. For bugzilla also, PractiTest provides two types of integration: one way and two way. You can use the PractiTest's Bugzilla extensions to synchronize your issues.

A quick look at PractiTest:
Specifications
Details
Product Name
PractiTest
Training
Documentation, Webinars, Live Online
Deployment
Web based
Support
Online
Business Hours
24/7 (Live Rep)
Ratings
4.5 out of 5 stars
Pricing
$15 to $45/user/month
Ratings
Web based
Vendor Details
PractiTest.com
---
Pros:
Cloud based tool
Extensive human methodological support
SaaS end-to-end QA and Agile friendly
Intuitive and highly customizable
Integrates seamlessly with leading bug tracking tools
Cons:
Issues Screen pagination layout in requirements can be improved. Likewise, faster filters would be a plus.
Not open source
Does not capture information about test execution estimation
---
Wrapping Up
All-in-all, PractiTest is a comprehensive test management tool that helps to improve your productivity and remove bugs and issues. It is a perfect solution to manage your QA and testing processes while quickly verifying the correct functionality of their applications. It is a useful tool that coordinates communication between developers, testers and other employees of the organization. Here, I must add that the smart solutions by PractiTest surprised me positively. I would definitely recommend it to anyone looking for a quality test management tool for his/her organization.
You can check their demo and see for yourself the amazing features of this tool.
What are your views about PractiTest? Are you using it or will you consider using it? Let us know in the comments!
If you like our content, please consider sharing, leaving a comment or subscribing to our RSS feed to have future posts delivered to your feed reader.

Please follow us on twitter @CodeRewind and like us on facebook