Windows PCs, desktops and laptops often get cluttered when the system is not properly optimized. There are lots of time consuming optimizations and maintenance required such as clean and backup system files, fix common Windows errors and more. And when you talk about optimizing the performance of your PC, there are a number of free utilities and Windows apps available. But, Ashampoo WinOptimizer 11 is far more efficient and better than most of them. None other offers that much individual analysis and tuning tools. This PC repair program is one of the best programs offering a ton of useful features under one roof.
Let's explore its features:
Interface
For interface, Ashampoo WinOptimizer 11 gets ten out of ten. The interface is very user-friendly and the tools are well-organized. It removes all unused files and registry entries left over from old software installs, temporary files as well as software caches. When it comes to cleaning the stuff out, it does a better job than CCleaner and is more educational. But, WinOptimizer 11 comes for $39.99 while CCleaner is available for free.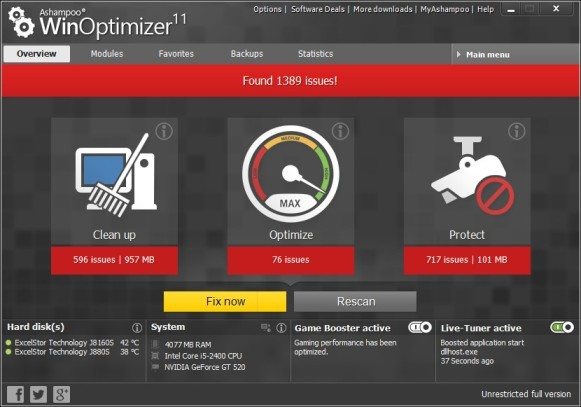 Performance
It is the most comprehensive program providing you a range of features. The Hard Drive Doctor module scans errors on the hard drive of the device while Internet Cleaner scans browsers on your computer. It deletes the files that slow down the performance. Another noteworthy program is the uninstaller tool that lets you delete information from your computer. It works better than the Uninstall Manager that is included with Windows. It uninstalls all those program fragments that lead to errors.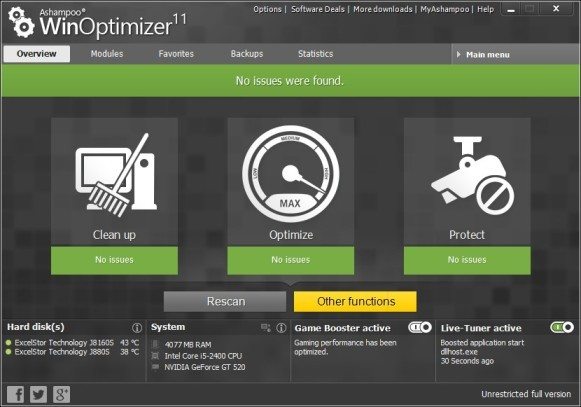 Included Tools
There's no dearth of tools available with Ashampoo WinOptimizer 11. Some of these include file wiping, undo delete tool, registry defragging, encryption and decryption and many more. Though some tools already come with Windows but WinOptimizer 11 does the best job of providing all of them in one place.
Ashampoo WinOptimizer 11 offers one-click optimization tool to automatically delete files. The startup manager tool sees what program will start when the operating system initiates and provides recommendations for what processes should start and stop for optimal performance of your system. The new cleaning algorithm is a great improvement over previous versions.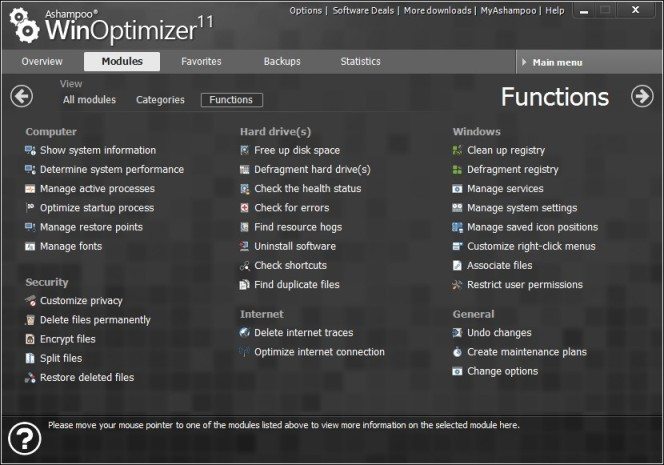 WinOptimizer 11 exclusive features:
The program has recently been upgraded to 11 to provide you the best PC repair experience. Some of the newly added features to the program include enhance user experience and improved performance and more efficient memory usage. The gaming performance has also been upgraded. You will enjoy perfect gaming conditions at the click of a button with Game Booster. The existing features have also been improved to offer you maximum performance and save your precious time. You can get comprehensive system details instantly including information on printers, users, network shares, video and audio codecs and more.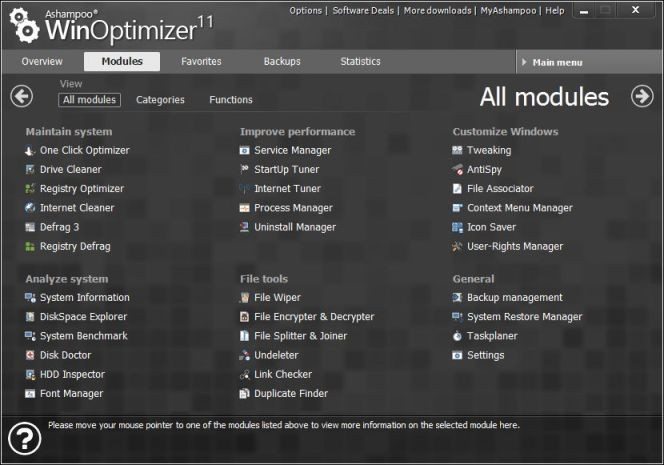 A quick look at Ashampoo WinOptimizer 11:
| | |
| --- | --- |
| Specifications | Details |
| Operating systems | Windows® XP, Windows Vista®, Windows® 7 and Windows® 8 |
| Current Version | 11 |
| Supported Languages | 30+ |
| License Type | Buy only |
| Price | $39.99 |
| Software by | Ashampoo |
---
Key Features:
Intuitive interface
Slick design
Impressive array of tools
Can undo changes
Easy to set up
Shortcomings:
Competition from freeware
Uses basic Windows tools
---
Final Verdict
The performance of Ashampoo WinOptimizer 11 is just outstanding. It does exactly what it claims and in an efficient manner. This single program works to free up your disk space, fix common Windows errors, removes all internet traces. It is a good choice when you want to protect your privacy while keeping your PCs fast. It also allows you to customize Windows to your needs efficiently and quickly.
All-in-all, it is a powerful system repair program that is a good choice for novice as well as advanced users.
What are your views about Ashampoo Optimizer 11? Do you use it or any of its previous versions? What has been your experience of using it? Let us know in the comments!
If you like our content, please consider sharing, leaving a comment or subscribing to our RSS feed to have future posts delivered to your feed reader.

Please follow us on twitter @CodeRewind and like us on facebook