Screencast-O-Matic is a free screen recorder that allows you to instantly screen capture and share it with friends and colleagues for a number of different reasons. Earlier also, we have covered post about useful screen recording tools for Windows but this time, we are reviewing Screencast-O-Matic that works for Windows as well as Mac. While tools like Snagit 12 and Ashampoo Snap 8 are paid screen capture tools, this powerful application is freeware. You can try the basic version for free and get access to more advanced tools with its pro version. Let's have a close look at its features:
Simple Interface
Screencast-O-Matic comes with a clean and nice interface. The website's homepage links directly to an instructional video that has all the information. You can easily record a video within minutes. You can download the application to your computer. To record, simply click Start Recording button on the site's homepage and the recorder will allow you to select the area that you want to record. With free version, you can video screen capture and do audio recording for videos of up to 15 minutes. These videos can easily be uploaded directly to YouTube.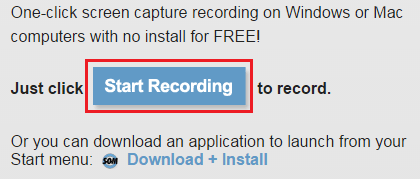 Ease of Use
Screencast-O-Matic can be easily used by multiple audiences such as teachers, students and general public. All features are user-friendly and one can easily make short videos within minutes. The tutorial videos further guide at each step. When it comes to classroom and administrative applications, this tool is just the perfect fit. It makes it easy to create tutorial videos that demonstrate the use of digital tool. The instructional videos could be useful for scholars trying to complete projects. Students can use the program for various classroom projects.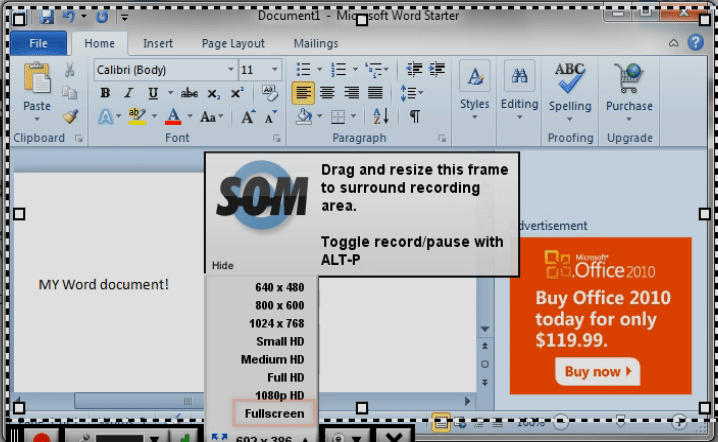 Pricing
The application is free to use but comes with some limitations. There's a pro version that costs $15/year. With free plan, the maximum record time is 15 minutes. It records web camera, publishes to YouTube HD and one can also publish to MP4, VI, FLV movie.
With pro version, you will enjoy greater benefits and a wider range of tools. Some of these include no maximum record time, direct upload video to Google Drive, Drop Box and a few other spaces. You will also get the ability to record webcam footage to embed in screen cast. There will be no watermark when publishing and you can also use offline outside browser. One can also create password protect screencasts.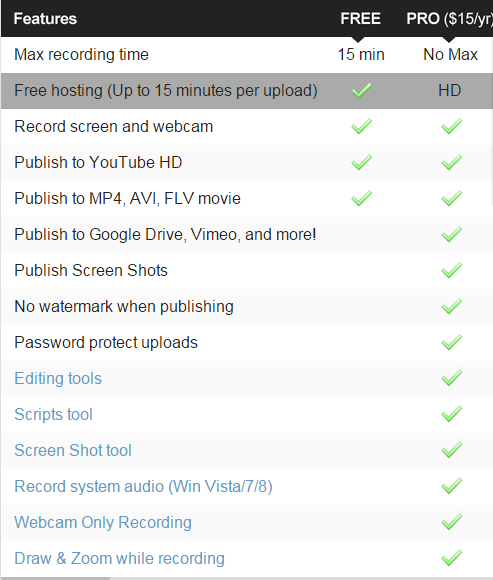 ---
Pros:
Handy option of recording screen
Save video in number of formats
Directly upload to YouTube
Easy to use
Cons:
Cursor tools are not optional
Includes logo when published to YouTube
Editing tools are very basic
---
A quick look at Screencast-O-Matic:
Specifications
Details
Tool Name
Screencast-O-Matic
Version
2.0
Cost
Basic version is free
Pro version is $15/year
Requirements
Windows, Mac
Video Capture
Yes
Languages
Multiple Languages
Developer Website
http://www.screencast-o-matic.com/
Wrapping Up
Screencast-O-Matic does exactly that it says. It is an affordable and quickest option to take screenshots. It makes creating videos a seamless experience. This easy web-based program lets you create and share videos within minutes. It seems best for teachers and scholars who want basic screen capture videos. It can also be used by other for any number of purposes.
Do you like the features of Screencast-O-Matic? Let us know us in the comments!
If you like our content, please consider sharing, leaving a comment or subscribing to our RSS feed to have future posts delivered to your feed reader.

Please follow us on twitter @CodeRewind and like us on facebook