If you have ever lost critical data files, images, videos due to a system crash, hard drive failure or accidentally deleted files, then data recovery techniques tools are very useful. In this review we are talking about the file recovery program called MiniTool Power Data Recovery.
What is MiniTool Power Data Recovery?
MiniTool is an all-in-all data recovery freeware that comes with excellent data recovery features for Windows and server users. Here are the complete details about its working and impressive set of features.
How does it work?
This easy to use freeware allows you to recover data effortlessly with these simple steps:
The first step is to select the best recovery program for different situations. Deleted Recover does quick scan to recover deleted files while Damaged Partition Recovery is used to recover formatted, damages, and RAW files and partitions. There's a Digital Media Recovery to recover media files and CD/DVD Recovery is used to recover lost files. Then, there's a Lost Partition Recovery as well that recovers delete and format partition.
When you are done with the selection of the recovery program, the next step is to select the target device and scan it.

Now, you can preview the files that you want to recover and save it on other device.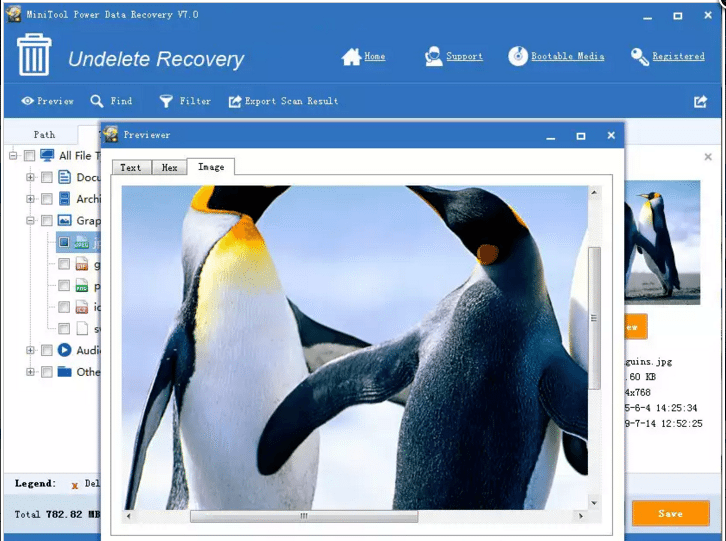 That's all! You have successfully recovered your data. The free edition recovers up to 1GB data while for more data recovery, you can select MiniTool professional data recovery software.
Features:
Nice user interface
The version 7.0 of MiniTool Power Data Recovery includes a completely new and fresh user interface. The scanner has been fundamentally revised and now has a higher speed to recover lost files. The concept is simple and the software works in a quick manner.
Undelete Recovery
This module works with deleted files and lets you undelete them. It recovers deleted files and folders and supports FAT12, FAT16, FAT32, VFAT, and NTFS file systems. It also supports hard disk, flash drive, memory stick, memory card and flash card.
Damaged Partition Recovery
Damaged Partition Recovery feature lets you recover damaged hard drive. It can also be used to recover files from memory stick, memory card and flash drive. This file recovery module supports MBR-style partition as well as Windows Dynamic disk volume.
Lost Partition Recovery
This module can be used to recover lost data because of partition deletion. It lets you recover data from corrupted MBR, repartitioned disk or crashed HDD.
Digital Media Recovery
This module is used to recover lost data from digital media device like MP3 player, digital camera, iPod, and more.
Which devices and file types does it support?
These are the device types and OS supported by MiniTool:

Have a look at file types it supports:

---
Pros:
Recover lost files easily
Simple to use
Recover deleted images and video files
Cons:
Free version limited to 1GB
---
Final Verdict
When you are looking for recovering data within 1GB, there's no better choice than MiniTool Power Data Recovery is an ideal choice. It comes with an interactive interface and serves the purpose at the best.
Have you tried MiniTool Power Data Recovery? Do you like it? Share your thoughts with us in the comments!