Pebble Steel is the premium model of Pebble smartwatch and comes with a few tweaks. It now features the new material, app tricks and more advanced features. Pebble is functional, fashionable and at the same time is affordable. It's a stylish smartwatch and is waterproof and shower-and-swim friendly. The display is readable even in bright sunlight. It is one of the competitors for Apple Watch and is more discreet than recent watches like Moto 360.
Let's explore the features of Pebble Steel Smartwatch:
Design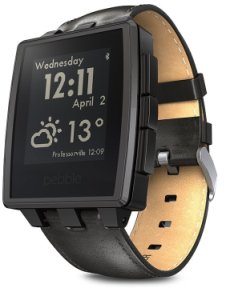 Pebble Steel smartwatch comes with a classic design and a sophisticated appearance. It features a genuine leather strap, and there's also a variant that features a metal strap. There's a three-color LED in bottom left of watchface. The style of this watch make it worth wearing even if it didn't feature all smartwatch features. The look is just amazing. The buttons look and feel solid. When you are looking for a watch that handles basic notifications quite well and is wearable all the time, Pebble Steel is an amazing choice.
Performance
The functionality of Pebble Steel is identical to Pebble Plastic. This watch looks pretty and shows your phone notifications on your wrist. The reliability and simplicity of these functions make it so amazing. It's waterproof to 5 ATM. The battery life is good. The watch never feels out of place whether you are at a wedding or beach. It feels comfy and comes packed in a nice box that looks smart.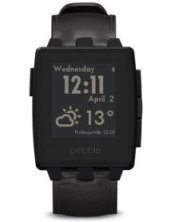 iOS and Android friendly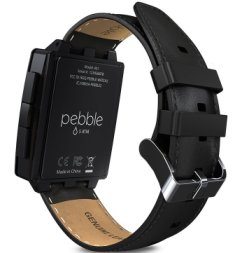 Unlike rivals, Pebble supports Android, iPhones, Blackberry as well as Windows Phone. You can download the Pebble companion app and pair via Bluetooth to make things working. With Pebble apps and iOS 7, it supports sending notifications to Bluetooth devices. With Android, you can do lot more from the watch.
It works with multiple apps. Misfit and Jawbone Up are two of them. The Misfit app tracks steps and sleep, while Jawbone Up only tracks steps. The fact that Pebble can do what it does with major apps is a great feature and stands it apart from Apple Watch that only works with iPhones.
A quick look at Pebble Steel Smartwatch:
| | |
| --- | --- |
| Specifications | Details |
| Weight | 56g / 1.97oz |
| Display | 144 × 168 pixel e-paper display |
| LED Display | Yes |
| Compatibility | Both iOS and Android |
| Bluetooth | Yes 4.0 |
| Available At | Amazon.com |
---
Pros:
Works with both Android and iOS
Stylish
Easy to use
Customizable watch faces
Waterproof up to 5 ATM
Cons:
Expensive
Limited functionality
---
Wrapping Up
The design and features of Pebble Steel are the most amazing factors. Though it does not provide same degree of functionality as rival smartwatches but is a good option for anyone interested in wearable tech. The device makes your everyday life without making things too complex. Another massive feature is that it is compatible with both iOS and Android phones. It looks and feels like a premium timepiece. When it comes to value form and functions of this smartwatch, it is worth purchasing Pebble Steel smartwatch. You can get it from Amazon.com at discounted prices.
Do you like this stylish Pebble Steel smartwatch? Let us know your views about it in the comments!
If you like our content, please consider sharing, leaving a comment or subscribing to our RSS feed to have future posts delivered to your feed reader.

Please follow us on twitter @CodeRewind and like us on facebook