Motorola's Moto 360 is one of the hottest wearables available in the market today. Thanks to its classic, round design and leather accessories that make it stand out in the crowd. Moto 360 is distinctive from its rivals like Apple Watch. It is a cool-looking watch with a good wrist strap and better microphones to understand your voice commands. The Moto 360 comes in two colors – black with a black leather watch band or silver with grey suede leather watch band. It sells for $249.99, though Amazon is making it available at discounted price of $204.99.
Let's have a close look at its features:
Design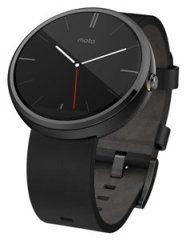 Undoubtedly, Moto 360 comes with a beautiful design. Motorola has created a classic-looking timepiece that you would love to wear on your wrist. It is not only a watch but a smart device that performs multiple tasks. The round display is sure to catch your attention. It features premium build quality and materials. It uses stainless steel in the watch case and clasp. This watch is the result of careful thought and significant amount of time that was put into its exterior and interior.
Display
Moto 360 uses a 1.56 inch backlit LCD IPS display and has a 320 x 290 resolution with 205ppi pixel density. Screen responsiveness is good and launches apps perfectly. Screen features Gorilla Glass 3 to offer great durability. This adds an extra layer of protection over the watch display and helps to improve viewing angles as well. It is brighter than other watches and fares well for visibility in bright outdoors. Though it does not match Samsung's colorful AMOLED display but is of decent screen quality.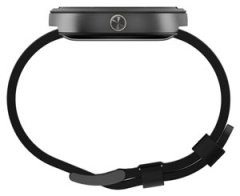 Performance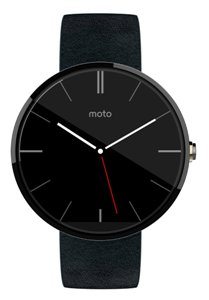 Powered by TI OMAP 3 processor, Moto 360 features slightly older CPU setup compared to the Snapdragon 400 architecture. It features 4GB of internal storage and 512MB of RAM. Motorola has included dual microphones so that voice commands come out clearly. It works well but not much better than other Android Wear watches. There's some lag in general navigation.
The smartwatch includes a pedometer to track steps and a heart-rate monitor that works with Google Fit and Motorola's Heart Rate and Heart Rate Activity applications.
Distinctive Features
Along with a distinctive design, this smartwatch comes with few hardware distinctions as well. It features a contact-free inductive charging and dock, improved noise-cancelling microphone technology and includes charger and cradle also. But, it's not a perfect travel charger as it needs a flat surface to place it on. The inductive charging does not use magnets or any other clip-on. Moto 360 includes an optical heart rate monitor. It checks the heart rate and tells you the percentage you are active in a day.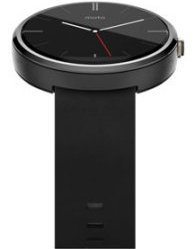 A quick look at Moto 360
| | |
| --- | --- |
| Specifications | Details |
| Dimensions | 1.8 x 1.8 x 0.4 inches |
| Wireless charging dock | Yes |
| Operating System | Android |
| Screen Size | 1.5 inches |
| Screen Resolution | 320 x 290 |
| Built-in microphone | Yes |
| Screen Type | LCD |
| Bluetooth | Yes 4.0 |
| Glass | Gorilla Glass 2 |
| Battery | 320mAh battery |
| Available At | Amazon.com |
---
Pros:
Distinctive design
Lightweight
Comfortable
Built-in optical heart rate monitor and pedometer
Nice straps
Great voice recognition
Cons:
Battery life could be better
Round display causes software awkwardness
Poor black bar at bottom of screen
---
Wrapping Up
Moto 360 is a great example of quality craftsmanship. With its timeless design, scratch-free Corning Gorilla Glass and a choice of stainless steel, it is one of the amazing wearables. It is a watch that perfectly fits in your style and also assists you to enjoy a healthier lifestyle. It keeps track record of your steps, distance and heart rate and give you the motivation to achieve activity goals.
It works with all Android apps and is a better choice among other Android Wear watches. You can buy it from Amazon.com at discounted prices.
What do you think? Do you like its features? Let us know in the comments!
If you like our content, please consider sharing, leaving a comment or subscribing to our RSS feed to have future posts delivered to your feed reader.

Please follow us on twitter @CodeRewind and like us on facebook