Most of the wearables devices available in the market are just plain. When it comes to the look of a smartwatch, it does not look like any other watch. Martian Notifier is your classic designed smartwatch that looks like your standard analog watch at the first glance. Let's have a detailed look at its features.
Notifier Smartwatch
Design
Martian Notifier smartwatch has a standard circular face and swappable ribbed silicone straps. It has a traditional 1.7 inch round analog watch face and the bottom features a tiny 96 16 pixel monochrome OLED. On the left, you will find a color notification LED. The clean, conservative appearance pairs equally with sober business attire as well as casual wear. It weighs about 52g and does not feel much different from a standard watch.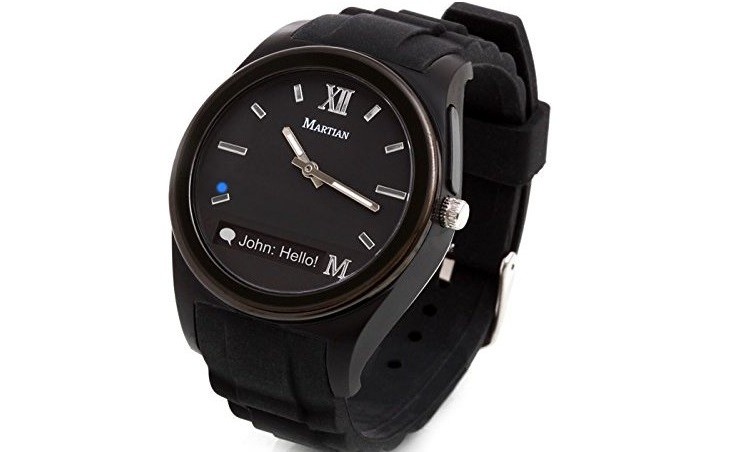 Smart Notifications
You can download the app for your iOS or Android device and switch on Bluetooth. The smartwatch allows you to get notifications for just about any mobile app such as email, Twitter, calls, texts and more. Martian Notifier smartwatch allows you to set up to five individual or recurring alarms as well. Though it may not do much beyond alerts as its rivals like Pebble Steel Smartwatch but does a reasonable job of handling them at a great price.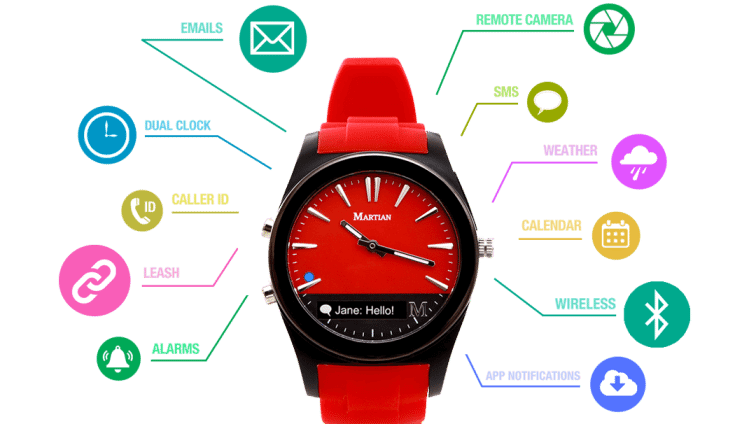 Performance
The flashing LED does a good job of catching your eye. It flashes blue for an incoming notification, green when it is charging and red when the power is low. In addition to working with phone basics, Martian Notifier works with a great list of compatible app. Also, you can set it to discretely buzz your wrist for custom vibration pattern to make each alert unique. The alerts show the name of the person messaging you followed by ticker tape readout. You can set the delay and scroll speed in the app and can tap the screen to dismiss the alert.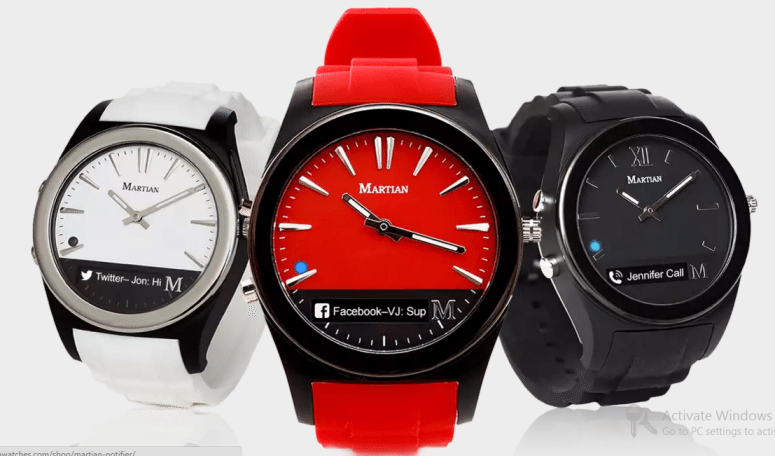 Other Features
You can tap the lower button twice to start the cycle through the menu. There are options to activate LED as light, turn on 'do not disturb' mode, use watch as a smartphone camera remote control and more features. Though it is splash-proof but is not fully water-resistant. You cannot have shower or swim while wearing Notifier. You can charge the smartwatch through a Micro-USB cable and port located under a flap. Notifier smartwatch supports Bluetooth 4.0 LE and works with your phone in a range of 10-20 feet.

---
Pros:
Affordable
Smart notification system
Works with both Android and iOS
Separate battery for clock
Cons:
Limited functionality
Not waterproof
---
A quick look at Martian Notifier SmartWatch:
| | |
| --- | --- |
| Specifications | Details |
| Width | 1.70 inches / 43.2mm |
| Thickness | 0.5 inches / 12.7mm |
| Weight | 1.83 oz / 52 grams |
| Compatibility | iPad Air, iPad mini, iPad (3rd generation), iPhone 6S Plus, 6S, 6 Plus, 6, 5S, 5C, 5, 4S, Android Smartphones with 3.0 or later, Android Tablets with 3.0 or later |
| Language Support | English, French, and Chinese |
| Warranty | 1 Year Limited Warranty |
| In The Box | Martian Notifier Watch, Micro USB Cable, Quick Connect Guide |
| Wireless | Bluetooth 4.0 wireless technology |
| Battery | lithium polymer rechargeable battery |
Wrapping Up
Martian Notifier does the reasonable job of providing notifications and alerts. Also, the notification system is completely customizable. Though there's room for improvement, but at such as affordable price, Notifier Smartwatch is really a steal deal. It offers a good compromise of style and substance.
You can purchase it today from Amazon.com at discounted price of just $49.99 against the market price of $117.83.
Do you like Martian Notifier Smartwatch? Share your thoughts with us in the comments.