Facebook has introduced a new feature in its Messenger app that will soon allow you to spend money to your friends. Now, you don't need to open another app like PayPal to send money to your friends.
Facebook is adding a new feature that lets you send money over Messenger. To use this feature, you will have to link a Visa or MasterCard debit card and create a PIN. To send bucks to someone, just hit the appropriately labeled $ icon and enter the amount. Now, hit pay and currency is transferred immediately, although it will take a couple of days to show up in recipient's account.
You just need to add debit or credit card details just once. Once card is added, you just need to enter PIN every time you want to send money to Facebook friends. With this feature, you need not to worry about the security. Facebook is handling loads of daily payments for years. Moreover, the connection between your device and their servers is encrypted. iPhone and iPad users can also enable Touch ID for additional security.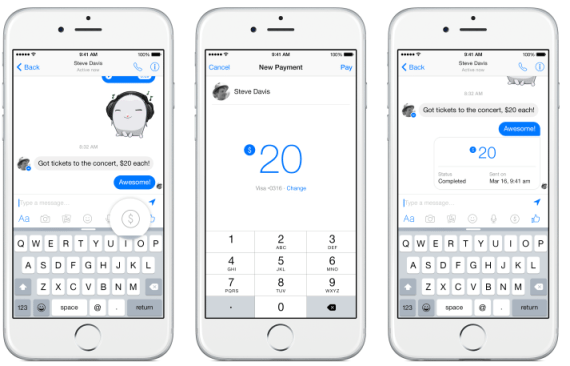 Receiving money is also simple as sending. You will open the conversation in your Facebook messenger and tap Add Card in the messages. Now add your debit card and accept money. The card details are required to be added for first time only.
This new feature will be rolled out in the coming months in US for Google and Apple mobile platform. It will also support desktop computers. Though it is only in USA for now, when it will open up payments internationally, Messenger could help many in sending home money in a cheaper way.
What are your thoughts on this initiative to send money to Facebook friends? Will you going to use this feature? Let us know in the comments!
If you like our content, please consider sharing, leaving a comment or subscribing to our RSS feed to have future posts delivered to your feed reader.

Please follow us on twitter @CodeRewind and like us on facebook