Working on computers or laptops for a long period of time can have many effects on your health. Here comes the usefulness of laptop stands of 2017 including adjustable and portable cooling stands. These stands allow you to work on laptop all time without causing you stress and helping you work better. If you are looking for good laptop stand, here are the best laptop stands that are helpful for you.
10 Best Laptop Stands
1) Rain Design mStand Laptop Stand
Rain Design mStand tops our compilation of the best laptop stands available in the market today. It is made of sturdy aluminum and easily transforms your laptop to a stylish workstation. It comes with elegant curves and silver-anodized finish. Also, the ergonomic design of the laptop allows for long term use of laptop without causing strain on the body.
Ratings: 5/5 stars (2778 reviews)
Price: $42.03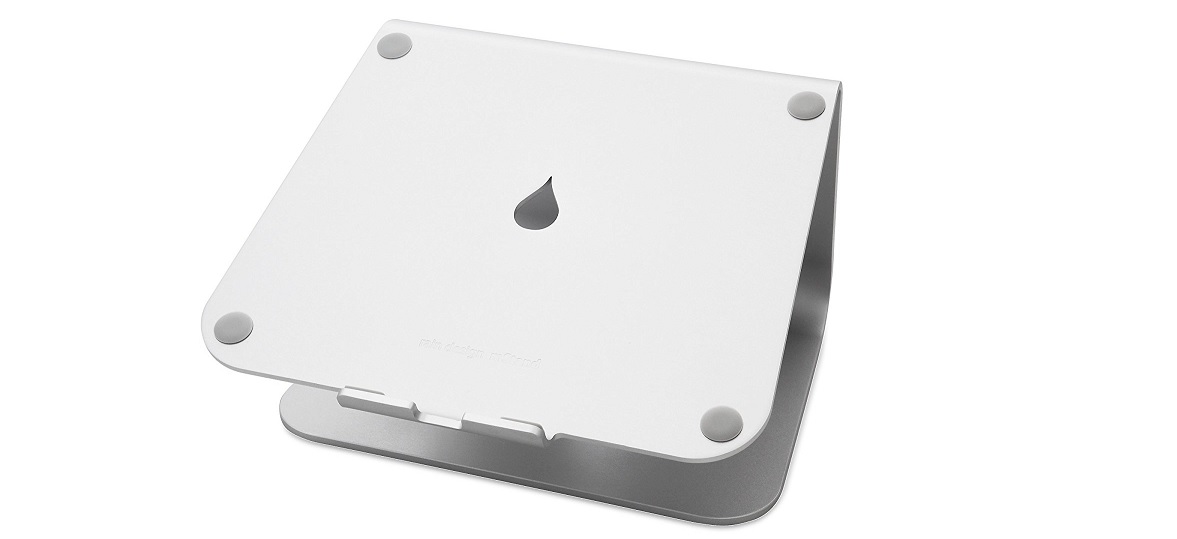 2) Seville Classics Mobile Laptop Desk
Seville Classics mobile laptop desk cart features steel frame atop the four corners. It has two locking casters to ensure that the cart moves when you want it to. It is height-adjustable and can be moved to any room in your home, office or apartment easily using the four rolling casters. Also, it is made of a sturdy metal construction and provides excellent stability.
Ratings: 4/5 stars (2478 reviews)
Price: $34.99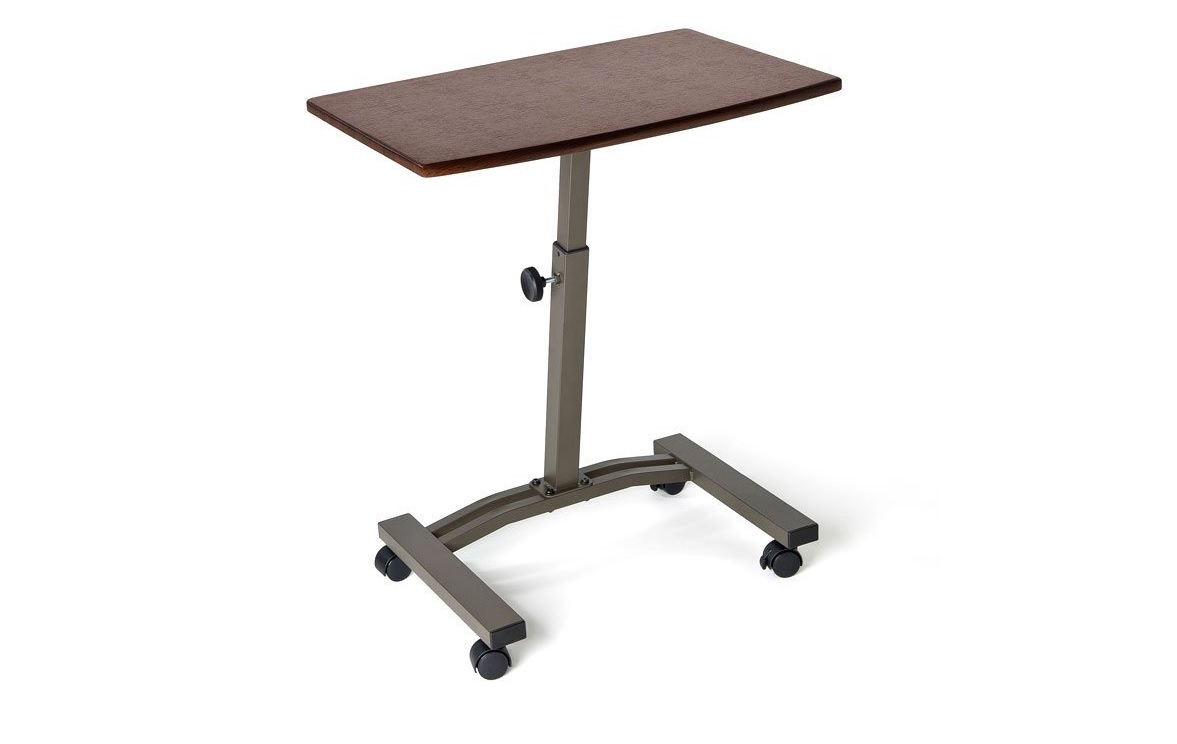 3) Furinno Adjustable Vented Laptop Table
Furrino offers you a comfortable way to use your laptop computer while relaxing on a couch. The ergonomic design of the laptop tablet offers you complete flexibility to place the laptop in the most comfortable position. It is lightweight, strong and durable and features 360 degree angle adjustable joint locking button.
Ratings: 4/5 stars (1487 reviews)
Price: $45.89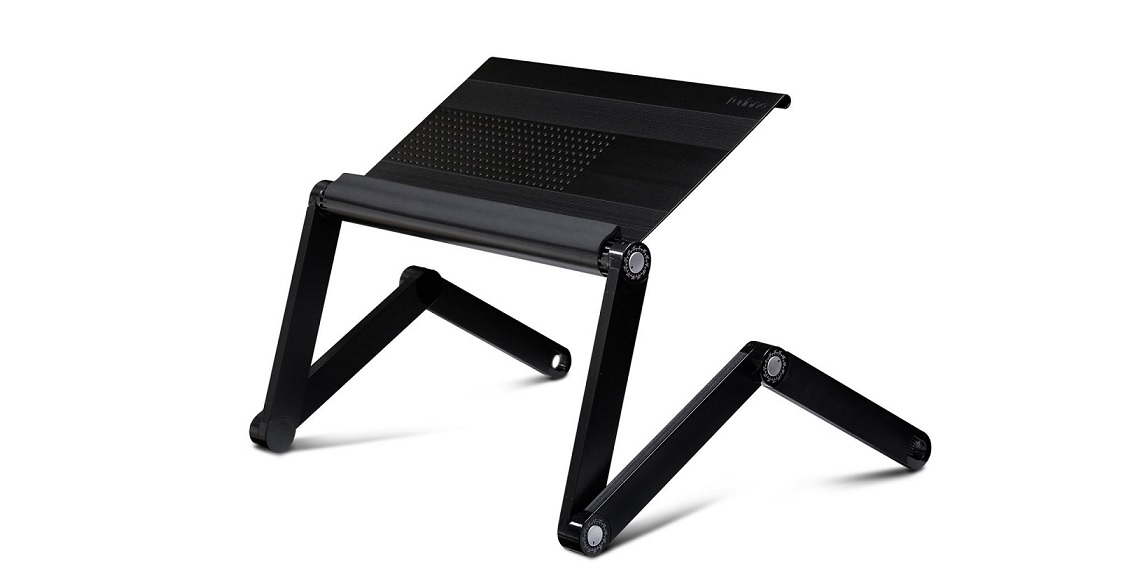 4) iCraze Adjustable Vented Laptop Table
iCraze is one of the reliable providers of the best laptop stands. It offers adjustable vented laptop table made of aluminum alloy. It is ultra light and strong and has silent built-in fans to cool your laptop on USB power. The stand is highly functional and can be used for multiple purposes. The locking button can be set in full 360 degree angles so as to fit any body position. You just need to hold the button on the joints, change position and release the button to lock it.
Ratings: 4/5 stars (1140 reviews)
Price: $29.99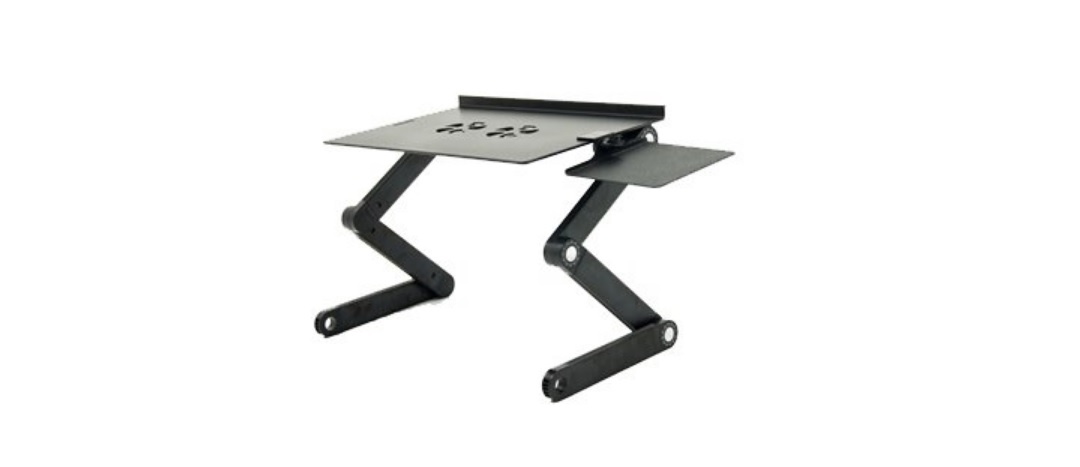 5) Pwr+ Portable Laptop-Table-Stand
Pwr+ portable laptop table stand is lightweight and features sturdy fully adjustable legs. It makes carrying easy while holding your computer steady and firm. You can easily connect USB cord to your computer to power the cooling fans. It carries a beautiful and convenient design which makes it use for multiple purposes.
Ratings: 4/5 stars (999 reviews)
Price: $39.90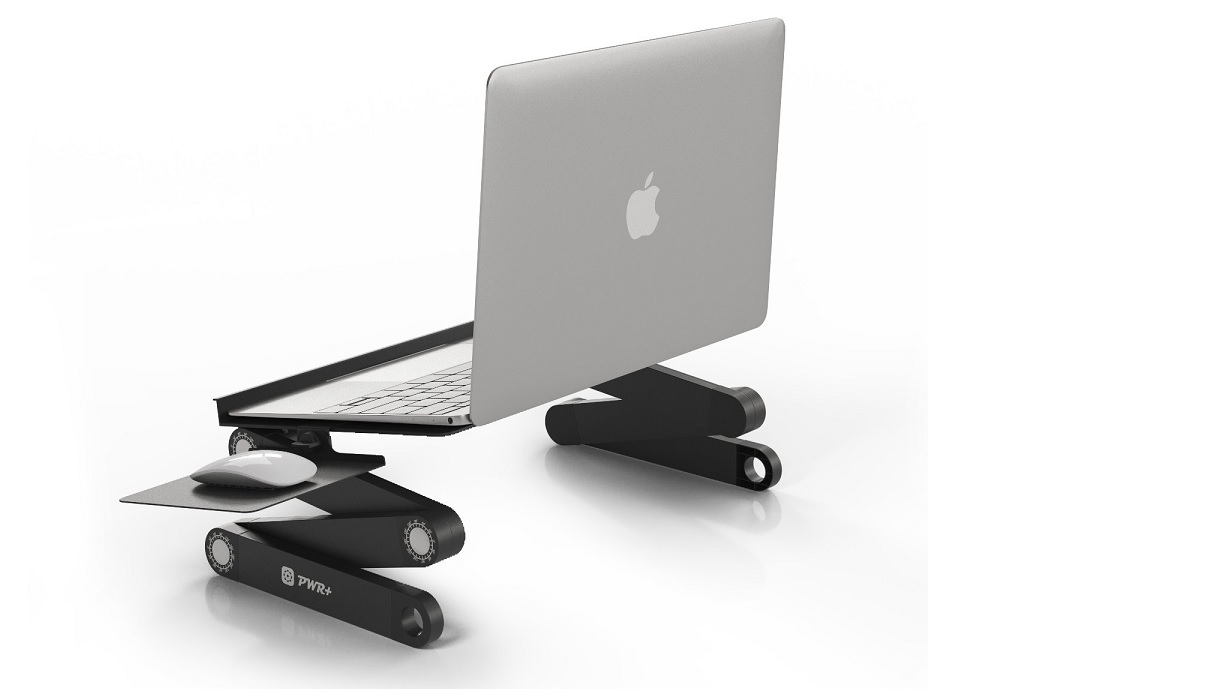 6) AmazonBasics Ventilated Adjustable Laptop Stand
AmazonBasics Ventilated laptop stand keep laptops running cooler with the purpose of reducing crashes. It combines metal-mesh ventilated panels with an adjustable height to provide a better experience for better conditions for the laptop. Whether you are using laptop sitting on a couch or a desk, it can easily adjust for optimal comfort.
Ratings: 4.5/5 stars (992 reviews)
Price: $19.99
7) PYLE-PRO PLPTS25 Laptop Computer Stand
Here's an awesome laptop stand from Pyle Pro. With this stand, you can safely place your laptop at any angle for easy access. It has a variable height adjustment as well. It is also compatible with CD players, lighting controllers, EFX machines and more.
Ratings: 4.5/5 stars (572 reviews)
Price: $14.99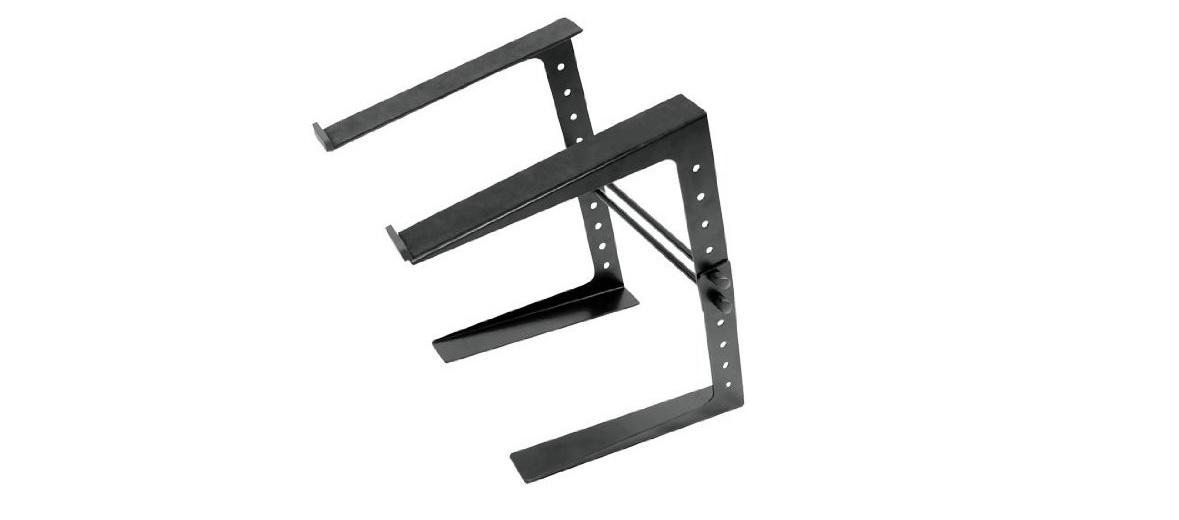 8) AmazonBasics Laptop Stand
AmazonBasics laptop stand raises laptops 6.1-inches off your desk to offer comfortable working or gaming experience. It is made of a single piece of metal and comes with silver-anodized power coated finish. It is compatible with Apple Macbook, MacBook Pro and other laptops having depths less than 9.4 inches. Thus, it offers great ease in using the laptop comfortably.
Ratings: 4/5 stars (502 reviews)
Price: $19.99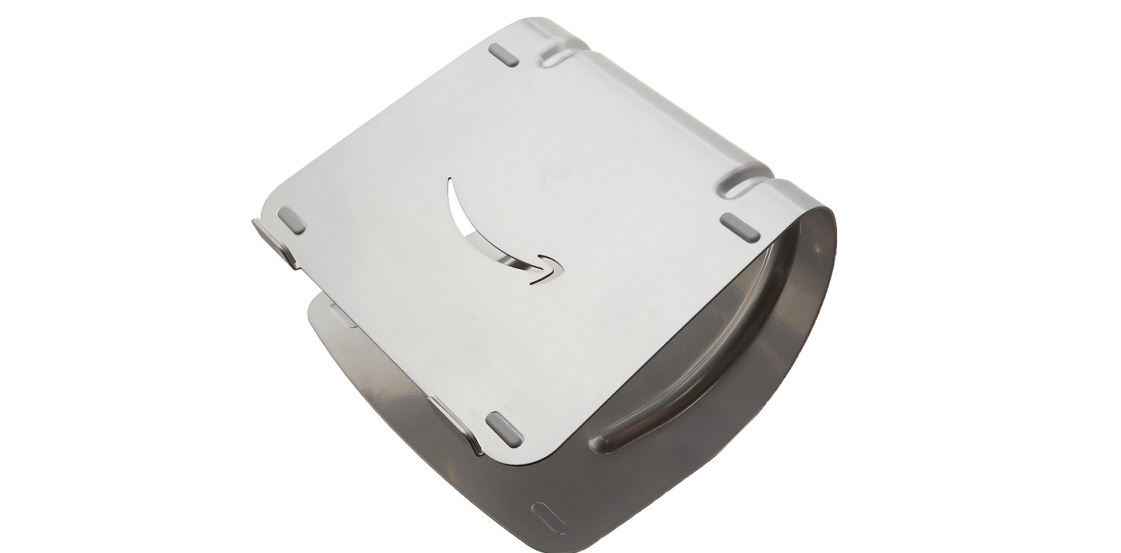 9) Tabletote Plus Portable Laptop Stand
Here comes a portable, compact and lightweight laptop stand that features adjustable height. It sets up in seconds and includes free cup holder and PDA holder. One of the popular laptop stands, Tabletote offers you a quality stand where the accessories can be smartly stored in the underbelly of the table along with its adjustable legs.
Ratings: 4/5 stars (498 reviews)
Price: $29.99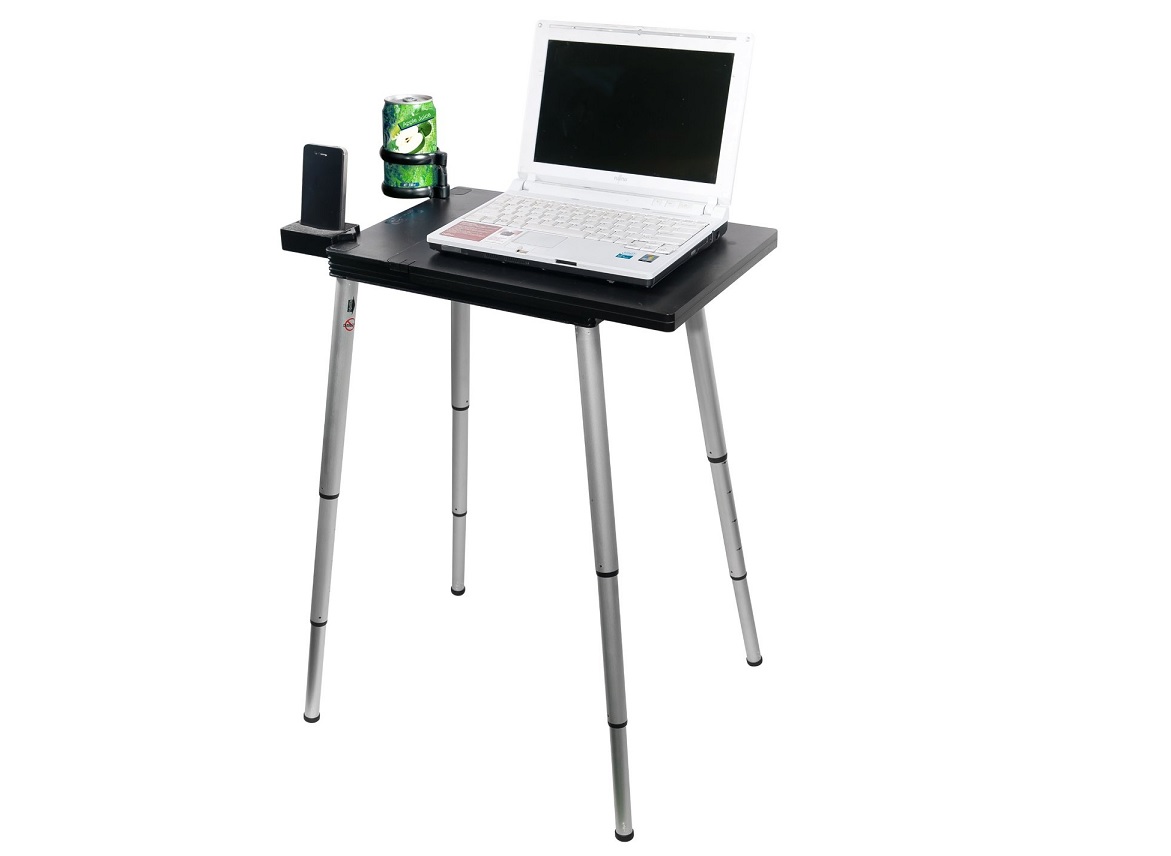 10) Avantree Adjustable Laptop Table
Last but not the least, here comes laptop table by Avantree in our assortment of the best laptop stands. It acts as a multifunctional laptop workstation: a standing desk, a laptop bed stand or a tablet stand. It comes with two auto-lock buttons on the side so as to make changes in height quickly. The stand is lightweight and portable enough to fold flat for convenient storage.
Ratings: 4.5/5 stars (430 reviews)
Price: $39.99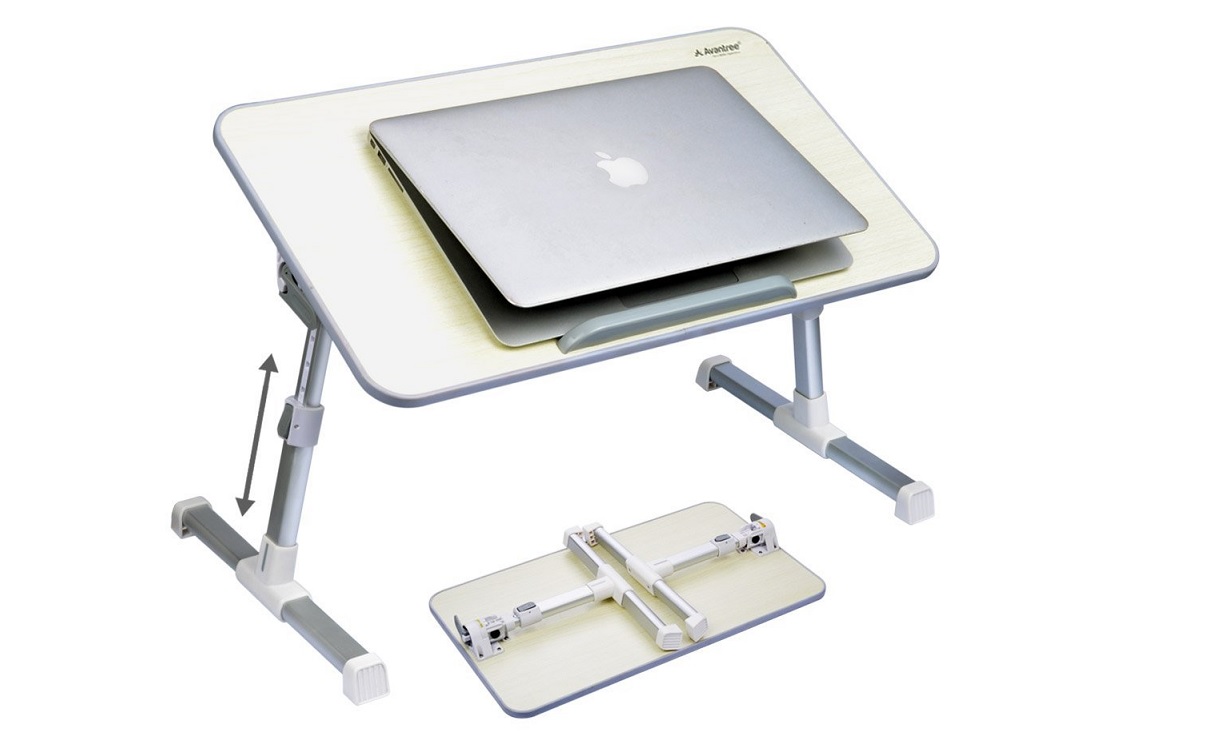 Buy it from Amazon
Did we miss out your favorite laptop stands? Let us know about them in the comments.