Gearbest 11.11 Sales Storm
Gearbest is a popular company known for providing a wide range of tech-related products. It is also renowned for providing products at the best prices. This Chinese online store has this time come up with the biggest ever discount sale called as 11.11 Sales Storm. The massive event splits into three different categories including several promotions, offers and discounts. Chinese Singles' Day is coming on November 11 and Gearbest is all set to offer the biggest deals on the tech products. It is designed to mark the popular 'Singles' Day' holiday. The sale starts November 7 and includes a large number of products at the reduced prices.

Biggest Discounts and Deals
At this Sales Storm, you can enjoy items starting at just $0.99 and even free goods as well.
For New Buyers
The first section is for the new buyers where one can buy Xiaomi Mi Band 2 for just $19.59, JJRC H31 Waterproof drone for just $25.79 and more.

For Old Buyers
In the second part, Gearbest takes care of its old buyers. For its valuable old buyers, it offers Lenovo ZUK Z2 at a special price of $218.99, and Xiaomi Air 12 Laptop for $509.99. The notebook is a decent choice for all those looking for a competitive notebook. It comes equipped with a 12.5-inch IPS display and runs Windows 10. It comes with 4GGB of RAM, an Intel Core dual-core processor and a 128GB SSD.

Cool Categories
Then, comes the section called Cool Categories. Here, you will find deals on various gadgets including smartphone like Xiaomi Mi 5S, smartwatch like KingWear KW88, and phablets as well. The Xiaomi Mi 5s is one of the hottest smartphones in the market. It comes loaded with a 5.15-inch display, 3GB of RAM and 64GB of internal storage. Under the hood, it is powered by a Qualcomm Snapdragon 821 processor. It bears a 12MP rear camera, 4MP front camera, and has a fingerprint scanner as well.

Hot Brands
In the hot brands section, you can enjoy deals on Chinese brands such as Elephone, Letv, Xiaomi and more.
Last but definitely not the least, a section called Get it Free is also included. This lets you get products for free simply by sharing. You can share on Facebook, Twitter, Google Plus and other social media networks to stand a chance to win products for free.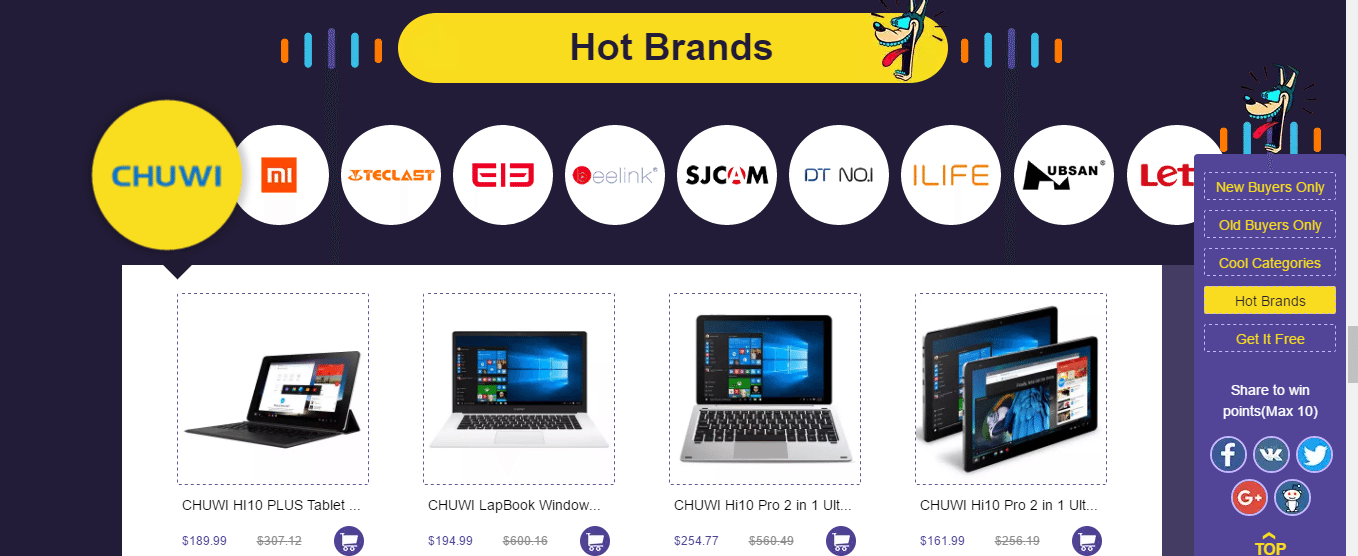 These are just few of the products that are included as a part of the sale. The sale event is going to be very big with huge bargains. So, get ready for Gearbest Sales Storm offering you many choices with deals starting at just $0.99. See yourself what offers are available, by heading to the link.