Features in WhatsApp Update
Facebook's mobile messaging app, WhatsApp, has now started rolling out a new update that brings Snapchat-like features to the app. These include doodling on photos and videos that one shares with the friends or family members. WhatsApp update brings a handful of new photo editing features. "Today we're introducing new ways to customise and enhance the photos and videos you share with friends and family around the world. With WhatsApp's new camera features, you can now write or draw on photos and videos, as well as add emoji to express yourself," reads a statement on their website.
New Camera Feature
When you capture a new photo or video, you will automatically see editing tools. Previously, photos and videos can only be cropped and given a title. Now, the app includes a number of new photo editing tools.
Snapchat-like Doodle
WhatsApp now allows its users to doodle and scribble on the images clicked or shared from the app. This feature has long been a part of Snapchat and is very popular as well. Now, WhatsApp is also offering it to Android users and iOS users are expected to soon receive the update as well. Another Snapchat-like feature is that it lets you instantly switch between front and back camera by double tapping the screen.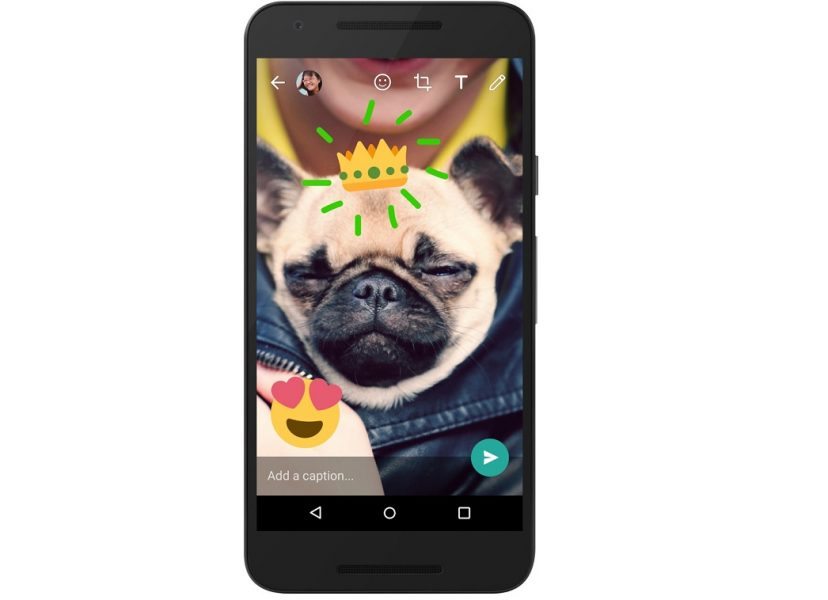 Add Emojis and Color Texts
In addition to Snapchat-like feature, WhatsApp update also includes a number of new features. It gives the ability to add emojis and color texts on the top of the images. You can add an image from your collection or snap one instantly to get the option to add emoji or draw on the image. Users also get the option to zoom in and out video recording. WhatsApp has also added the front-facing flash support.
WhatsApp also points out that users will be getting the option to enable front-facing flash. This will whiten the screen temporarily to click low-light selfie.
The addition of these new features in the WhatsApp update gives users the ability to use the emoji stickers without switching to another app.
What are your thoughts about these features that come with the updated WhatsApp? Are you going to use these new camera features? Let us know in the comments!