Meet Opera VPN for Android
Most VPN services are either paid or might not seem trustworthy. But, there can be several instances where we need to access sites that are being blocked. A VPN service running on your phone or computer allows you to access websites without being tracked as well as access websites that are blocked. Opera has launched a free and unlimited VPN for android for all your VPN needs. It has neither any data limited nor requires a log-in or subscription. This free opera VPN for android app also includes ad-tracker blocking function. Let's check out the details.
Virtual Locations Support
This free VPN app for android lets you choose from one of the five locations: Canada, Germany, Singapore, the Netherlands and USA. The app is simple to use and when you launch it, you have a single button to enable VPN.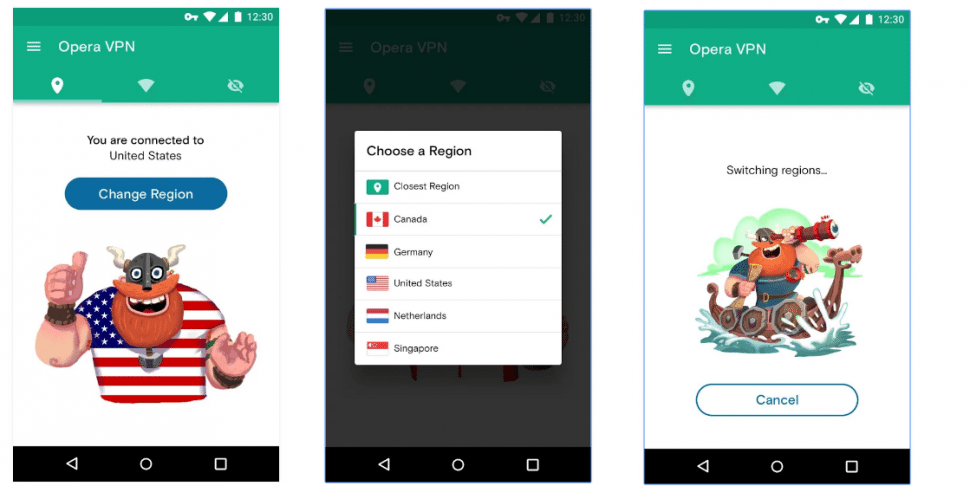 Viking Guide
"We've incorporated a Viking in the app, because Vikings didn't care about borders, and they certainly wouldn't be afraid of public Wi-Fi. The Opera VPN app can unlock online borders and is the closest thing to a Viking shield that today's mobile users have for virtual self-protection," says Chris Houston.
Viking makes the app easily accessible and makes navigation seamless. His outfit changes according to the flag of the country you have chosen. It is easy to change the regions and access websites that are blocked otherwise in that region.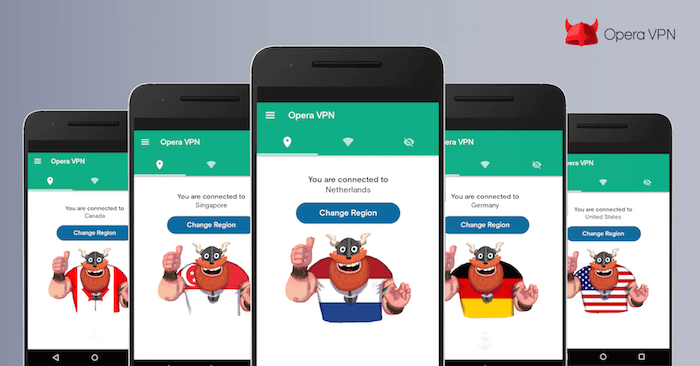 Wi-Fi Security Test Tool
The Wi-Fi security test tool of opera VPN for android scans the Wi-Fi network you are connected to. In case it detects any weakness, it will advise to enable the VPN. It offers you scores from A to F, with A implying the network is secure and F means the network is insecure. Wi-Fi test feature is useful especially when you are connected to a network in an airport or café. It analyses the weaknesses and protects the connection as well.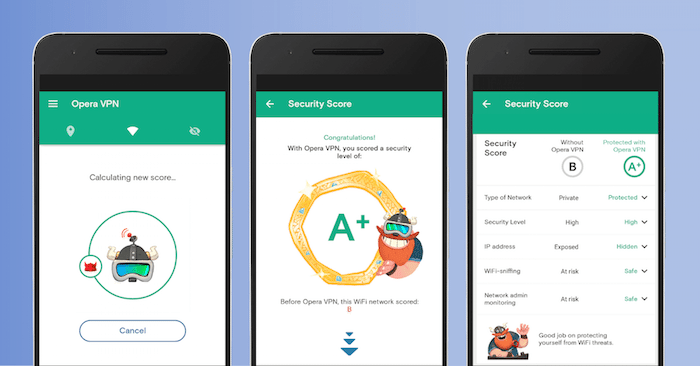 Guardian
Guardian blocks the ad tracks to protect your privacy. The VPN is automatically enabled for this and you need not to worry about blocking ads. It also shows you the statistics of all ad trackers which are blocked.
Some useful insights about Opera VPN for Android:
Cost: Free
Ratings: 4.2 out of 5 stars
Publisher: Opera
Requires Android: 4.0.3 and up
Download it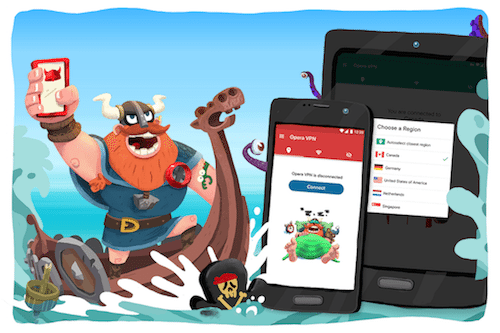 To wrap up, Opera VPN for Android is a pretty useful app with its simple and clear interface. It follows the iOS version that was launched earlier this year.
Give it a shot and let us know how you feel about it in the comments!