Improved Gmail Security Features
As the debate over personal data security continues, Google has updated Gmail with improved security features for the users. It focuses on helping customers to maintain their privacy. Let's have a close look at improved Gmail security features.
Updated Warning System
The new features offer an updated warning system on links sent via Gmail that might lead to unsafe websites. If a user happens to click on a dangerous link, they will be warned about it before connecting. Also, the users are provided with more information about protecting their computers. Though Safe Browsing feature existed before but only as a single warning before the user clicked on dodgy link. This strengthens Gmail security features.
Google said that the warnings only happen to less than 0.1% of all Gmail users. According to the blog, "The users that receive these warnings are often activists, journalists, and policy-makers taking bold stands around the world."
The users will be shown a full-page warning and provide them several ways to get more information about the threat along with ways to protect their computer from malicious malware. Alternatively, a user can proceed to the flagged website at their own risk. The company further notes that it will not be sharing the reasons behind these warnings as to prevent the potential hackers from knowing how they are being discovered.
Google has been rolling out updates to a wide range of its mobile services and most of them have been focusing on the new Android N.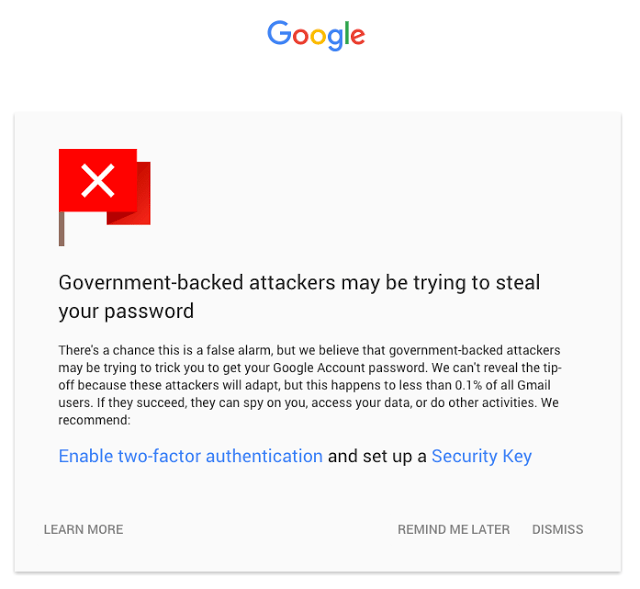 Last month, Google has also shared an update on a new icon – a broken red lock. It tells users when they are communicating with an account that does not support encryption. According to Google, the amount of inbound mail sent over an encrypted connected has increased by 25% since then.

Inbox by Gmail for desktop users has recently been updated with smart reply feature.
Have something to add to this story? Share it in the comments.