Meet Launchify
Android users find launchers very convenient and make lives easier. Though there are many launcher apps available but today, we are talking about an efficient launcher app called Launchify – Quick App Shortcuts. The app works as quick app shortcuts to your favorite apps. Let's have a close look at its features:
Easy to Access
Launchify makes it lot easy to access the app that you use on a frequent basis. The app brings shortcuts to your lock screen and navigation drawer. You need not to unlock screen every time. You can click on an icon on the lockscreen to easily launch an app.
Discover Apps
For beginners, it uses your location and studies it to discover apps that you will find useful. You will get notifications about apps that are likely to be required by you. The app also discovers new apps that it thinks that you will like and sends notifications. With its useful shortcut bar, you can quickly access to open the frequently used apps. In the settings panel, you will find the options such as Background Tracking, Notifications, Notification Icon on Top, and Driving Recommendations. These settings work to improve the overall experience of the users. Driving Recommendations toggle recommends those apps that are mostly used during the travel journeys.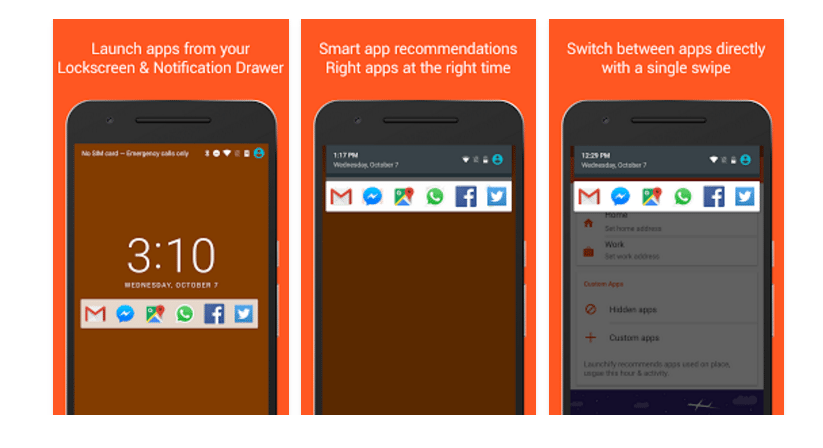 Add and hide custom shortcuts
Launchify adds shortcuts depending on the usage of the apps. There's a "Hide apps" feature that allows users to exclude the apps that they don't want to appear there. Also, one can add custom apps to the stripped list. You can also prefer to have custom list to be shown so that when you scroll down the notification bar, the favorite apps are shown. Users will also be able to switch applications with a single swipe. When one enables notification access for app in settings, users can add an ongoing notification that puts shortcuts on the lockscreen.
Multi-task effortlessly
Launchify app also allows you to multi-task efficiently. The app makes use of Machine Learning Algorithms for smart app recommendations. There are smart app shortcuts in the lock screen or navi bar that show up as notifications on the screen. It also provides smart app suggestions in addition to tracking common activities, location and schedule.
Premium Features
There's also an option to upgrade the app to Premium for $2.50 in-app purchase. This in-app purchase unlocks two additional features: allows a second row of app shortcuts and the ability to manually add contacts.
Some Useful Insights About Launchify:
Cost: Free
Publisher: Emberify- Instant
Ratings: 4.1 out of 5 stars
Requires Android: 4.0.3 and up
Download it
When you are looking for a widget that allows access to your favorite apps, Launchify is a great app to consider.
Do you like Launchify? Do you make use of any launcher android app? Let us know in the comments.