Google has now pulled the wraps off the name of the next generation of its operating systems for phones and tablets called as Android 6.0 Marshmallow. Here's everything you should know about this operating system.
Android Pay
Android Pay is Google's new payments system that makes the checkout process faster. It will let you use your phone to make purchases at selected stores. Just tap on eligible card reader and follow the prompts. It is easier and more secure to make payments. It is compatible with any device using NFC capabilities, the Android Pay platform supported by American Express, Discover and more.
Google Now on Tap
Google Now has been improved and is smarter than ever. It understands over 100 million different places and it also knows exactly what you are referring to. The awareness is compounded by Google's Knowledge Graph. Google Now on Tap works with over 100 popular apps. It will know what musician you are listening to and provide right search results.
Fingerprint Support
Google has included support for a fingerprint reader. The future phones are expected to have fingerprint scanners to unlock the screen or authorize payments. The new functionality allows fingerprint scanners to unlock phones and they can also make purchases shopping in real-life or Play Store apps.
App Permissions
App Permissions have been overhauled in Android M and have also been simplified. Permissions are only requested for the first time you try to use a feature and not at the point of installation. It is giving better control of the information apps can access. Also, you can modify permissions granted to apps later in your Settings and can also view permissions by type and see the permissions granted to the apps.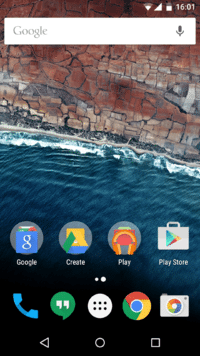 New Power Saving Mode
Android Marshmallow comes with a new function called as Doze to improve the device standby time. It recognizes when the devices are not interacted for a while and reduces background processes. Even in Doze mode, one can start alarms and get priority notifications. This makes the battery last a bit longer. In Google's tests, Doze resulted in two times the battery life as compared to Android 5.0 Lollipop on the same device with same apps.
Android smartphones are going away with microUSB, replacing it with USB Type C. With this new USB type, the charging mode can be inserted in port either way. USB Type C allows for faster data transfer rates and charges devices faster.
Direct Share
Sharing on Android has become convenient with Android 6.0 Marshmallow with a new feature called Direct Share. With Direct Share, you can allow apps to share content to specific contacts with a click.
Android Marshmallow is promising lot many enhancements and improvements. The developer preview was released in May 2015, for the Nexus 5 and Nexus 6 phones, the Nexus 9 tablet, and the Nexus Player set-top box. Android phones that are expected to receive it include LG G2, LG G3 and LG G4 devices.
Share your thoughts on the story in the comments!
If you like our content, please consider sharing, leaving a comment or subscribing to our RSS feed to have future posts delivered to your feed reader.

Please follow us on twitter @CodeRewind and like us on facebook