The need to back up your files is really important and if some natural calamity happens, your data as well as backups are gone. There comes the role of online backup services. Such services keep your data secure. CrashPlan is the best online backup service by Code42, an American Software Company. It can backup Windows, Mac and Linux computers to the cloud.
Let's explore its features:
Interface
CrashPlan comes with a neat and clean interface. There are direct links to backup, restore and settings. You can add backup destinations, change folders to be backed up and can also invite others to backup your computer. This fully automatic backup system keeps the latest version of everything you want to backup.
The service performs incremental backups and thus, it only uploads the information that you change instead of uploading the entire file. An amazing feature of it is that when it uploads changes and edits, it saves both the new and previous versions of the files. With unlimited storage space, there's never any issue to manage space.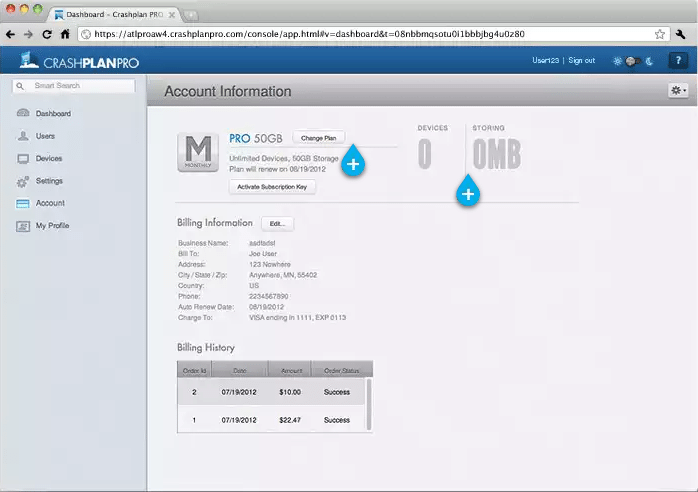 Security
CrashPlan comes with good security features and uses a 448-encryption. The service uses a 128-bit secure transfer connection to protect your files and keeps control of your encryption key. One also has the ability to use a private archive encryption key. It uses geo-redundant servers located throughout the United States and around the world.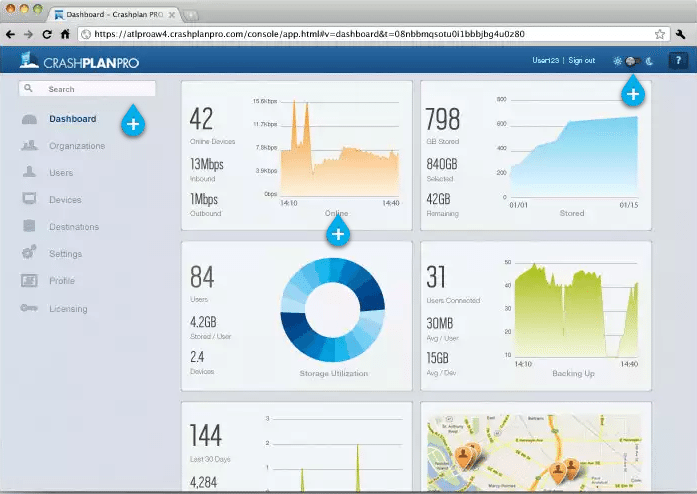 Backup and Restore
CrashPlan incorporates backing up of your data both locally and to the cloud. You can select where you want the data to be backed up such as to the cloud, local drive, another computer, another folder etc. This innovative online backup service allows one to backup their computer to another or to an external drive as well. CrashPlan uses "Guaranteed Restore Technology" to make sure that the backup is ready when you need it. There are three different ways to restore files: from the desktop, do a web restore or a guest restore.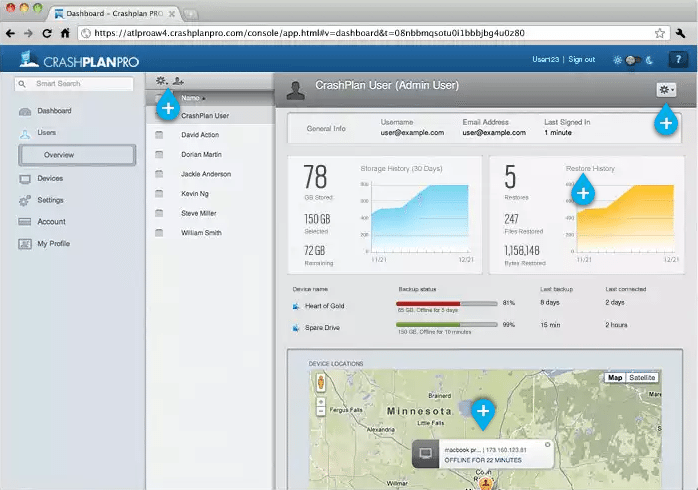 Mobile Apps
CrashPlan offers mobile apps for iOS, Android and Windows Phone. With these apps, you get remote access to your backed-up data. You can access files backed up from your account computers. There's no feature to backup your mobile like photos or other data originating on the phone.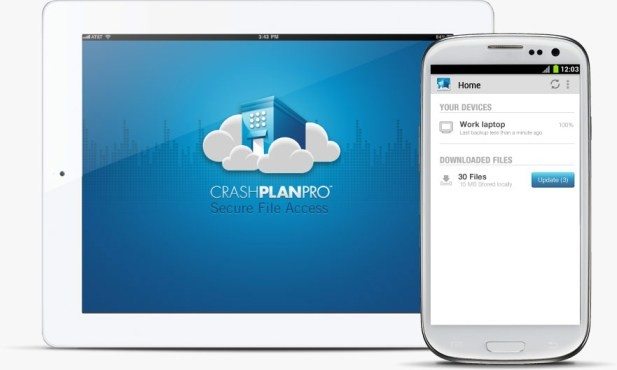 A quick look at CrashPlan:
| | |
| --- | --- |
| Specifications | Details |
| Unlimited online backup and storage | Yes |
| Monthly Price | $5.99 |
| Unlimited file size | Yes |
| Backup any folder | Yes |
| Sharing or syncing features | No |
| Automatic Backup | Yes |
| Free Trial | Yes, 30 days |
| Keep deleted files | Yes |
| Bandwidth controls | Yes |
| Mobile Apps | Android, iOS, Windows Phone |
| Encrypted storage and transfer | Yes |
| Phone, Email, Chat support | Yes |
---
Pros:
Clean interface
Unlimited storage plan
Fast file processing
Email notifications
Easy to use
Local, offsite and online backups
Cons:
Does not offer file sharing and syncing
High memory usage
No online backup with free version
---
Wrapping Up
CrashPlan is a good option for all those looking to backup their data and won't want to face any complexities in doing the same. It provides an unlimited backup solution at a very reasonable cost. It is a great choice for offering good interface, adjustability, speed and value for money. It is popular among the users as this backup solution is for both experts and novices. It offers true unlimited online backup.
Do you use CrashPlan? What has been your experience of using it? Let us know your thoughts in the comments!
If you like our content, please consider sharing, leaving a comment or subscribing to our RSS feed to have future posts delivered to your feed reader.

Please follow us on twitter @CodeRewind and like us on facebook