Today, there are many ways to be productive and email clients here play a vital role. People who are using emails are increasing day by day and it takes a lot of time to open and check every email account. Email clients help to save your time and efforts by providing quick access to all of your email accounts at one place. Many email clients are available for windows and it takes a lot of time to try out each and select the right one. Here, we have listed the best email clients for Windows that help to save your time and offer seamless integration with your several email accounts.
Let's have a look at them:
Mailbird is one of the best email clients for Windows and provides a clutter free experience to the users. It allows users to add and use multiple email accounts on a single window. In addition to this, it features keyboard shortcuts, labels and folder search. It is packed with apps, features and software upgrades to boost the productivity. It is a speedy email client that eliminates all the clutter and improves the functionality with the help of extensions.
Pricing details: Mailbird Lite (Free)
Mailbird Pro $ 1/month (billed annually)
Mailbird Pro Lifetime $45/pay once
---
Pros:
An uncluttered interface and provides support for basic email settings
Loads email data very quickly
Delivers a clean working environment
Cons:
Lacks some important features
Free version lets you set up only three accounts
---
eM client is a full-featured email client for Windows that comes with an easy to use interface. It supports all major services like Gmail, Outlook, iCloud and more and one can easily important data from other email clients. It has been optimized to offer support for touch devices such as touch-enabled laptops, tablets and hybrid devices.
Price: Single PC License: Free (home)
Single License Pro $19.95
---
Pros:
Amazing plethora of features
Handle multiple email accounts effortlessly
Simple and user-friendly interface
Cons:
Free version lets you add only two email accounts
---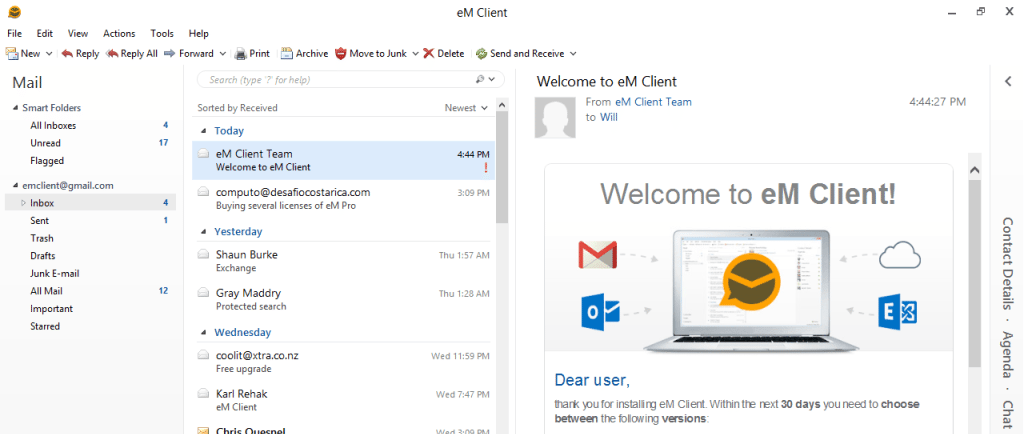 Zimbra is one of the good choices available for email clients for Windows. This desktop client provides easy to navigate interface. It offers a wide range of features including social accounts within the application. It is an open source unified collaboration platform for messaging, social sharing and lots more. It does a great job of managing your inbox and working with services like Microsoft, Gmail, Yahoo etc.
Price: Free
---
Pros:
Works online as well as offline
Supports up to 20 different languages
Tabbed interface
Unlimited email accounts support
Cons:
Looks outdated as compared to today's standards
High memory usage
---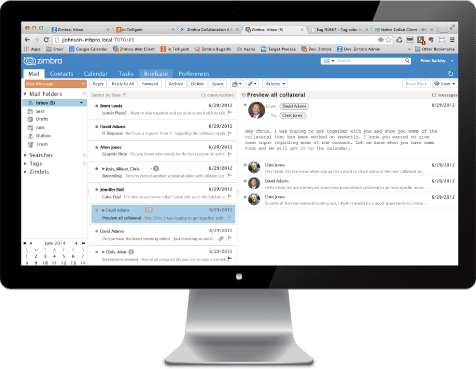 Thunderbird supports multiple POP and IMAP accounts for all your email addresses. It comes with an easy setup and features multiple viewing options. It has powerful and simple-to-use search and filtering options. It offers a range of options and allows you to integrate multiple mailboxes. It has a range of tools to organize your emails including tabbed email browsing, custom folders, powerful spam folders and lots more.
Price: Free
---
Pros:
Nice built-in features
Tweak it to fit your specific needs
Availability of so many add-ons
Cons:
Does not synchronize directly with a mobile device natively
Interface is a little bit outdated
---

Opera Mail is a lightweight email client and supports POP and IMAP. It comes with a slick and flexible interface to satisfy most email needs. It successfully integrates RSS feeds and helps you smartly organize your mail.
Cost: Free
---
Pros:
Highly customizable and lightweight
Intuitive and fresh interface
Offers elegant tabs to view multiple email messages
Easy to use
Cons:
Not as many features as other email clients
Little customization
---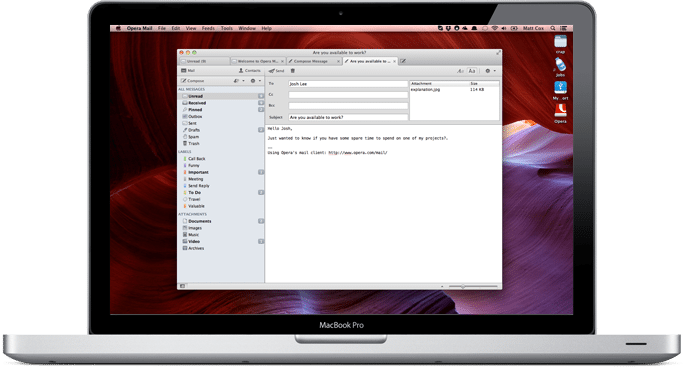 Among professional-looking email clients for Windows, Inky is a popular choice. It automatically configures email accounts of Gmail, Yahoo or Outlook and comes with mobile applications as well. It is a great choice for people with multiple email accounts. The interface is simple and offers easy access to all of your accounts.
Price: Free
---
Pros:
Cloud synched
Unified interface
Easy sorting and filtering of your emails
Quick and efficient search
Cons:
Can be unresponsive at times
Cannot set new filters
---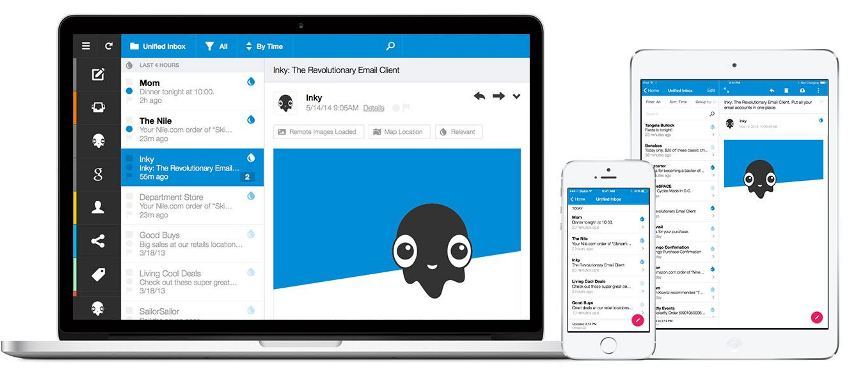 ---
Pros:
Sleek new design
Gives quick access to contacts, calendar and tasks
Includes mailbox cleanup tools
Social connectors
Cons:
Expensive as a standalone program
---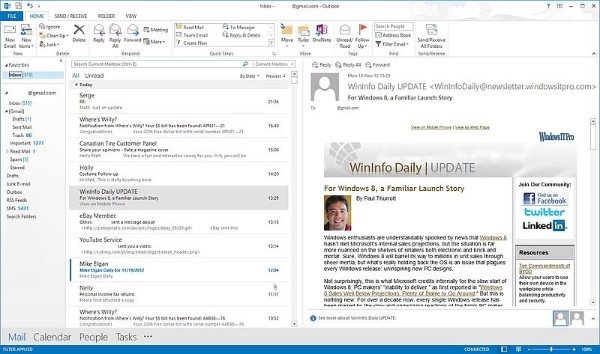 Do you use some other email clients for Windows that are not covered in our list? Let us know about them in the comments! Don't forget to share your experience of using them.
If you like our content, please consider sharing, leaving a comment or subscribing to our RSS feed to have future posts delivered to your feed reader.

Please follow us on twitter @CodeRewind and like us on facebook