Lenovo has taken the opportunity at Tech World 2015 to demonstrate a new streaming device called as Lenovo Cast. Like Google's Chromecast and Apple TV, it connects to your TV over HDMI and connects and connects to your Wi-Fi network to send content from phone to the larger screen. It looks considerably different from the stick-style design of its competitors.
As people capture and store their favorite pictures, videos and apps on their mobile and personal devices, they need a larger screen to share with others. Lenovo has utilized this chance to offer Lenovo Cast. With 80% of people using tablets at home and 52% of them using tablets to watch TV, Lenovo Cast gives them the ability to share their favorite content by streaming it wirelessly from their personal screen devices to a big screen TV.
This new accessory aims to mirror your Android device's screen to the television. It is puck-shaped and connects to HDMI port of your TV. It offers extreme flexibility with its convenient pocket size and simple setup. It is a perfect companion device for smartphones and tablets.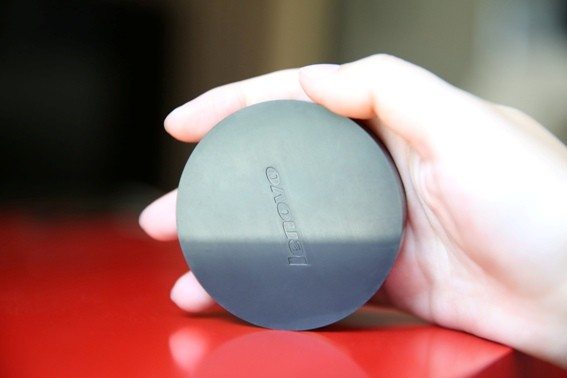 Liu Jun, Executive Vice President and President, Mobile Business Group, Lenovo said, "Today people want more from their devices – the freedom technology gives them to accomplish more. They want to share a variety of content from their smartphones and tablets such as online videos and games with friends and family on a larger screen. The new Lenovo Cast is our latest device created to enable such personalized experiences."
Unlike the competitors, Lenovo Cast ensures seamless streaming with dual frequency WiFi and the ability to transfer content up to 20 meters. The most amazing feature of this cast is that it is not limited to just sharing videos, but also mirrors any content you have on your smartphone.
The Lenovo Cast device connects to any display having an HDMI port. The tablets, smartphones or PCs connect to it via Wi-Fi and use DLNA or Miracast to stream the content. The cast supports dual-band 2.4GHz and 5GHz Wi-Fi streaming with range of 20 meters.
A quick look at specs of Lenovo Cast:
Specifications
Details
Dimensions
Diameter: 70 mm (2.76 in.)
Height: 15 mm (0.59 in.)
Weight
50g
Wi-Fi IC
RTL 8192DU
Wi-Fi/td>
802.11 a/b/g/n
Work Frequency
2.4G:2.4000~2.4835GHz
5G:5.180-5.825GHZ
Antenna
2*2
HDMI
1x micro HDMI (female), HDMI 1.3
USB
1x micro USB (female)
Resolution
Up to 1080p
DLNA Support
Local Video/Picture/Audio and DLNA enabled 3rd party video app
Valid Distance
2.4G 5m when on 1080p display(max)
5G 15m when on 1080p display(max)
Miracast Support
Yes
HDMI-CEC
Yes
Accessories Included
USB Cable, HDMI Cable, Bracket
Table Credit:Lenovo
Lenovo Cast is set to launch globally priced at $49 starting from August.
What are your views about Lenovo Cast? Are you impressed with its design and features? Let us know your views in the comments!
If you like our content, please consider sharing, leaving a comment or subscribing to our RSS feed to have future posts delivered to your feed reader.

Please follow us on twitter @CodeRewind and like us on facebook