Google today updated Google Slides for Android and iOS to let you stream presentations via Chromecast and AirPlay. With this update, Google Slides wirelessly streams your presentations to the big screen. You just need a smartphone or tablet with a Slides app. Chromecast is a small HDMI dongle to stream content from mobile and web apps to your TV. AirPlay is a proprietary protocol developed by Apple to wirelessly stream between the company's devices.
Google Slides for Android earlier works as a great alternative to Microsoft PowerPoint. But now, the updated app will allow users to beam their slides to a Chromecast dongle plugged into a TV or projector. Chromecast was released to offer an easy option to do away with projectors and VGA cables while giving presentations. But, users who want to display presentations had to use a laptop. With this updated app finally Chromecast support comes to Google Slides. You will also be able to control your presentation with your phone or tablet. A timer will also appear on the side to keep a track of how long a particular screen has been displayed. You can also view notes of the presentations.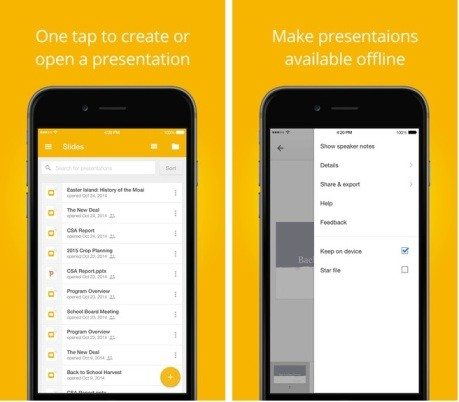 Google Slides makes your Android device a remote controller to run slides. The app shows a cast iicon when you open a presentation and when tapped, it makes a connection with Chromecast dongle to run the entire presentation to the connected TV.
This updated app is compatible with devices running on Android 4.0 Ice Cream Sandwich or above and is over 300MB in size. This feature about Chromecast integration on the Slide app for Android and iOS is soon expected to be available through Google Play Store. The updated app with support for both Chromecast and AirPlay will allow you to use the app on either platform to run your presentations wirelessly.
You can download Google Slides for Android and Apple's App Store.
Let us know your thoughts in the comments!
If you like our content, please consider sharing, leaving a comment or subscribing to our RSS feed to have future posts delivered to your feed reader.

Please follow us on twitter @CodeRewind and like us on facebook