Xiomi is well-known for releasing products at affordable prices. With Xiomi Mi Band, you will get the cheapest fitness band/activity tracker. This water resistant wearable comes with sleep-cycle smart alarm. It is one of the competitive fitness monitor and sleep tracker and runs MIUI android 4.4 and above. Xiomi Mi band offers you stylish band options as well like wrap-around and leather.
Let's explore its features:
Design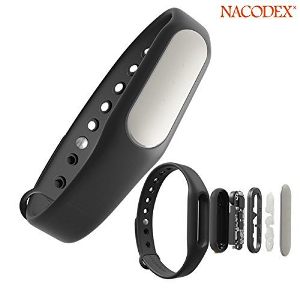 This simplest fitness tracker comes with no display on it. The sensors are housed in a polycarbonate body with an aluminum top. This capsule-shaped Mi band measures 14 x 36 x 9mm and weighs a mere 5 grams. There are three tiny LED lights on the top that glow in different colors: blue, green, orange and red. You will find a charging connector at the bottom. The charging pin goes into USB charging cable.
Build
The fitness band is made of TPSiV which makes it durable. The band is adjustable and the small button locks it tightly so that it does not come off easily. This wearable is water resistant, so you can wear the Mi Band in shower. It features ADI's MEMS accelerometer sensors and Dialog DA14580 low-power Bluetooth chip. It also has a small 41mAh lithium polymer battery which is 8mm thick.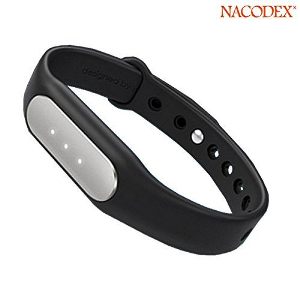 Performance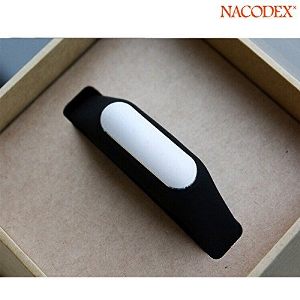 Xiomi Mi Band tracks your steps and sleep. You can also choose to enter sleep timing manually or choose automatic sleep tracking. It connects to your phone via Bluetooth and you don't need to keep your Bluetooth constantly on. Just connect the band via Bluetooth and you will be able to sync the data. The battery life of Mi band is really impressive. Though price is less but it does not mean compromises with the features or battery life. One full time charge will run for about 30 days. All-in-all, it works well as an activity tracker.
Software
The Xiomi Mi Band works well with Mi Fit app for Android and iOS. On first login, you will get details about birth date, height, weight and gender. You can set up your goal of daily steps. The app provides apt information on daily distance walked, number of steps, calories burnt, and more. In addition to tracker functionality, you can also set the band to vibrate whenever you get an incoming call or notification. You can also share your workouts with friends on Facebook, Line, WeChat and more.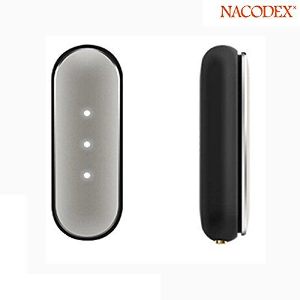 A quick look at Xiomi Mi Band :
| | |
| --- | --- |
| Specifications | Details |
| Weight | 0.96 ounces |
| Type | Watch-style |
| Tracking Metrics | Motion/steps, Sleep |
| Rechargeable Battery | Yes |
| Water Resistant | Yes |
| Colors | Black, Grey, Silver, Blue, Green, Pink, Orange |
| Battery Life | Up to 30 days |
| Programmable macro keys | 100 |
| Cost | $17.98 |
| Available At | Amazon.com |
---
Pros:
Extremely affordable
Great battery life
Works with iPhone and Android
Good value for money
Cons:
Inaccurate at some times
Not feature-rich
---
Wrapping up
Xiomi Mi Band is a light and comfortable fitness and activity tracker. Though it is small but looks good on the wrist. The band adjusts from 5.5" to 8.0" and fits most people. It works with both Android and iPhone and apps are easy to use. The battery life is another plus. When you are looking for an affordable activity tracker that comes with decent range of features, Xiomi Mi Band is a good choice. It is not for fitness enthuasiasts looking for highly accurate and advanced fitness tracking features.
You can buy it from Amazon.com at discounted prices. What are your views about Xiomi Mi band? Do you like it? Share your thoughts with us in the comments!
If you like our content, please consider sharing, leaving a comment or subscribing to our RSS feed to have future posts delivered to your feed reader.

Please follow us on twitter @CodeRewind and like us on facebook