Google has recently announced, "Starting April 21, we will be expanding our use of mobile-friendliness as a ranking signal. This change will affect mobile searches in all languages worldwide and will have a significant impact in our search results." This is a big deal. Google has announced publicly about this algorithm update and this update is going to have significant impact on search results. Here's everything you need to know about Google Mobilegeddon Update.
What does Google Mobilegeddon Update mean?
With this update, Google gives much greater prominence to mobile friendly websites in search results. The ranking of sites with positive mobile usability metrics is likely to increase with this update and on the other hand, ranking decreases for websites with negative usability metrics.
Is your website affected?
Google provides a Mobile-Friendly Test where you can determine whether the website is mobile-friendly or not. For example: we put in URL of a website and Google provided instant result.

The algorithm is not about how many pages are mobile-friendly or how many not. It is to find out is your website is mobile-friendly and not how much your website is mobile-friendly.
How to Optimize your web content?
Here, we share some of the useful tips to make web content optimized for the Mobilegeddon update.
You should strive to create clear and concise headlines. Make each word count on the headlines to make the content engaging.
Google has announced that it is planning to update how it displays mobile URLs. So, you should structure site data with rich Scheme tags to improve navigation and generate more engagement.
The text should be readable without need to pinch and zoom.
The window should resize so that your users don't have to scroll horizontally to view content of your website.
The buttons and links should be far enough so that fingers can tap them without accidentally clicking the wrong one.
The paragraphs should be kept short and crisp. Make use of lists or bullets as they make it easier for readers to consume your content.
Make the call to action buttons stand out. Make sure that the desired conversion can be made by your mobile audience effortlessly.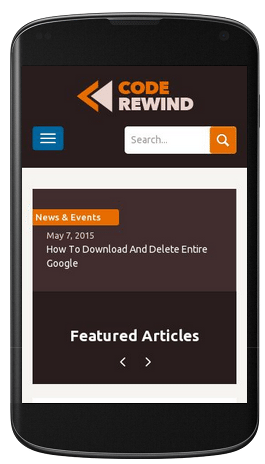 An example of mobile-friendly website
If your website fails Mobile-Friendly Test?
If your website fails Google's mobile-friendly test and need help, we can help you fix your website for mobile-friendly and responsive fixes. Just drop us a note from our contact us page.
Have something to add to this story? Let us know in the comments!
If you like our content, please consider sharing, leaving a comment or subscribing to our RSS feed to have future posts delivered to your feed reader.
Please follow us on twitter @CodeRewind and like us on facebook