Are you also getting frustrated at not being able to find old Facebook posts? If yes, here comes an end to your frustration. Facebook offers you news means of searching for older posts and it has been much easier and hassle-free process.
[leaderad]
The new search feature allows you to find old Facebook posts from friends by using keywords and you can also find content from any page you are following. The feature has already begun rolling out to iPhone app and desktop. The Android update will likely to follow in coming days. According to the Facebook blog post," With a quick search, you can get back to a fun video from your graduation, a news article you've been meaning to read, or photos from your friend's wedding last summer."
The search results are personalized to you, and you will see results that are shared with you. Facebook Search has been updated to allow you to easily find photos, posts, videos and links by just searching for few words in the post.
When you are going to use it for the first time, you will see New: Search for Posts when you start typing in the search bar. It also shows your recent searches.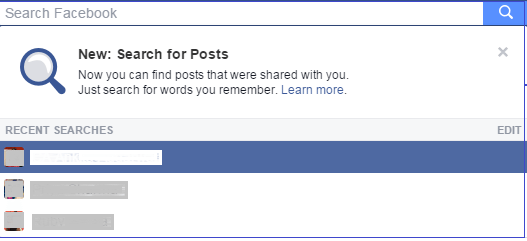 Now, start typing the name or keyword for which you are looking content. For example, I am looking for CodeRewind Posts about Windows Phone. So, I started typing Coderewind in the search bar and automatically get suggestions like CodeRewind Page, CodeRewind Windows Phone etc.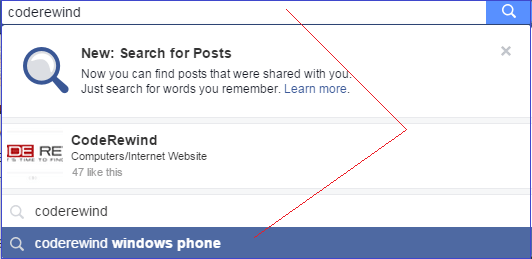 You will be instantly shown all posts that match the search criteria. You can also sort your search by selecting the type of post or person you are looking for. For example, you can select from Posts, People, Photos, Pages, Places and More.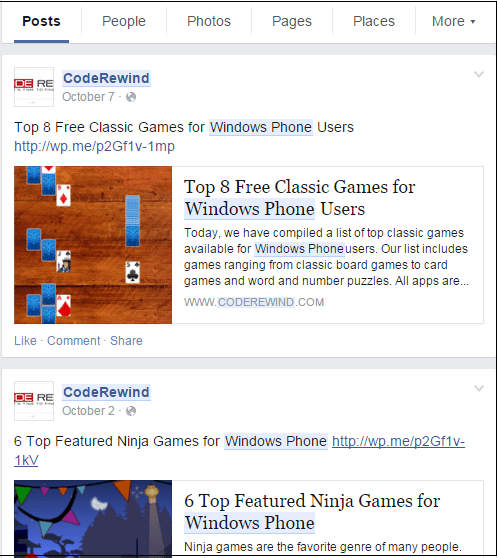 The search feature has greatly been improved, making it easy for you to find old Facebook posts and photos shared by your friends. All your old posts can now be found without compromising with the privacy. The searches apply the same privacy settings as the rest of app or desktop version. Like, if a post is shared privately among friends, only these friends will be able to see the post when they search for it.
Do you find this search feature useful? What are your views regarding this improved way to find old Facebook posts? Let us know your thoughts in the comments section.