Browsers, whether it is Google Chrome, Mozilla Firefox or Internet Explorer, are filled with many settings and options and most of them are hidden. You can view and change hidden settings in any browser. We have here discussed about how to get access to hidden secret advanced settings.
An important tip here is that these hidden configuration pages have many experimental features and you should only change them when you're very sure about the settings. These are hidden as they could affect your browser's performance.
In Mozilla Firefox
To get access to secret files in Mozilla Firefox and change hidden settings, follow these steps:
1) Type about:config in the address bar and press Enter.
2) Now, you will see a warning page. To proceed further, you need to click on I'll be careful, I promise! Firefox warns you to take it seriously as if you don't know what you're doing, you can get yourself in trouble.

3) When you click on that button, a new window will appear. It will show a list of various preferences names along with their status, type and value. There are three types: Boolean, integer and string.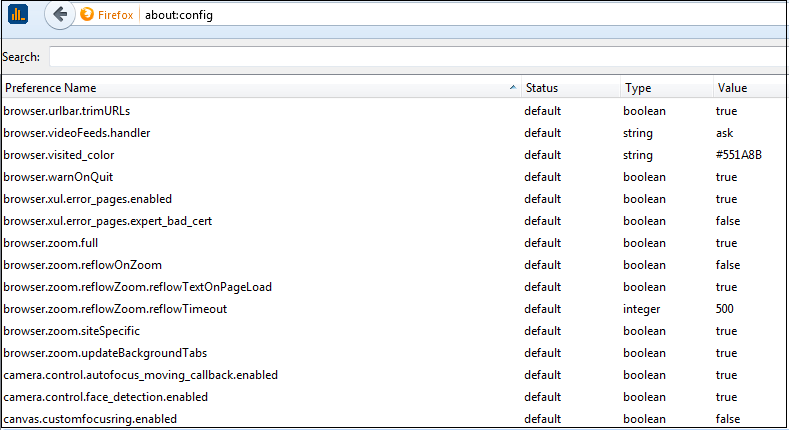 4) To change the value of any preference name, double-click on it and you will see that the status will be changed from default to user set. You can look through the about:config page with the search field.

In Google Chrome
Google Chrome has a page where you can see experimental settings and enable them. You can change these numbers, but be careful as these settings can cause serious problems. When you are sure about the changes, only then use them at your own risk.
To view and change hidden settings in Chrome, follow these steps:
1) Type chrome://flags or about:flags in the address bar of the browser and hit Enter.
2) You will see a warning along with the experimental features.
3) You will see a long list of experiments and you are expected to proceed with caution. Changes in these experiments can delete all your data, or your security or compromise with the privacy.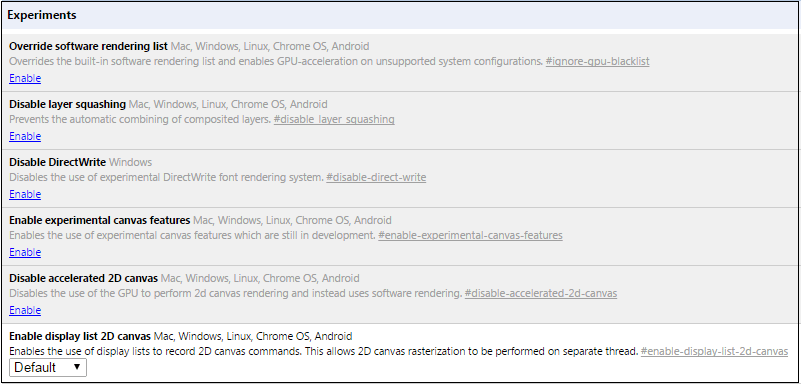 4) You can enable or disable the setting by clicking on Enable or Disable link given in the option description.
5) When you make any changes, a new Relaunch Now button will automatically appear at the bottom. Click on it to make Chrome take effect.
In Internet Explorer
When you want to change hidden settings in internet explorer, there is no dedicated page as you find in the case of Firefox and Chrome. These settings can be tweaked from the Windows registry or through Group Policy Editor.
Follow these steps to change hidden settings in Internet Explorer:
1) Type gpedit.msc in Run or Start menu search box and press Enter.
2) Now, go to Computer Configuration -> Administrative Templates -> Windows Components -> Internet Explorer.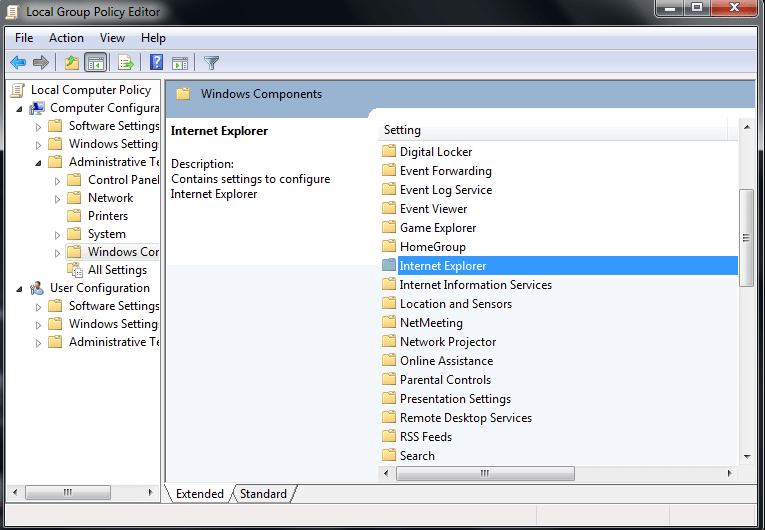 3) In the Internet Explorer folder, you can now customize and tweak interesting and hidden settings of Internet Explorer.
If you have something to add to this story, let us know in the comments.