Facebook New Ad Tool
Facebook has rolled out a new ad tool that helps publishers to attract those users who are most likely to keep using the app after downloading it. This Facebook new ad tool helps target people who will not only install the app but also use them and spend money in the software app. The new product is called "App Event Optimization" and it will let advertisers reach people who are valuable for their app in the long term. It is supported across Facebook, its subsidiary Instagram and participants in its Audience Network.
Purpose Behind it
"Installs are great, but developers don't care about bringing in people if they're not the right people," said Jehan Damji, a product manager at Facebook. "We look at historical data and try to predict whether someone will actually complete an action that's going to be valuable to that advertiser," Damji said. "The fact that we have a lot of people on our platform allows us to find people who are similar to these high-value customers that advertisers are looking for."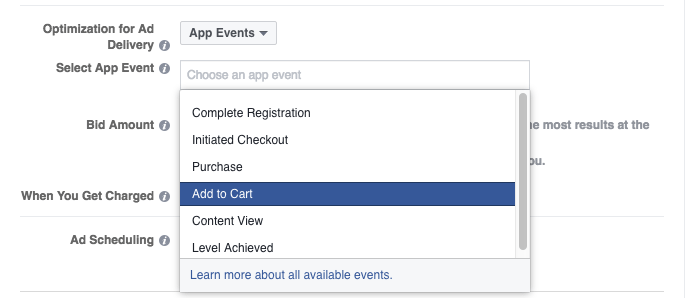 Action-Based Bidding
Facebook new ad tool plays a pivotal role as advertisers can further target ads and this social networking giant is getting deeper into the app-install ads. Facebook has launched action-based bidding where advertisers can pay to find mobile users who will do things like unlocking an advertisement, adding their payment info or making an in-app purchase and more.
How it Works?
The program is basically focused on helping advertisers to reach the users who will use their apps more than once and will make an in-app purchase. Facebook wrote that over 90% of mobile devices in U.S. now involve apps and as many as 58% of mobile purchases are done through apps. With this Facebook new ad tool, it allows developers to know which users are most likely to keep using their app, make in-app purchases so that they can dictate where the ads will be placed and who to target. The tool benefits both users and developers as users are saved from dealing with unwanted ads while developers will get the target audience.
To use App Event Optimization, developers must install Facebook SDR. This option is available in Facebook's Power Editor for ad creation as well as via its API.
Other Updates
Facebook has also announced Dynamic ads and Canvas ads updates. Both include app-install buttons. Dynamic ads target people based on the web search history while Canvas ads focus on fancy mobile adverts where advertisers host mini version of their sites on Facebook. These will be available to businesses looking for increased app installs.
The app event optimization is live now globally.