Tag Heuer Connected is an expensive, incredibly well-built Android Wear smartwatch that runs smoothly. It is designed by Luxury Swiss watchmaker and engineered with Intel technology. This luxury watch with Intel Inside benefits from over 150 years of Swiss expertise.
Features of Tag Heuer Connected
Design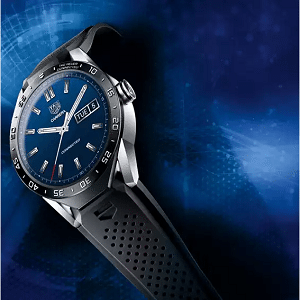 Tag Heuer Connected is an amazingly good-looking smartwatch. It features watch-making craftsmanship and avant-grade innovation. It has technically been built with best in class touchscreen technology. It is about 2.5mm thicker than Sony Smartwatch 3. It comes with titanium for the body and sapphire for the screen. The bezel has Tag Heuer Connected written on it. The smartwatch features 360 x 360 touchscreen display pixel density of 240ppi. It is comfortable to wear.
Hardware
It features a dual-core 1.6 GHz Intel Atom Z34XX processor inside and comes with 1GB of RAM and 4GB of storage. It is fully loaded with a range of sensors for Bluetooth, Wi-Fi and motion but does not offer a heart rate sensor or GPS. A commendable feature is the strong Bluetooth connection between the watch and the phone. It comes equipped with directional wind and weather monitoring, RaceChrono Pro capability and Google Fit.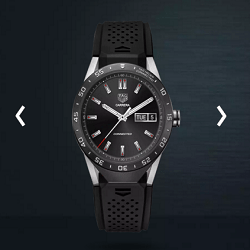 Software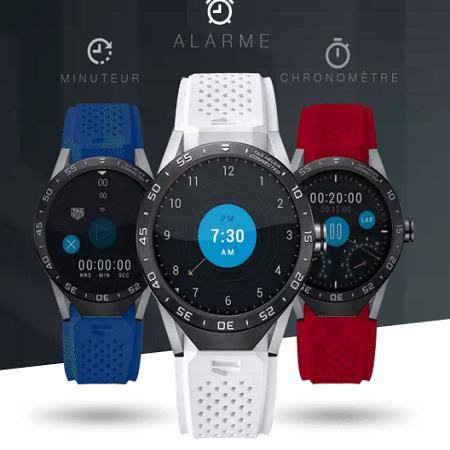 It runs Android Wear and is compatible with both iOS and Android devices. It includes a couple of watch faces such as GMT, Chronograph, 3 Hand and "Themed" faces exclusive to this device. The custom themes allow numerous display options and Android Wear connects you to thousands of apps.
Battery
It comes with good battery life providing two days of regular use, with an always-on screen. Its 400mAh battery is bigger than Apple Watch or Moto 360. The charging base can be connected to any Micro-USB cable and it magnetically connects to the rear of the watch.
---
Pros:
Superb look
Lightweight
Good battery life
Smooth performance
Cons:
No heart rate sensor
No GPS
High price
---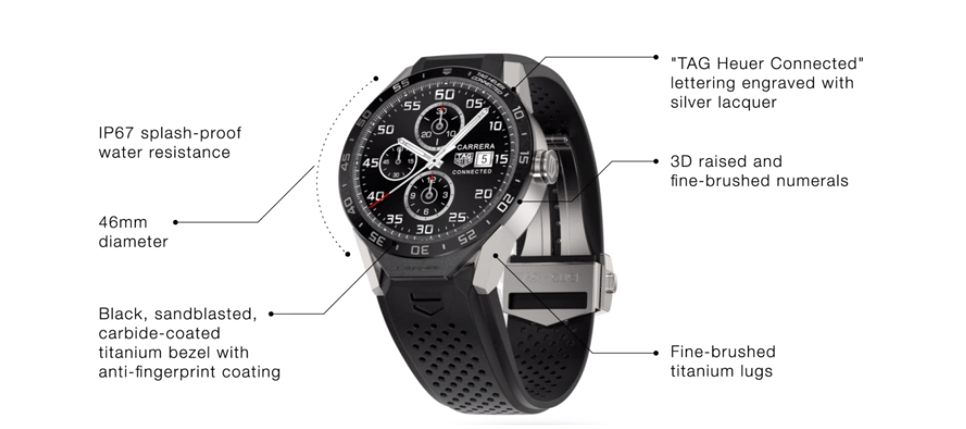 A quick look at Tag Heuer Connected:
Specifications
Details
Display
1.5in fully circular
Screen resolution
360×360 pixels
Processor
1.6GHz dual core processor
Compatibility
Android 4.3+ / iOS 8.2+
Main memory
1GB
Storage memory
4GB
Connectivity
Bluetooth BLE 4.1
WLAN 2.4 GHz 802.11 B/G/N
Battery
410mAh
Sensors
Gyroscope, tilt detection sensor
microphone, haptic engine
Sensors
Accelerometer, Ambient light sensor,
Proximity sensor, Gyroscope
Price
$1,500
Wrapping Up
A great looking smartwatch, Tag Heuer is out of the price range for most casual tech buyers. Though it comes with efficient simplicity in terms of Android wear but is an experience price. This watch costs $1500. It may not be for everyone but if you are a part of the target audience, you won't be disappointed.
What are your thoughts about Tag Heuer Connected? Share your views with us in the comments.