Meet WebSite X5 Evolution 12
Creating a new website is not an easy task especially without the knowledge of HTML. When you don't have time to learn HTML coding, WebSite X5 gives you the perfect solution. It comes with all the tools to create the website in a professional look.
Here are the easy steps to create your website using WebSite X5 Evolution 12:

1) Choose a template
The WebSite X Evolution 12 offers you a wide variety of professional templates to choose from. There are thousands of templates to choose from and you can select as per the need. All templates can be customized with the built-in editor and layout styles.
2) Website Navigation
Now, you are ready to create the navigation menu and the Sitemap for your website. You can add as many pages as you need and also create levels and sub-levels.
3) Page Creation
You can use the unique editor or just drag and drop the items onto the pages. You can add text, tables, pictures, videos, product catalogs, social network buttons and more to manage your contents.
4) Add advanced features
Now, you are ready to add advanced features to your website. This can be managing an e-commerce shop with credit card facilities or giving visitors a choice of language for website or may be opening a blog. With WebSite X5 Evolution 12, you can add these additional features to create a professional and responsive website without any programming.
5) Publish your website
When you are done with the creating content and other elements of the website, you can get it on the Internet immediately with the built-in FTP engine.
That's all!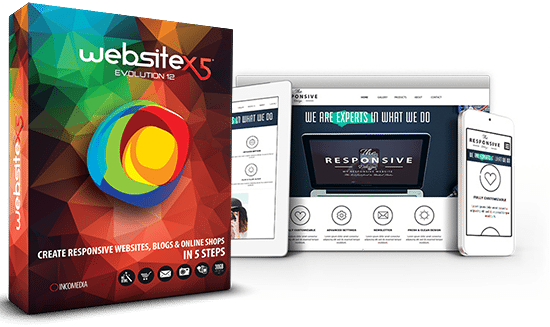 Features of WebSite X5 Evolution 12:
No programming skills required
With Website X5, you don't need any programming skills. You can create your own responsive websites, blogs and online stores using an intuitive interface. It uses a grid-based WYSIWYG visual editor that allows you to choose how you want your page to look without any knowledge of HTML.
Custom Templates
You can customize the overall visual style of the website with templates by setting the colors, headers, background and more. The visual interface of the tool provides you with plenty of previews that are updated in real time.
Responsive Websites
Today, no business can afford to miss out its large section of targeted audience coming via mobile devices. You not only need to create a website but also need to ensure that it is responsive. Responsive websites are browsed on tablets and smartohones with Touch technology support. WebSite X5 Evolution 12 allows you to create responsive and professional websites in no time.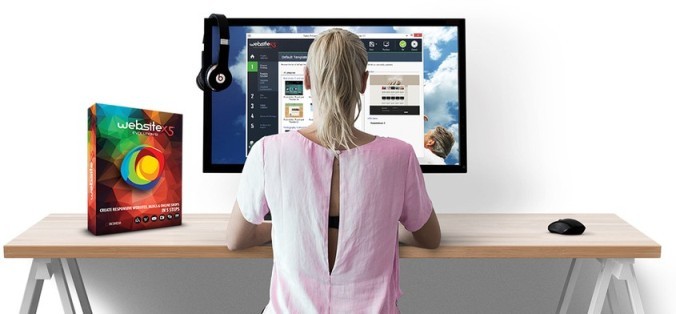 E-Commerce Features
WebSite X5 Evolution 12 allows you to setup your online store easily. You will be able to create product catalogs, include pictures, description and prices. As an integral part of ecommerce website is to accept payments, we make setting up payment terms an easy task. You can create a perfect ecommerce shop for your products by providing features like credit card management, delivery methods and more.
Blog Creation
With WebSite X5 Evolution 12, you can also create blogs or publish your news through an RSS feed. The blog section allows you to write articles, include videos, pictures and more. Also, you can answer comments and moderate discussions. This gives you more in touch with customers that visit your website and keep you updated.
Are you a WebSite X5 Evolution 12 user? Do you like its features? Share your thoughts with us in the comments.