Ketchapp is always known for providing fun and addictive games. It is one of those game developers that consistently work to offer new and exciting games. The common features about their games are that they have easy learning curve and one can play quickly. Ketchapp has earned the trust of users by providing fun to play games. Today, we are talking about the popular Ball Jump Game by Ketchapp.
About Ball Jump
Ball Jump is an aesthetically pleasing and fun game that is sure to keep you occupied for hours. It comes with an easy learning curve and interesting set of levels. The game has excellent controls and be challenging at times. As the name suggests, the purpose of the game is to make the ball jump.
How to play this game?
The ultimate goal of the game is to keep the ball on the cubes which are moving in real time. The ball needs to be maneuvered across the path of geometrically-shaped blocks that appear on the screen. So, just tap the screen to make the ball jump from one block to another. When you jump onto the cube, it may expand or break or move further ahead and thus, you need fast and jump before you fall off.
The real crux and challenging part lies in falling as the game will start gain in addition; the combination of cubes will also be different. So, you can't really remember what the pattern of cubes was prior to fall.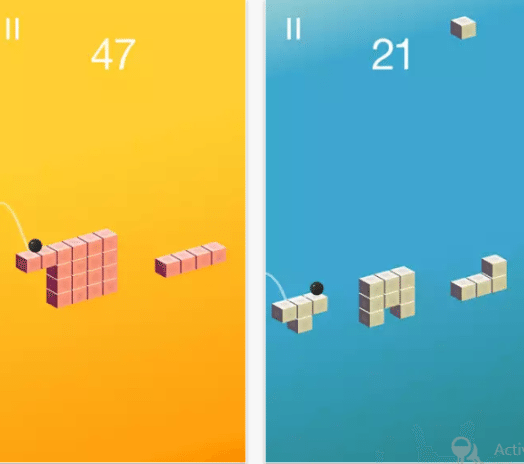 Interesting Gameplay
Ball Jump may sound simple to play but is not that easy. It's a lot more than just tapping the mobile screen. You need to be fast and guide the ball on the correct path and your mind should be ready to predict the next move. The game comes with an addictive gameplay and keeps you hooked as you try to win one tough level after another.
Some useful insights about Ball Jump:
Cost: Free
Publisher: Ketchapp
Size: 12.8 MB
Compatibility: Requires iOS 6.0 or later
Requires Android: 2.3.3 and up
Ratings: 3.9 out of 5 stars
Download it for iOS
Download it for Android
Wrapping Up
All-in-all, Ball Jump is one of those games where you keep on telling yourself one more game just to beat your last score. Though there is nothing overtly original yet it keeps you entertained. It has a charm that one finds it hard to stop playing it. The simplicity and accessibility of the game is commendable.
Give it a try and let us know how you feel about it in the comments.
If you are an app/game developer and want to include your product in our 'App of the Week' section, contact us today.