About Mockplus
Though there are many interactive prototyping tools and wireframing tools available in the market today but, today we are talking about an intuitive and easy to use tool called Mockplus that attracted our attention for being all-in-one tool that does both. It has been designed to make it easy to create an application prototype for all types of applications including desktop and mobile.
Let's have a look at its features:
Code-Free Tool
Yes, Mockplus is a code-free tool that lets you focus on your design rather than worrying about the different aspects of the tool. With this, you can create interactive components effortlessly. Just simply drag-and-drop options are there to link pages together, create interactive pages and more. It makes prototyping easier and quicker than ever.

Interactive Components
Mockplus allows for effortless creation of components. With over 200 pre-designed components and 400 icons, it makes prototyping a simpler task. It offers many markup components to add markup to the protocol comfortably. One can set any component as markup. The new built-in icons are constantly being added. The newly added "TopBar+List+BottomBar" components allow one to easily create an App page. In addition to this, Mockplus allows you to use hand-drawn styled components, offering you most flexibility.

Quick and Accurate
With so many impressive set of features, Mockplus makes prototyping hassle-free. You can create prototypes in less than five minutes. With 'Group' feature, you can combine various components and create a customized component to further edit, ungroup or nest again. The tool allows you to directly preview and share designs on mobile phone.

All-in-One Tool
Here comes the most impressive feature of Mockplus. As a prototyping tool, it stands out from the crowd for being an all-in-one tool. With this tool, you can create prototypes for any mobile apps, web apps as well as desktop apps. In terms of features and functionalities, it is an affordable choice. The tool also supports preview on mobile phones by scanning the QR code. This enables developers to get insight about the real user experience of app design.
Useful tutorials
The website includes handy tutorial section explaining each of its feature and their use. They are available in both visual and text format, making it easy for you to understand everything. They will give you a walkthrough how to utilize the features.

Price
Mockplus comes with a free trial and other pricing details are as follows.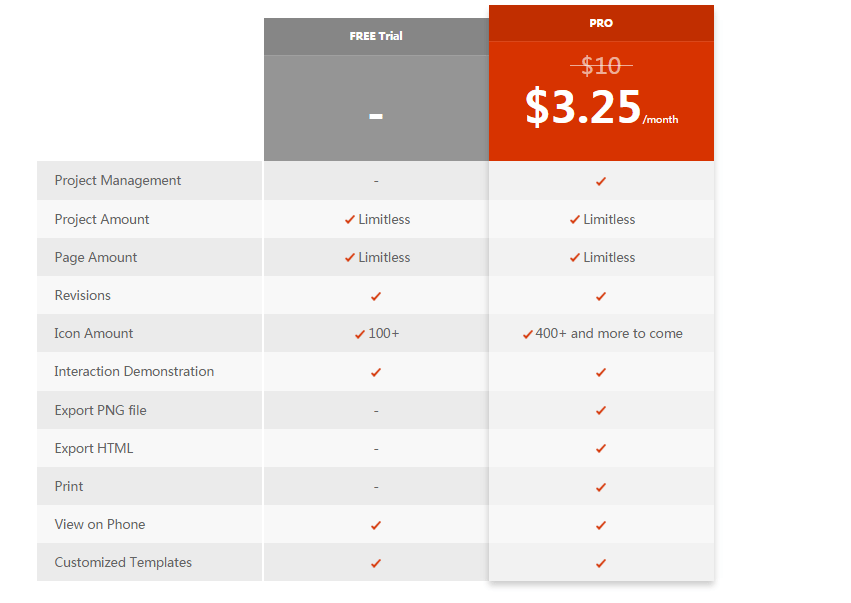 Wrapping Up
When you are in search of a simple yet effective prototyping tool, Mockplus is a good choice. Its comprehensive set of features allows you to create prototypes from any apps: desktop, web or mobile. It encourages productivity, speed and efficiency without any complexities.
You can download the trial version of Mockplus and experience its features. Give it a try and let us know how you feel about it in the comments.