Wireframing is essential for building a website or software as it makes the process of creating an app or website fundamentally easier. With wireframing tools, one can design a mockup website theme in a matter of few minutes.
Nowadays, there are many wireframing tools available in the market and each offers varying levels of functionality. We have assorted a list of the best tools and the factors that have been taken into consideration are ease of use, minimal design, share-ability, import-export options, cross device rendering etc.
Here comes the list:
1) Balsamiq Mockups
Balsamiq is one of the popular wireframing tools available in the market today. The handwritten design is unique and the large library of UI elements is really helpful. This platform is used by biggest names of the industry to create mockups. The mockups include several drag and drop elements, from buttons to lists and more. The tool is focused on website mockup with good features.
Os: Mac, Linux, Windows and web based
Provider: Balsamiq
Price: $89 (A single user license)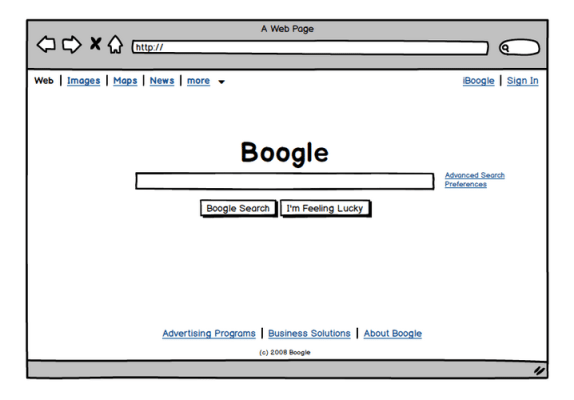 2) Axure
Axure is another good choice when looking for wireframing tools. It offers many options to create designs before making live code. The tool provides support for mobiles, website and tablets, making it a perfect tool for project management. Axure provides precise tutorials and you will be able to understand the features of tool in no time.
OS: Mac and Windows
Provider: Axure
Price: Free Trial Available
$289 (Standard)
$589 (Pro)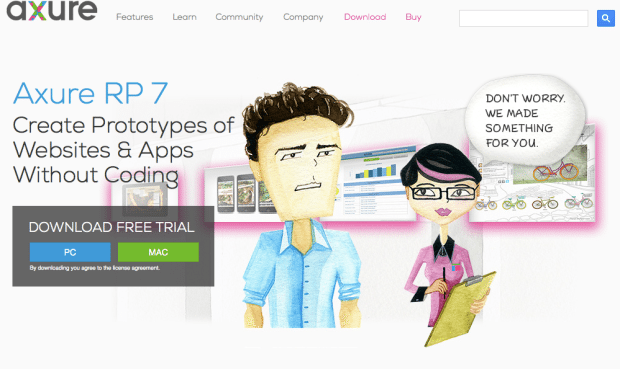 3) Frame Box
Frame Box is a very basic tool and offers good help to beginners. For those looking for simplicity and simple overlay options for their designs, it is an apt choice. It includes few drag and drop elements and allows you to share web page as a unique URL. It allows you to give your elements titles and descriptions.
OS: Web-based
Provider: Frame box
Price: Free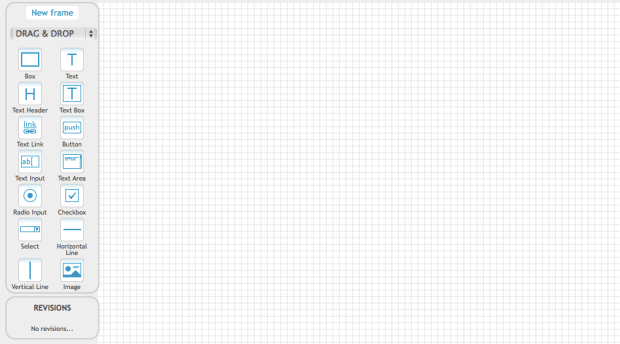 4) Mockflow
Mockflow is a simple website wireframe tool to create blueprints, mockup of websites, mockup app wireframe in few minutes. It is famous for the flagship product WireframePro which allows creating, designing and collaborating on web design projects. You can export completed projects in multiple formats such as pdf, html, powerpoint, png etc.
OS: Windows, Mac, Web
Provider: MockFlow
Price: Free (Basic)
$14/month (Premium)
$29/month (TeamPack)
5) Cacoo
Cacoo is one of the best wireframing tools to create mockups for website designs as well as smartphone apps. This user-friendly online drawing tool allows one to create diagrams like wireframes, network charts, and sitemaps. The drag and drop UI is simple and includes a number of stencils to make use of. An amazing feature of this tool is that a great set of tools and functions come integrated with this platform.
OS: Windows and Mac
Provider: Cacoo
Price: Free
Single user Plus ($4.95/month)
Cacoo for business: Basic ($18/month)
Premium ($49/month)
Max ($99/month)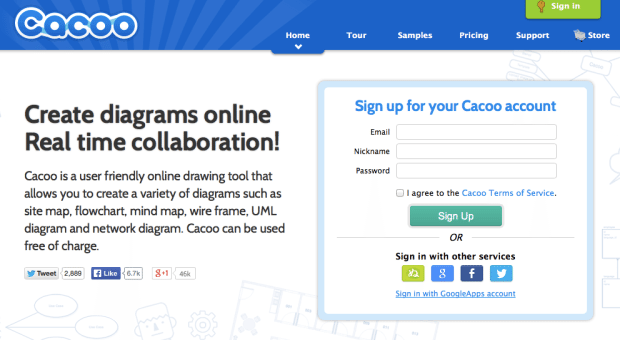 6) Lovely Charts
Lovely Charts is a beautiful diagramming application to create flowcharts, organization charts, wireframes and more. It comes with easy drag and drop diagram creation and zooming and panning support. The application makes assumptions depending on the type of diagram you are drawing to streamline the process. This simple yet powerful tool comes with an extensive library of crafted symbols.
OS: Desktop, Online, iPad
Provider: Lovely Charts
Price: Desktop Edition (59€)
Online Edition (29€/year)
iPad Edition (3.99€)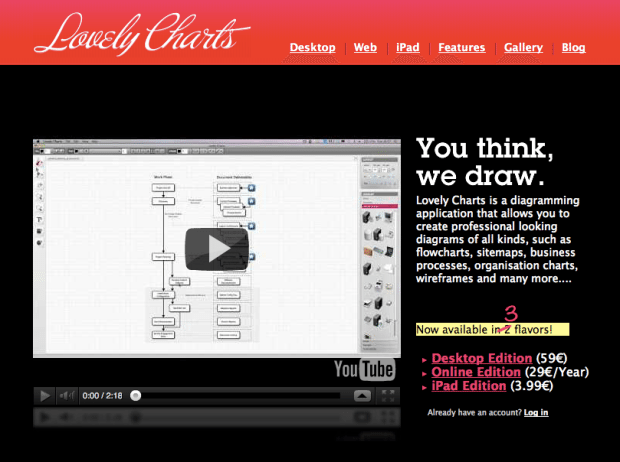 7) Gliffy
Gliffy is a good choice when looking for wireframing tools for designers. This web based application allows you to create floor plans, business processes, network diagrams, website wireframes, technical drawings and more. The free plan allows 2MB storage and 5 diagrams which works fine for small scale projects.
OS: Web based
Provider: Gliffy
Price: Free (Basic)
Pro $9.95/month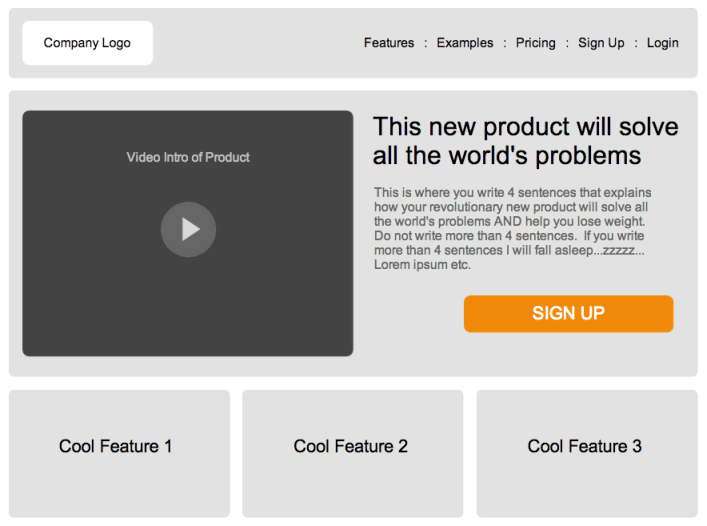 8) Mockflow
Mockflow allows you to create working prototypes and includes many features like sitemap creator for pages and folders, version tracking, HTML5 export and more. This is a web based app and comes with a clean and organized interface. The editing feature-set is extensive and comes with several built-in components.
OS: Web-based
Provider: Mockflow
Price: Free-$69 per year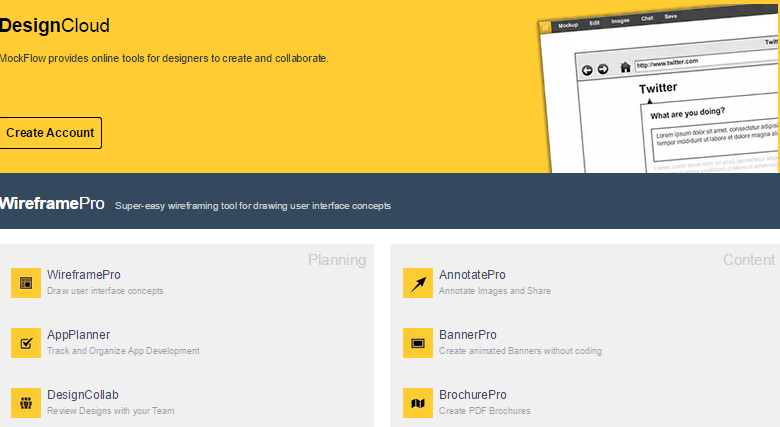 9) Uxpin
Uxpin is one of the best looking wireframing tools available. It gives you the ability to import from Photoshop or sketch. It has earned a recognized name in the industry for its feature. The design of the app is flawless and the feature list is immense. It offers a unique wireframing experience and comes with a 30-day free trial.
OS: Web based
Provider: UXPin
Price: 30 day free trial
$15-$40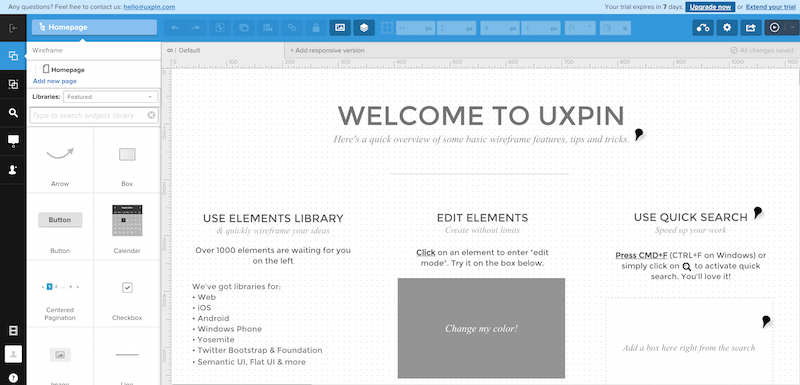 10) Pencil Project
Last but not the least, here comes Pencil Project in our compilation of top wireframing tools for designers. This open source tool is used for making diagrams and GUI prototyping. Available as a standalone application and Firefox add-on, it gives you the ability to display, save and load an external canvas. It is a good choice for a number of things such as building diagrams or mind-mapping.
OS: Windows, Mac, Linux
Provider: Pencil Project
Price: Free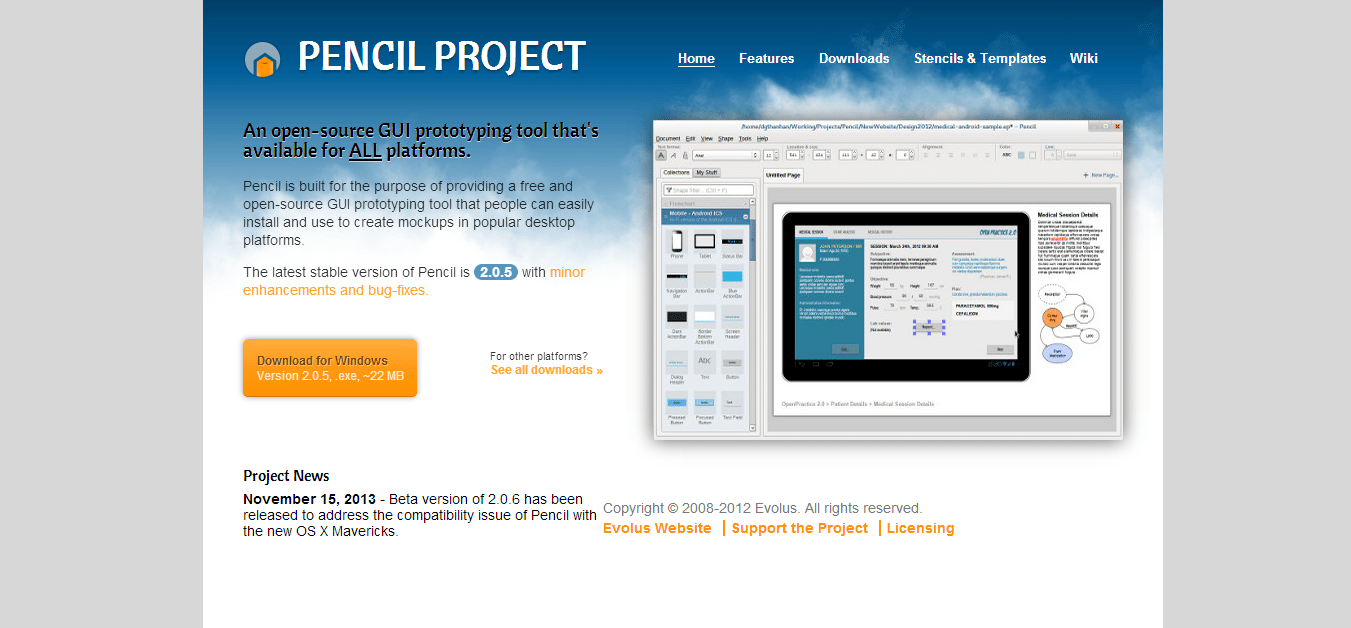 Did we miss out your favorite wireframing tools? Let us know about them in the comments!
If you like our content, please consider sharing, leaving a comment or subscribing to our RSS feed to have future posts delivered to your feed reader.

Please follow us on twitter @CodeRewind and like us on facebook