Microsoft announced the public beta release on the official Windows blog, extending Cortana's functionality across any device you carry. The public beta of Cortana for Android has officially been released.
Cortana is Microsoft's answer to Apple's Siri and Google Now and it responds to voice commands on mobile devices.
In the official blog announcing Cortana for Android, Microsoft explains, "The Cortana app can do most of the things Cortana does on your PC or on a Windows phone. With the app, you can manage your hectic lifestyle by setting and getting reminders, searching the web on-the-go, tracking important information such as flight details as well as starting and completing tasks across all of your devices."
Microsoft notes that there are few differences between Cortana on Android devices and Cortana in her native environment. Cortana lets people set it as the default assistant but it is without "Hey, Cortana" voice activation feature. Some features will be limited to Android such as toggling settings, opening apps etc.
Microsoft plans to make Cortana available as an iOS app as well but the proprietary nature of iOS platform make it much more difficult for Microsoft to overcome primary operating system.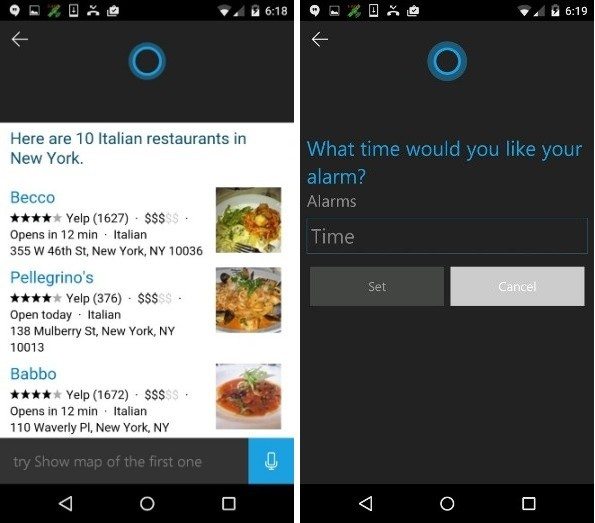 Cortana for Android is a brilliant strategic move for Microsoft. Android is the leading smartphone operating system and Microsoft is giving users the opportunity to choose Cortana as the default virtual assistant on Android devices to create millions of Windows 10 fans.
Similar to Windows variant, Cortana for Android allows you to access network to control information stored about you. There are also options for bringing up events, nearby places to eat and drink, news, sports, weather, and more.
Though Cortana for Android public beta is only available in US but Microsoft has plans to bring it to other markets in the near future. It can be downloaded from Google Play Store.
Share your thoughts on the story in the comments!
If you like our content, please consider sharing, leaving a comment or subscribing to our RSS feed to have future posts delivered to your feed reader.

Please follow us on twitter @CodeRewind and like us on facebook