Amazon has a strong reputation in designing explicitly amazing kid-friendly tablets and the lead continues with Fire HD 6 Kids Edition priced at $149. When you are concerned that your child might damage the tablet, this durable tablet is just the best choice. It comes with amazing built-in apps and great parental controls to protect your child from accessing content that you don't want him to.
The extra protection makes it thicker and heavier than the standard version at 7.6 x 5 x 1.1 inches and 12.6 ounces. The front of the tablet features a VGA camera above the 6-inch screen. The power button, micro USB port and headphone jack are deeply inset in the foam cover. Volume up and down button sits on the left edge. The back features a 2-megapixel camera on the top-right corner. It offers a decent color accuracy.
Parental Controls
The Fire HD 6 Edition lets you create four separate profiles for kids and two for adults. Each person can have his or her own apps and other contents. You can set restrictions for each profile and by default; a child's profile does not have access to email, Silk browser, social apps, contacts or camera. You can also set educational goals and is smart enough to designate existing content such as books and apps.
Performance
The Kids Edition is powered by two MediaTek 1.5-GHz CPUs and two 1.2-GHz processors for a quad-core setup. It supports 1GB of RAM. It comes with excellent battery life for its low price.
With purchase of Kindle Fire HD 6 Kids Edition, Amazon comes with a 30-day free trial of Amazon Prime.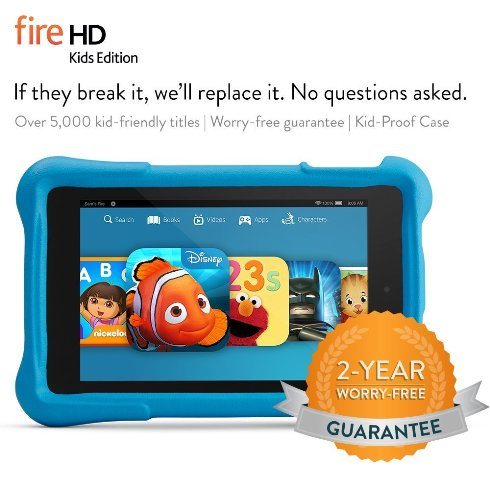 Design
The Fire HD 6 Kids Edition is exactly the same as the Fire HD 6 except for the appearance. The kids edition surrounds a rectangle in a removable foam cover to protect it against some basic bumps and bruises. There's an extra support on the corners and so if the child drops the tablet on a hard surface, you don't have to worry about it cracking.
The screen is made from Gorilla Glass and if something breaks the tablet, Amazon supports it with a two-year unlimited warranty. Also, the retailer will replace the device even if it was left soaking in the rain or any other conceivable mishap.
It comes with a one-year subscription to Fire for Kids Unlimited. This subscription service provides inclusive access to a vast selection of age-appropriate apps, games, eBooks and videos. Your kids can download apps without charging your credit card.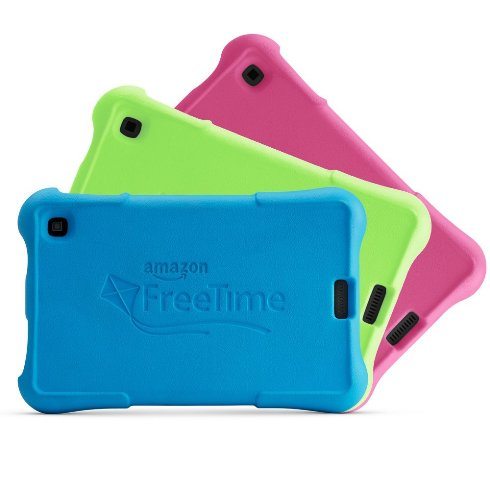 Storage
The tablet lacks the preview function and as you tap on the app, it starts downloading it. The storage is limited to 8GB, 4.5GB of which is available to you. There are no expandable storage options and you cannot supplement storage with an SD Card. The tablet has a clumsy user interface and it takes a little while to get used to switching between the systems and adjusting the parental controls.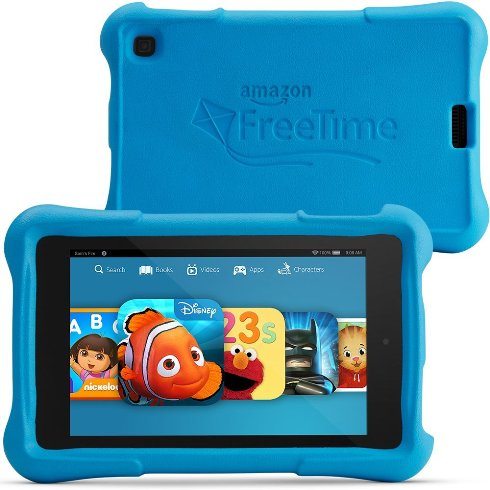 ---
Pros:
Speedy performance
Nice parental controls
Good battery life
No-questions asked, two year warranty
Cons:
Only 8GB of storage
Camera quality is not up to the mark
---
A quick look at Amazon Fire HD 6 Kids Edition:
| | |
| --- | --- |
| Specifications | Details |
| Size | Fire HD 6 with Kid-Proof Case – 7.6″ x 5.0″ x 1.1″ (192 mm x 126 mm x 26.4 mm) |
| Weight | Fire HD 6 with Kid-Proof Case – 12.6 ounces (360 grams) |
| CPU & RAM | Quad-Core: 2 @ 1.5 Ghz + 2 @ 1.2 GHz , with 1 GB of RAM |
| Storage | 8 GB (4.5 GB available to user) |
| Battery Life | Up to 8 hours |
| Audio | 3.5 mm stereo jack and integrated speaker with Dolby Digital Plus |
| Sensors | Accelerometer, gyroscope |
| Camera Specs | VGA Front-facing Camera. 2.0 MP rear-facing HD camera |
| Warranty and Service | 2-year worry-free guarantee |
| Included in the Box | Fire HD 6 tablet, Amazon Kid-Proof Case, 5W power adapter, USB 2.0 cable and Quick Start Guide |
Wrapping Up
All-in-all, Fire HD 6 Kids Edition is an amazing kids' tablet that comes with great parental control and a durable design backed by strong warranty. It comes with a sturdy case and several built-in apps and you can set limits on what your child can access.
Thanks to its long battery life, excellent parental controls and speedy performance, it is a good value for money.
What are your thoughts about this kid-friendly tablet? Let us know your thoughts in the comments!
If you like our content, please consider sharing, leaving a comment or subscribing to our RSS feed to have future posts delivered to your feed reader.

Please follow us on twitter @CodeRewind and like us on facebook