If you are also fond of cooking and Windows Phone user, here comes an amazing app for you. It is called Sanjeev Kapoor's Recipes. Sanjeev Kapoor is one of the renowned Indian chefs and he has now come up with recipe app for Windows Phone. This App has been developed in association with Hungama Digital Entertainment. With this app, one can learn and cook as many as 8500 recipes from India and around the world.
The recipe app is a complete cookery manual and serves the purpose of newbies as well as experienced cooks. The app has been designed for young individuals who have the desire for cooking but lack of interesting recipes.
Chef Sanjeev Kapoor says, "The one thing I have always heard from people is that I have made cooking easy for them, I would say that with this new app Sanjeev Kapoor's Recipes, I have made it fun as well. This app is like a well laid out buffet, there's something for everyone. From recipes for everyday dining to festive specials or just a meal for two. There are even recipes that can help you whip up a meal with just whatever's available in your fridge. The best part about this app is that logging in will win you points as well as exciting gifts. Need anything more?"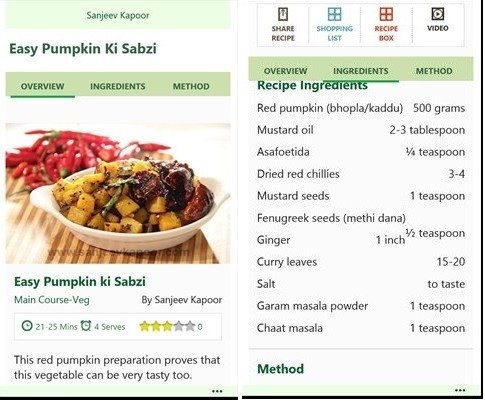 Sanjeev Kapoor's Recipes app includes several innovative and unique features such as In Your Fridge feature. This feature provides recipe options to users depending upon the number of ingredients that they have at a given moment. Shopping List feature allows you to send the recipes lists to themselves via Whatspp, SMS or email for future use. The app also encourages you to share your favorite recipes as per your mood, taste, season, preparation time and the type of ingredients you have. Chef Kapoor will pickup best recipes and promote the selected one. Recipe Box is another good feature that allows users to access their favorite recipes even when offline.
For each like, comment and share, users will earn a reward point and these reward points can be redeemed against kitchen items and appliances and restaurant vouchers from Sanjeev Kapoor brand.
Some useful insights about Sanjeev Kapoor's Recipes:
Cost: Free
Ratings: 4.3 out of 5 stars
Publisher: Hungama Digital Media Entertainment Pvt. Ltd.
Approximate Size: 8.41 MB
Download Sanjeev Kapoor's Recipes
Give it a try and let us know your thoughts about it in the comments!
If you like our content, please consider sharing, leaving a comment or subscribing to our RSS feed to have future posts delivered to your feed reader.

Please follow us on twitter @CodeRewind and like us on facebook