Electronic signature software allows one to personally sign documents, eliminating the need for printing them. Electronic signatures are legally binding and offer the convenience of going paperless. DocuSign lets you sign documents electronically. It helps customers of all types and sizes, from individual professionals to businesses to reduce costs and enhance client satisfaction. This electronic signature system cuts out the paperwork, saving your time and money. Whether you need to close a contract or buy a home or any other document that requires your signature, DocuSign helps you to get a signature anytime and anywhere.
With this software, you can easily sign and send documents for electronic signature in a matter of few minutes. It allows individuals and businesses to transact anything, anytime and anywhere on any device in a secure environment. This digital transaction management platform allows you to assemble documents, secure your data and authenticate your signers. It has the flexibility to manage a variety of file types. Its features are designed to help your business better manage your electronic transactions.
How it works?
Here are the simple steps to send documents for eSignatures:
The first step is to upload the document. This can be a Microsoft Word document, PDF file or other document formats from your PC or online file-sharing websites.
Now, add the names and email addresses of signers and other recipients.
You can place tags to indicate where the signatures are required. It gives you the flexibility to add custom data fields.
Email the document to the person or you can also save it to Dropbox, Google Drive, Box, Evernote or your DocuSign account.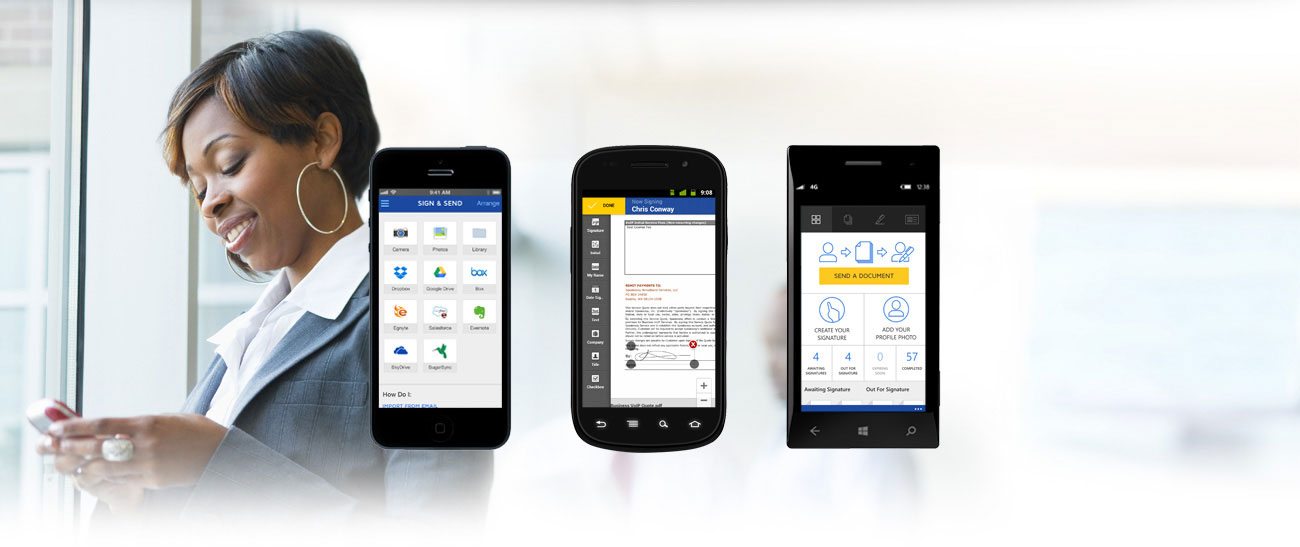 User-friendly interface
The DocuSign dashboard allows you to check status, schedule, run reports and see audit trails. The documents are automatically securely. Both sendors and signers have access to documents online. One can easily manage internal users and get visibility to documents across the company.
It offers different packages to suit the needs of individuals, businesses and enterprises. You can individually use DocuSign to streamline the signing process. DocuSign Business Edition allows businesses to customize their workflows and get more customer-friendly interactions and secure transactions. Then, there are Business, and Business Premium plans to give the additional benefit of using digital signature and digital certificate technology.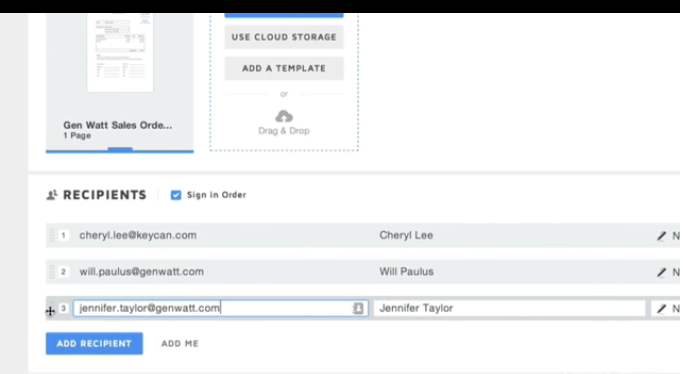 Mobile Apps
Mobile apps are available for Android, iOS and Windows Phones. These apps allow you to access documents stored locally on your mobile device or in online storage of DocuSign and send them for signing. The apps are well designed and come with an intuitive interface. They carry most of the features as the web interface.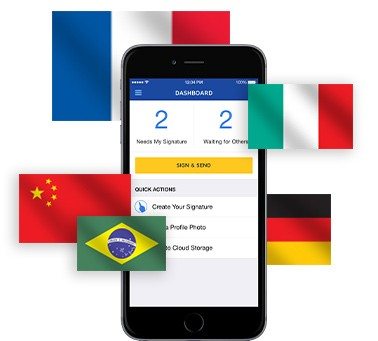 Pricing
Let's have a look its pricing: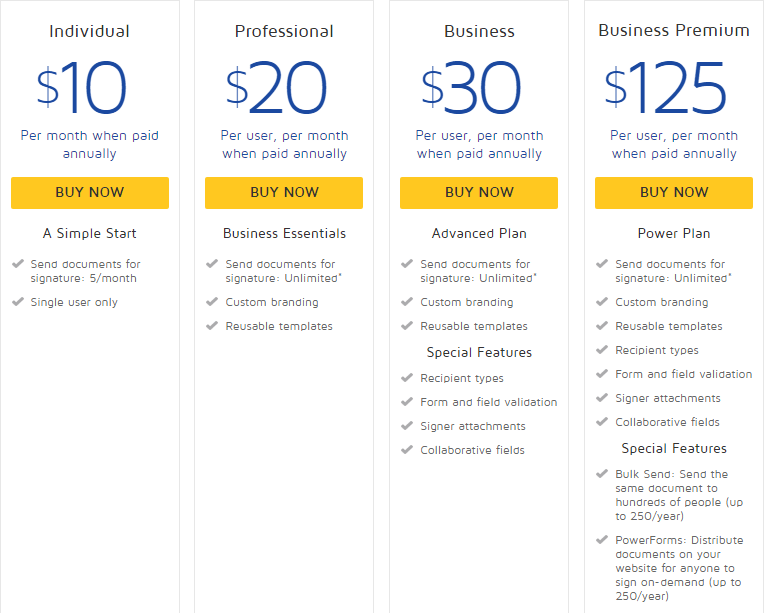 A quick look at DocuSign eSignature:
| | |
| --- | --- |
| Specifications | Details |
| Deployment | Web Based |
| Mobile Apps | Yes |
| Document Tracking | Yes |
| Mobile Signature Capture | Yes |
| Electronic Signature | Yes |
| Provider | DocuSign.com |
---
Pros:
Mobile apps
Helpful notes and pop-ups
Handles multiple and sequential recipients
Can send reminders
Free trial available
Cons:
Customization is little clumsy
Checks cost extra
---
Wrapping Up
All-in-all, it is one of the best platform for secure electronic signing and tracking. It offers a simple yet secure way to electronically sign documents and collect signatures from others. It is one of the widely used eSignature and Digital Transaction Management platforms and it is trusted by millions of people.
Do you use DocuSign some other app for electronic signatures or? Share your thoughts with us in the comments!
If you like our content, please consider sharing, leaving a comment or subscribing to our RSS feed to have future posts delivered to your feed reader.

Please follow us on twitter @CodeRewind and like us on facebook