Intacct is web-based financial accounting software that delivers accounting, contract management, inventory, vendor management, financial reporting and revenue recognition via cloud computing. It provides professional-strength, on-demand financial management and accounting applications for businesses.
Let's explore its features:
Cloud-based
Intacct is an efficient cloud-based accounting software and is recognized by AICPA as their top-provider of financial-related applications. It has a mobile-based browser for iOS, Android and other mobile devices. It serves the needs of small and mid-sized businesses as a horizontal accounting system. As it is a web-based Software as a Service (SaaS), it can be accessed on demand through a browser over the internet.
Simple and intuitive interface
The software comes with a clean interface and the dashboard can be customized according to the requirements. You can create shortcuts to most common functions to save time and boost productivity. You will enjoy an intuitive navigation throughout the application. It offers easy to use, low risk and best value for professional financial management and accounting applications.
Reduces IT and operating costs
Intacct is delivered over the internet via cloud and this leads to dramatic reduction in IT and operating costs. As compared to client-server financial software, it offers a far lower cost of ownership.
Award-winning functionality
With Intacct, you can streamline and automate financial operations with the functionalities ranging from core finance and accounting to global financial management.
Seamless Integration
You can easily connect applications from software companies with Intacct. It provides superior integration with your existing business solutions. It also allows you to streamline the complexities of accounting, financial management and reporting.
Wide range of accounting capabilities
Intacct offers several functionality modules to save time and minimize errors in financial reports. It helps to lower revenue leaks and increase control over basic costs and margins. Intacct General Ledger, Accounts Payable, Accounts Receivable, Cash Management, and Purchasing are some of the popular functionality modules offered by this efficient accounting software.
Customizable Reports
Intacct comes with built-in templates for financial reports. This allows people to easily analyze the collected data. It contains numerous graphs, dashboard and charts to provide easy-to-understand reports. Payment processing is also convenient with Intacct. It has implemented key security features like limiting access to roles, individuals and groups.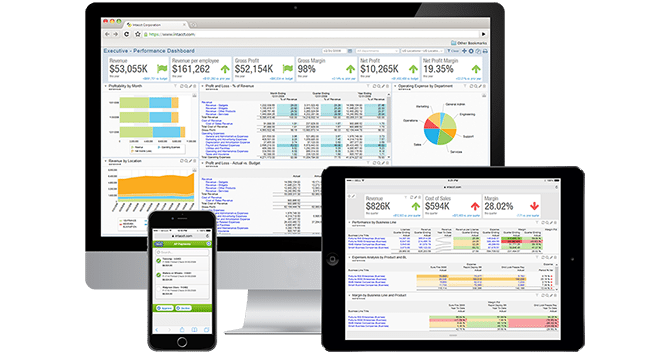 Pricing
The pricing starts at $425 a month for smaller companies. With Intacct, you can take advantage of cost-effective pricing and pay only for what you use. It offers an affordable subscription fee and is based on number of users, number of business entities and additional advanced Intacct modules you require.
A quick look at Intacct:
| | |
| --- | --- |
| Specifications | Details |
| Certifications | SAS-70 |
| Inventory Management | Yes |
| Basic accounting | Yes |
| Depreciation tracking | Yes |
| Free Trial Available | Yes |
| Pricing Model | Monthly payment, one-time payment |
| Deployment | SaaS |
| Geographies Served | USA, Canada |
| Vendor | Intacct |
---
Pros:
Intuitive interface
Highly customizable
Unlimited inquiries
Saves time and IT costs
Cons:
Learning curve in some functions
---
Final Words
Intacct is a trusted name in the cloud-based accounting field. It allows one to customize reports and there are a million different ways to build a report. Each module is easy to navigate and the feel of the program is well-organized and structured. The flexibility it offers is unmatched when compared to similar products available in the market.
Do you use Intacct or any other accounting software? Let us know your experience of using it in the comments below!
If you like our content, please consider sharing, leaving a comment or subscribing to our RSS feed to have future posts delivered to your feed reader.

Please follow us on twitter @CodeRewind and like us on facebook