WebHR is a popular cloud-based Human Resource Management Software that focuses on small businesses. It makes it easy to manage human resources effectively and efficiently. It is based on Software as a Service (SaaS) and Cloud Computing model and is being used in over 180 countries. It acts as a bridge between human resource management and information technology. It helps organizations to meet all HR specific needs such as filling vacant positions, managing promotions, resignations and retirements.
Let's have a close look at its features:
Social HRM
This comprehensive HR suite provides almost all core HR features in addition to recruitment and applicant tracking. It can be easily integrated with the online job board and has good social media integration as well. It automatically detects and links to social media profiles of employees. WebHR helps to save money of the companies as well as boost productivity of the organization.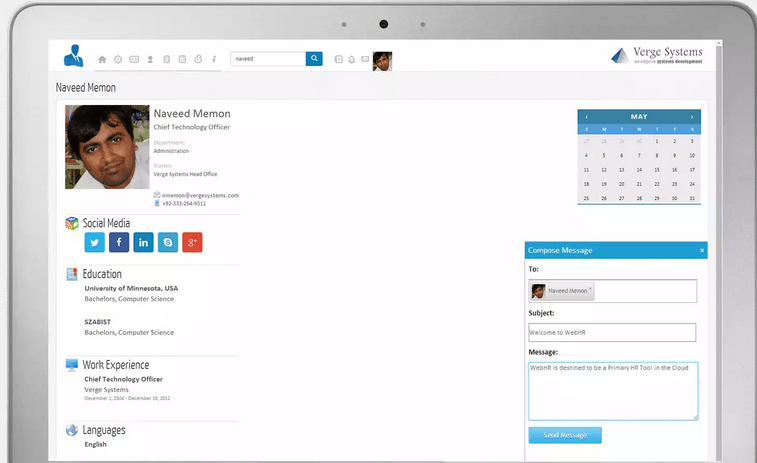 ---
Features:
Applicant Tracking
Payroll Management
Performance Appraisal
Recruiting Management
Training Management
Employee Database
Expense Reporting
Career Development Planning
Vacation Tracking
---
User-Interface
Dashboard is simple and easy to use. You get all the work related details right in front of you such as personal details, employee info, leave summary, to-do list and more. From here, you can easily manage the tasks you are required to perform.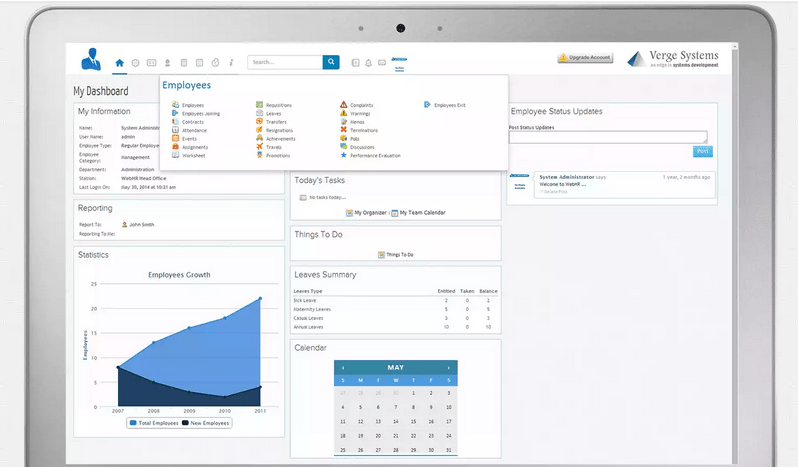 Employee Management
WebHR allows you to deal effectively with recruitment, employees' management, performance, training and more. It helps to automate all aspects of human resource management and provides benefits of reducing workload of HR and increasing the efficiency of the department. As the software converts human resource information to a digital format, HR data is easily turned to useful information.

Training Management and Reporting
This HRM allows you to conduct, maintain and review employee training programs. You can generate a training program with lists of employees to attend or evaluate training sessions etc. With WebHR, you can get insight of everything about your business with comprehensive reports. These detailed reports provide information about everything from payroll summary, HR timelines, holiday and leave calendar, employee turnover and lots more.
A quick look at WebHR:
| | |
| --- | --- |
| Specifications | Details |
| Free Version | Yes |
| Free Trial | Yes |
| Online Support | Yes |
| Cost | $24.99/month/user |
| Available At | WebHR |
---
Pros:
Versatile software
Cost-effective and powerful HRM
Impressive customer service
Efficient tracking system
Additional documents can be attached and scanned
Cons:
Freemium package does not include many features
---
Wrapping Up
It is a good choice when looking for HR management software. It processes new requests to HR quicker than other systems. It reduces the need for handmade request forms that have been routed for approvals. The software enhances communications to HR department and minimizes unnecessary communications. All-in-all, it is a well suited software for large companies and corporations.
Let us know your thoughts in the comments!
If you like our content, please consider sharing, leaving a comment or subscribing to our RSS feed to have future posts delivered to your feed reader.

Please follow us on twitter @CodeRewind and like us on facebook