Sony Smartwatch 3 is Sony's latest attempt to offer a wearable that comes with Android wear. The original Smartwatch and Smartwatch 2 ran Sony's own proprietary platform but did not have the same reach as Google's Android Wear. Sony has this time come into the limelight with offering Smartwatch 3. It comes with a built-in GPS that allows for more precise workout tracking. Sony has joined the likes of Moto 360 by embracing Google's dedicated operating system for smartwatches.
Let's explore its noteworthy features:
Design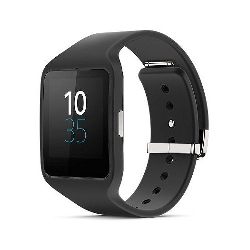 Smartwatches have benen chunky and ugly over the years. But today, there are many attractive smartwatches which are essentially traditional watches with fitness tracking like Withings Activite series. This smartwatch comes with an ordinary design. Though it has improved from the ugly first generation but the design is not up to the mark as compared to the competitors. Even if it comes with limited design appeal, the watch is comfortable to wear. One can also add different-colored rubber straps.
Screen
Sony's Smartwatch 3 comes with 1.6 inch TFT LCD touchscreen. It features Gorilla Glass 3 coating to add an extra layer of scratch and impact-proof durability. The 320 x 320 resolution and 245ppi density ensures clarity and overall vibrancy pales. The smartwatch comes with a transflective display that ensures good screen visibility outdoors. You can read in bright outdoors. The screen responsiveness is excellent.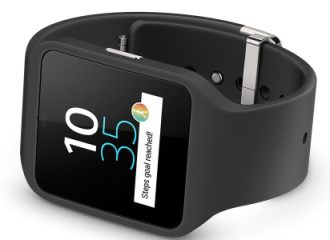 Battery Life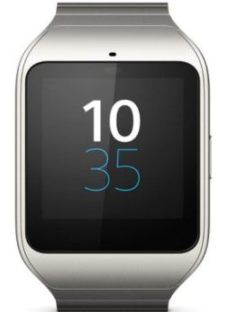 The smartwatch features the biggest battery of any Android watch to date. It includes 420mAh battery and routinely nets over 48 hours. But making use of GPS tracking is a different story. For connectivity, there's Bluetooth 4.0 that syncs with Android phones running Android 4.3 and above. The built-in GPS lets watches locally store music from Google Play but currently, there are not many apps that take advantage of GPS. The available apps include MyTracks app and Runkeeper. When you are making use of apps, the battery drains quickly. It does not have wireless charging but can be juiced up via a Micro USB cable.
A quick look at Sony Smartwatch 3:
| | |
| --- | --- |
| Specifications | Details |
| Display | 1.6" Transflective Display, 320 x 320 Pixels |
| Weight | 45g |
| Battery | 420mAh |
| Bluetooth | 4.0 |
| Micro USB Cable | Yes |
| Waterproof | Yes |
| Requirements | Android 4.3, Android Wear |
| Cost | $194.99 |
| Available At | Amazon.com |
---
Pros:
Built-in GPS
Relatively long battery life
Display is easy to read
Cons:
Ordinary design
Not many Android Wear apps make use of GPS or WiFi
Missing features like heart rate sensor
---
Final words
Sony Smartwatch 3 is not for everyone. As compared to rounder, beautiful competitors, this smartwatch lacks behind. The display is not as vibrant as others. But when you are looking for functions rather than the look, Smartwatch 3 deserves your attention. The built-in GPS feature is great for runners. It lets you leave your phone at home while performing your exercises and tracking them. Good battery life and built-in micro USB port are another plus of buying this smartwatch.
You can get it today from Amazon.com at great prices. Do let us know your views about Sony Smartwatch 3 in the comments!
If you like our content, please consider sharing, leaving a comment or subscribing to our RSS feed to have future posts delivered to your feed reader.

Please follow us on twitter @CodeRewind and like us on facebook