Though there's no dearth of weather apps for iPhone, the recently released Week Weather app catches our attention. This slick app follows a different approach to weather. If you are also one of those who prefer to have quick overviews of weekly forcasts, Week Weather app perfectly fits in.
Weather apps are an essential part of daily workflow and we use them every day. This app for iPhone takes a different approach towards providing you readily information about weather forecasts. It offers an information rich outlook over a week's weather. Let's have a look at its features: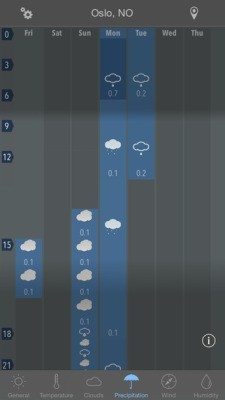 Graphical layout
Week Weather app provides you weather forecast information in a graphical layout unlike other weather apps that just provide details in text form. In this app, you will see color-coded boxes that provide details of temperature and conditions. You can tap the box and get more detailed information. At once glance; you will see whether it will be sunny, raining or cloudy.
Unique design
The design of Week Weather is different from other weather apps. The default view offers you an overview of seven-day forecasts shown as columns. There are six different views of the weather. You can access these with tabs at the bottom of the app.
Separate sections
The app features separate sections for temperature, precipitation, humidity, clouds as well as wind. These separate overviews provide detailed outlook with just one tap. You can enter new locations and also change units of temperature. Also, you can switch between colorful and light color schemes.
Supports multiple locations
This iPhone app supports multiple locations and one can easily add them manually as well. You can select them one at a time by tapping on the button in the top right corner or swiping to the left. Each section is color coded, thus you'll never get two section mixed up. The app has a clean interface and shows cloud cover in a neat graph.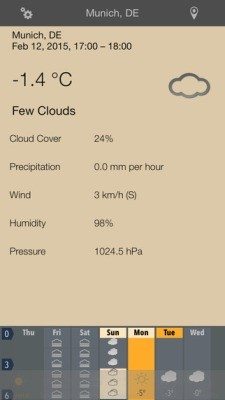 Some useful insights about Week Weather App:
Cost: $0.99
Publisher: Wolfgang Augustin
Size: 10.1 MB
Compatibility: iOS 8.1 or later
Ratings: 4.5 out of 5 stars
Download Week Weather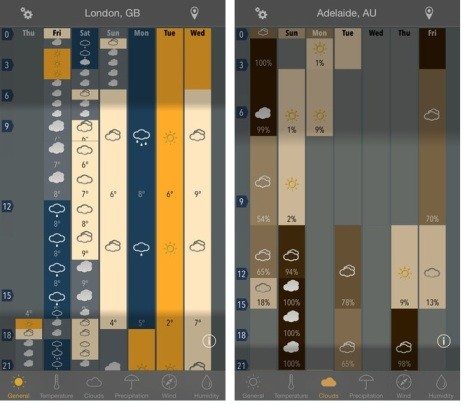 When you want an app that provides an accurate insight about weather in next seven days, Week Weather is the apt choice. Do you like this app? Will you purchase it? Let us know in the comments!
If you like our content, please consider sharing, leaving a comment or subscribing to our RSS feed to have future posts delivered to your feed reader.

Please follow us on twitter @CodeRewind and like us on facebook