Lyve app offers you a convenient way to consolidate all pictures and videos into a single library that you can access from any mobile device as well as computer. It is available for iOS, Android, Kindle Fire and Windows and the entire collection is viewable as one timeline. It provides a great solution to collect, protect and rediscover the most precious moments of your life.
Let's have a look at the astonishing features of Lyve app:
Organized photo collection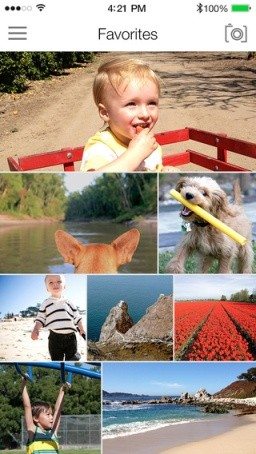 Lyve offers you a perfect way to organize your pictures and videos. You are freed from the hassle of organizing photos yourself, allowing you to view them from any device. An amazing feature of this app is that the entire photo collection is compressed, thus saving up the space. Lyve creates screen-optimized versions of pictures that look sharp on the device screen.
Works across all platforms
Lyve free app is the sole photo app that is compatible with all devices as well as platforms. One can download it for free for Android, iOS devices as well as Windows and Mac computers. As your entire photo collection is presented in a single library, you will enjoy wonderful photo organization viewable on a timeline.
Powerful editing features
Lyve app not only provides access to your pictures but also allow you to add interesting effects. Within the iOS or android devices, you can crop, enhance, frame, and enhance your pictures. You can also apply filters and effects and the new edited copy of original photo will be dropped into your Lyve collection. Lyve offers a fun way to enhance your photo collection.
Beautiful timeline
Lyve includes a timeline section where you'll see all pictures in a horizontally scrollable format. You can star them, view them metadata, and delete them and lots more. Also, you can share them across social media, via email and SMS as well. The homescreen of the app is made up of differently sized photo squares that animate and flip around to show you pictures in gallery.
Hardware-based devices
The company also offers hardware-based device to store your collections on locally attached hard drives. Lyve Home is available for $299 and offers 2 TB of space. You can purchase it from Amazon.com. There's another called Lyve Studio which costs $199 and comes with 500 GB space.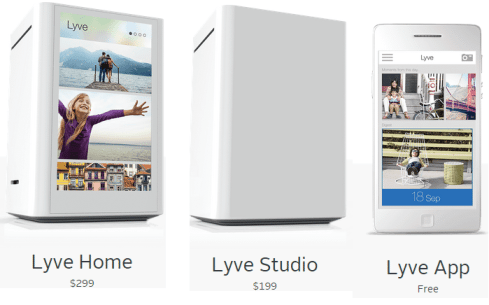 ---
Pros:
Beautifully displays photos
Easy to use
Amazing interface and layout
Cross platform compatibility
Cons:
Features vary according to platform
Not many options for viewing pictures
Performance is not satisfying
---
Wrapping Up
Undoubtedly, Lyve app has made organizing digital pictures an easy task. It makes photos accessible in optimized formats and that too for free. It also imports pictures from online services as well as personal devices. CEO Tim Bucher says, "Other companies offer free solutions only up to a certain amount of capacity. Lyve's free solution is unlimited though. You can have as many devices, as many photos, and as many videos as you want. The difference is that we don't store the originals in our service – we only store the mobile-optimized versions."
Download for Android Devices
Download for iOS
Download for Desktop
Have you tried Lyve app? What has been your experience of using it? Let us know in the comments!
If you like our content, please consider sharing, leaving a comment or subscribing to our RSS feed to have future posts delivered to your feed reader.

Please follow us on twitter @CodeRewind and like us on facebook