Shure is one of the most reliable manufacturers of earphones around. This dynamic driver earphone comes with a nice design and removable cables. These lightweight earphones with optimized nozzle angle ensure that it comfortably rests in the ear.
They come with a professional design and sound isolation technology that prevents outside noise. Its sound isolating sound blocks ambient noise and at the same time, ensures a comfortable customized fit. Let's have a close look at its features:
Design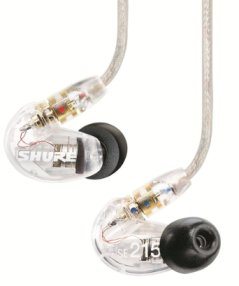 Shure SE215 features clear or translucent black plastic housing. It comes with a 64-inch removable cable and is thicker than average earphone cords. As the cable is removable, it allows you to use the SE215 for life of drivers. Cables come with a slightly textured finish and are successful at reducing tangles. The bud itself swivels around freely on the joint and colored dots show the position they need to be pulled in. The Shure SE215 comes with six pairs of foam and rubber tips.
Comfort
The SE215 is extremely comfortable and the best part is that its negative profile allows them to be worn while sleeping. Also, they fit nicely under a full-face helmet for the riders. The SE215 is high-end in earphones with removable cables that come under $100. They are your ideal companion for a noisy commute as they block out all absurd conversations with ease and let you enjoy your music.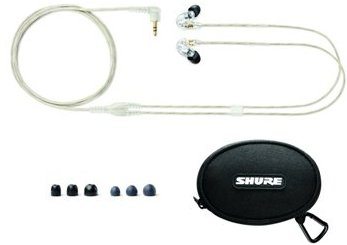 Quality Sound
Shure offers exceptionally detailed and rhythmic sound. The company itself describes the sounds as warm and detailed and you'll get the same experience. Their vocals are warm and full-bodied. Shure SE215 provides sound isolation up to 44db in some frequency ranges. It fits inside the ear canal, providing a warmly fit. With this model, Shure has continued to retain its sound signature and provide an impressive level of consistency across their SE series.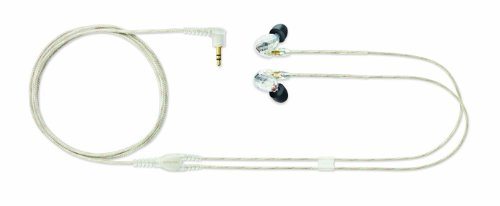 ---
Pros:
Impressive sound quality
Good mid/bass detail
Nice design
Clean drivers
Cons:
Difficult to swap earbuds
Awkward fit
Inverted design may cause them popping out
---
---
A quick look at Inateck BK1002E Bluetooth Keyboard
| | |
| --- | --- |
| Specifications | Details |
| Headphones form factor | In-ear |
| Sensitivity | 107Db |
| Dimensions | 2 inches x 3 inches x 7 inches |
| Warranty | 2 years |
| Remote Control | No |
| Carrying Case | Yes |
| Noise Cancelling | No |
| Microphone | No |
| Noise Cancelling | No |
| Modular Cabling | Yes |
| Price | $99 |
| Available at | Amazon |
Verdict
All-in-all, Shure SE215 comes with the most impressive sound quality. These excellent-sounding headphones with replaceable cable last longer than typical hand-wired models. It uses dynamic drivers that offer same quality construction as compared to more expensive earphones available in market.
SE215 are surely one of the best earphones available at such affordable prices. The sound is present and correct with rich bass and warm mids. You can buy them from Amazon.com at discounted price of $99.
Do you like this pair of earphones? Will you consider purchasing it? What are your thoughts about it? Let us know!
If you like our content, please consider sharing, leaving a comment or subscribing to our RSS feed to have future posts delivered to your feed reader.

Please follow us on twitter @CodeRewind and like us on facebook