Inspired by original Polaroid instant camera, Prynt team has come up with a smartphone case that brings back the act of physical photo sharing. Though cases are usually about protection and style, the Prynt case lets you print pictures in just 30 seconds. This modular unit acts as a case as well as a printer. It also comes with the amazing feature of instantly turning physical pictures into videos.
Today, we take a look at its amazing features and how it helps you to get physical pictures within seconds and that too without any Bluetooth or Wi-Fi connectivity requirement. Nor does it requires ink. Sounds interesting! Isn't it?

How does it work?
Prynt case slides onto your smartphone and plugs into the bottom of the phone. Now, snap a picture or choose any picture. Wait for it to print. As the case directly connects with your phone so Bluetooth or Wi-Fi connection is not required. So, just point, shoot and print!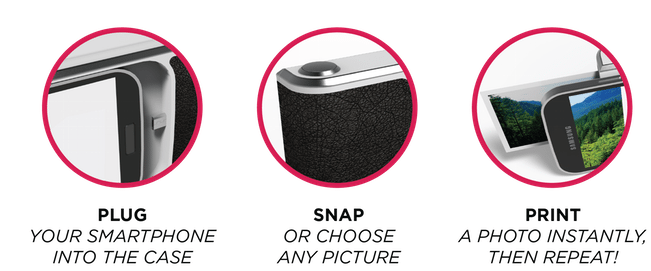 Image Credit: Kickstarter
The current version takes about 50 seconds to print picture and can hold one piece of paper at a time. According to the company, the planned customer version will take fewer than 30 seconds to print your picture. Also, it will have the capacity to hold 10-30 sheets of paper.
With which phones is this case compatible?
Presently, it works with iPhone 5, 5S, 5C and 6 along with Samsung Galaxy S4 and S5. They're working on a mount that will account for phablets as well such as iPhone 6 Plus and Galaxy Note. Prynt adapts to different phones as the user upgrades. For example, if you upgrade to a newer phone or move to a different brand, then a new Prynt case isn't required. A new adapter will work.
What are the colors available for this case?
The company has paid special attention to the design of the case. It looks amazing beautiful and is available in black, white, pink and blue colors. Along with the gorgeous colors, the matching leather grips are a great addition.

When will it be available and at what cost?
The Prynt case will be released soon and one can pre-order it http://www.pryntcases.com/ at $129. This price includes the case and 10 sheets of Prynt paper. As the first shipment which scheduled for August 2015 have all sold out, you can now pre-order to receive it in November 2015.
The refills for paper are available through Prynt app. For every $25, you'll receive 50 extra sheets. The app is under development and will be released this summer. In addition to picture capturing, the app will also provide you with image editing tools.
Do you like this unique concept by Prynt? Will you consider purchasing the Prynt case for your iPhone or Samsung Phone? Let us know your thoughts in the comments!
If you like our content, please consider sharing, leaving a comment or subscribing to our RSS feed to have future posts delivered to your feed reader.

Please follow us on twitter @CodeRewind and like us on facebook