Google has recently launched a newer version of the calendar app and this new look is greatly being liked by the users. The new Google Calendar app has become smarter featuring a new layout and automatically adds appointment and even details from your email. It will take out dates, times as well as locations from your email and update them in your calendar. Thus, eliminating the need to copy and paste the details manually in Google Calendar.
Updated Features Of Google Calendar App:
1) Adding event details has never been that easy
With updated version of Google Calendar app, you are saved from the hassle of manually adding event details to the app. It automatically takes figures from your email and updates your calendar. The system works reliably using Gmail and Calendar together. Also, it will automatically update entries when you receive emails changing details of a particular event.
You are sure to love its new design highlighting media like photos and maps. The signature action button allows you to quickly create new events. The smooth animation are complemented with thoughtful graphics and imagery based on your events. You will a map of your event destination along with photos and illustrations of the nearby areas.
2) A new look
Google Calendar app is completely redesigned with more colors, features, photos and maps. The new design and look makes it easier to see what's going on at a glance. These pictures add an extra beauty to your day.
3) Introducing Assists
Assists is a smart auto-complete that speeds up manual additions to schedules. It lets you quickly fill out names and places to the Calendar. It will suggest titles, people and places as you type and adapt your preferences over time.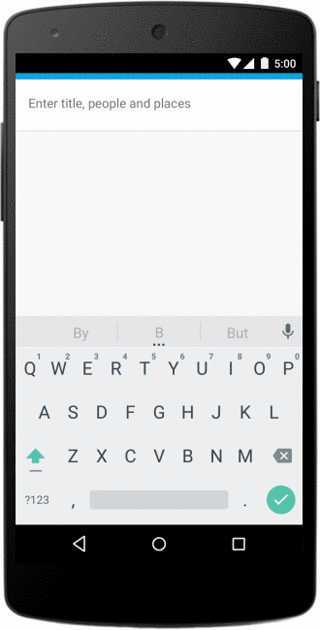 These new updates will work on all devices running Android 4.1+ and is available on Android 5.5 Lollipop devices. It will be able for download from Google Play. Google is working on Calendar app for iPhone.
Do these new features impress you? Do you find the automatic event creation feature helpful? Let us know your views in the comments.